Information, the new force multiplier
Dinesh Kumar
When Karachi airport came under attack from the Taliban on June 8, the Pakistani Army took the unusual measure of keeping the media in Pakistan pro-actively informed about its anti-terrorist operations through Twitter. During such sensational incidents in today's age when rumours appear to travel faster than the speed of light, often with disastrous consequences, the Pakistani Army resorted to this innovative measure considering that much was at stake. The outcome of its use that night should make a subject of study for any student of Communication Studies. But in the meantime it has marked an interesting innovation from which the Indian security establishment could learn.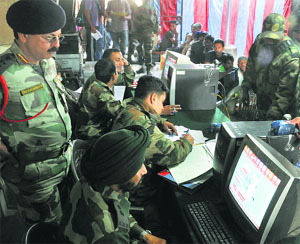 The armed forces will have to guard against information lag and equip themselves to prevent rumours from spreading
Curiously, 10 days later on June 18, the Ministry of Information and Broadcasting issued an advisory to the Ministry of Defence (MoD) asking them to enhance its presence on social media such as Twitter and Facebook. It is not known whether the decision was influenced by the Pakistani Army's recent resort to using Twitter or whether it stems from Prime Minister Narendra Modi's penchant for using social media for dissemination of information and perception management.
As of now, the Indian Army is making limited use of Twitter and Facebook, which again is confined to being used by the Army's Additional Director-General (Public Interface) or ADG (PI). Its limited utilisation is mostly confined to "safe" subjects. Otherwise the three services make use of their respective public relations officers (PROs) posted in the Ministry of Defence and their various respective formations around the country.
Overall, the structure and functioning of the MoD's public relations establishment has remained largely the same. Service officers posted as PROs around the country technically come under the directorate of public relations in the MoD, headed by an Additional Principal Information Officer who in turn belongs to the Indian Information Service. PROs posted in news active formations such as in either or both the Srinagar and Nagrota-based corps headquarters (both located in Jammu and Kashmir) are functionally under their respective commands. On occasions this has led to difference in views, if not friction, between the MoD's directorate of public relations and the PROs who are under direct instructions from the ground formations.
Dissemination of information
Beginning in the first half of the 1990s, the "civilian control" on information dissemination led to the Army resorting to some innovative measures. On taking over as the Chief of Army Staff in July 1993, General Bipin Chandra Joshi issued a list of 10 commandments which, most significantly, had included the point about needing to make use of the "media as a force multiplier". These commandments listed on small laminated cards were issued to all officers, especially those posted in insurgency-afflicted areas of Jammu and Kashmir and the North-East. The Army had then gone on to further activate a section each in the military intelligence (MI) and military operations (MO directorate – section 24 in the MI directorate (earlier known as MI-24) which dealt with psychological warfare and section 11 in the MO directorate (earlier known as MO-11. Both engaged in disseminating information off the record and without attribution. Not surprisingly, a turf war begun between these two sections which led to their being merged into what is now known as the Army Liaison Cell or ALC which is headed by the ADG (PI) in the rank of a major general who in turn reports to the Director General of Military Intelligence (DGMI). The ADG (PI), who meets and briefs journalists only off the record, is the only other point of "official" contact for the media. The Indian Navy has established a Foreign Cooperation and Intelligence department headed by a rear admiral who, again, meets and briefs only off the record. The Indian Air Force has a Director Operations, Media and Public Relations, a post held by a group captain who again is known to rarely meet the media.
Social media revolution
Social media such as Facebook, Twitter and Youtube is causing its own revolutions. An unimaginative and insensitively produced video clip posted on Youtube in the faraway United States province of California resulted in attacks on Americans in Libya and Egypt during which the US Ambassador to Tripoli was assassinated. Provocative MMSes on mobile phones sparked fear among the youth from India's North-Eastern states in cosmopolitan Bengaluru that led to a temporary exodus from the country's key IT hub.
These new forms of media have contributed immensely to information warfare. Like the ongoing revolution in military affairs or RMA, the ongoing revolution in Information and Communication Technologies or ICTs is posing considerable challenges to the armed forces and security agencies. Technology has empowered everyone. Information can today be transmitted instantly by anyone anywhere everywhere. The ongoing revolution in ICTs has been as benevolently unifying as it has demonstrated its ability at the same time to be mercilessly divisive. It has transcended all humanly created barriers and even nature itself. It has rendered irrelevant geographical and sovereign boundaries. It does not recognise the diverse and divisive forms of classification of human beings such as ideology, religion, ethnicity, nationality, sects, communities, race, colour etc. Yet, like all good things it also comes with a curse. It has had an equally polarising effect along the lines of these social classifications.
Social media, in particular, is about here and now and often borders on the sensational. Yet, it has on many occasions been setting the agenda. The time between events and their reportage has shrunk to there now often being a zero gap between these two. Simply put, it is instant. This requires near instantaneous responses and sometimes proactive measures such as what was used by the Pakistani Army earlier this month. This involves imagination and innovation. More importantly, it requires a realisation and a will to change.
Live coverage
The use of Unmanned Aerial Vehicles or UAVs, until recently the preserve of the armed forces the world over, is now being taught in journalism departments of a few universities in the United States. It is currently in limited use by media organisations. But it may only be a matter of time before these remotely controlled aerial 'reporters' will both video record and accord live aerial coverage to wars, conflicts, encounters, riots and almost every other form of human violence. Imagine the challenge it could pose to the armed forces and other security agencies deployed in Jammu and Kashmir or any part of India under terror attack or political violence.
The Indian armed forces and security agencies have been slow to change. Instances of innovations and proactive measures in disseminating information have been few. Among the more recent event was the mystery encounter in J&K's Karen sector, where the Army was reportedly engaged in a fortnight-long encounter starting from September 23 to October 8, 2013 during which 10 to 12 terrorists were reportedly killed. No dead bodies of the reportedly slain terrorists were recovered and the last shot was fired by the Army on October 2, six days before the encounter officially ended. The encounter had begun as mysteriously as it had ended, raising more questions than answers which had subsequently led to former defence minister Arackaparambil Kurien Antony to order an inquiry into the Army's claims. The inquiry report remains classified. The Army can ill-afford such mishandling considering the sensitivities involved in a strife-torn state such as Jammu and Kashmir.
But then such mishandling is not new. In May 1995, after the media was first allowed to meet Pakistani terrorist Mast Gul and his gang inside the holy Sufi shrine in Charar-e-Sharief located in the Kashmir Valley's Badgam district, the Army subsequently clamped down on the media preventing them from coming within a 10-km radius of the township in order to prevent any 'oxygen of publicity' to the gathered terrorists. On the night of May 11, the mosque and adjoining buildings were reportedly set on fire by Mast Gul who managed to escape to Pakistan. The incident created an uproar across the politically sensitive state. Yet, the following day, the Army's XV Corps headquarters in Srinagar was forbidden by the government from permitting the media to visit Charar-e-Sharief thereby fuelling more rumours. By the time the MoD conducted a media trip to the spot, the damage had been done. The local populace was by then convinced that it was the Army which had set fire to the shrine after first spraying gun powder from its helicopters during the night. The Army did not even care to explain that Army helicopters then not only did not have night flying capabilities but also maintained a safe distance from the ground while flying in order to avoid being shot down by terrorists.
Then four years later on August 10, 1999, a Pakistani Navy Atlantique maritime patrol-cum-reconnaissance aircraft was shot down by an air-to-air missile fired from a MiG-21 fighter aircraft that had been scrambled following the Pakistani aircraft's intrusion in the Rann of Kutch area of Gujarat. Yet the information of the aircraft being shot down came not from India but from Islamabad which was quick to issue a condemnatory statement. It sent journalists scrambling telephones and scurrying to South Block for information that took time coming. This put on defensive the IAF which took time explaining the facts. Apparently, the IAF took time because they had to get a series of clearances from higher levels of the government before coming out with details. The resultant loss of time led to round one going to Pakistan. With considerable effort and diplomacy India was subsequently able to establish that the Pakistan Navy's French-made aircraft had violated Indian airspace. Defence Attaches of all countries were extensively briefed by the IAF, which subsequently also took a media party to the area in Mi-8 helicopters that had to abort its flight after it came under ground fire from Pakistan.
Interestingly, the Pakistani government had done what the US Navy had done 11 years earlier. On July 3, 1988, a US warship, the USS Vincennes, had shot down an Iran Air Airbus A300 passenger aircraft over the Persian Gulf flying from Tehran to Dubai killing all 290 on board after reportedly mistaking it to be an Iranian air force fighter aircraft. The US Chairman of Joint Chiefs of Staff Admiral William J Crow had then taken the proactive measure of briefing the media within a few hours of the incident thereby wresting the initiative from the genuinely aggrieved Iranians who had been slower to react.
The armed forces and other security forces will need to work towards quickly adapting to the ongoing revolution in ICTs and factoring the fast-paced changes in information dissemination. Handling this is undoubtedly only getting more complicated and unwieldy as is perception management in today's age of information overload, which many times is not necessarily authentic. What is needed is timely and proactive dissemination of information in today's highly challenging information-packed environment which is often marked by fog and questions rather than clarity and authentic information.
The new weapon
* The Indian armed forces and security agencies have been slow to change. Instances of innovations and pro-active measures in disseminating information have been few
* The information flow is often instantaneousness. The live coverage of spectacular events such as the 9/11 terror attacks on the Twin Towers in New York (2001) and the 26/11 terror attacks in Mumbai (2008) have demonstrated how there is now a zero time gap between the event and its reportage.
* What is needed is timely and sometimes pro-active dissemination of information in today's highly challenging information-packed environment.
When info is power
In recent years, however, the pace of information itself has changed.
Consider the following
* The radio took 40 years to reach an audience of 50 million.
* The TV took 15 years to reach an audience of 50 million.
* The landline took 130 years to reach one billion subscribers.
Now consider this for some mind-boggling rapidity and incomparable growth
* The World Wide Web (www) took just three years to reach its first 50 million users on the Internet. Internet subscribers today are in excess of 2.75 billion.
* From just a solitary website in 1990, the number of websites had crossed 700 million by the end of 2013, with projections of touching 1 billion by this year end.
* Mobile phones subscribers increased from 11 million worldwide in 1990 to over 6 billion in 2013 with projections of touching 7 billion by the end of 2014.
The staggering growth in such a short span of these new vehicles of communication does not even compare.