Hooda, Chavan safe, Gogoi likely to go
New Delhi, June 23
Days after top Congress strategists sent out signals that the Chief Ministers of poll-bound states could face replacements closer to elections, it became increasingly clear today that at least two of three such CMs were safe in their berths.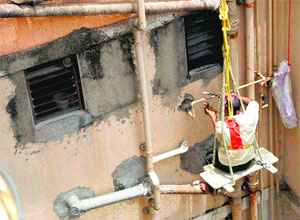 BMC snaps power, gas lines at illegal Campa Cola flats
Mumbai, June 23
Officials of the Brihanmumbai Municipal Corporation entered the Campa Cola compound in south Mumbai this morning to disconnect water, power and gas connections of 102 illegal flats.



A BMC employee disconnects the water supply to the Campa Cola Society in Mumbai on Monday. PTI

India signs additional protocol to nuclear safeguard agreement
New Delhi, June 23
In a significant move aimed at boosting trade with its nuclear partners, India has ratified an additional protocol to the India-specific safeguard agreement with the International Atomic Energy Agency (IAEA).
MHA rejects proposal to grant visa-on-arrival to Bangladeshis
New Delhi, June 23
The Union Home Ministry has rejected the Ministry of External Affairs proposal to grant visa-on-arrival facility to Bangladeshis and visa- free entry to citizens of that country under the age of 18 and over the age of 65.
Cong workers oppose pre-poll alliance with NC
Srinagar, June 23
State Congress leaders today opposed an alliance with its coalition partner, the National Conference (NC), for the Assembly elections scheduled to be held later this year.
Oppn stages walkout over power cuts in UP
Lucknow, June 23
Charging the state government of misleading people on power cuts, the entire Opposition today staged a walkout from the Uttar Pradesh Vidhan Sabha.
Pre-medical paper not leaked: STF
Lucknow, June 23
The Special Task Force (STF) today said prima facie there appeared to be no pre-medical entrance paper leak.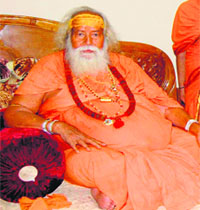 Remarks against Shirdi Sai Baba create furore
Haridwar, June 23
Jagadguru Shankaracharya Swami Swaroopanand Saraswati, the head of Hindu "maths" Jyotish Peeth and Dwarka Peeth, stirred up a controversy by making a controversial statement about Shirdi Sai Baba today. Shankaracharya said Sai Baba should not be worshipped as god as it was a conspiracy hatched by some foreign organisations to weaken the unity among Hindus.



Shankaracharya Swami Swaroopanand Saraswati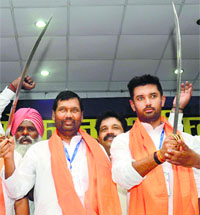 India's image improved after NDA came to power: Paswan
New Delhi, June 23
Union Minister for Food and Civil Supplies and Lok Janshakti Party chief Ram Vilas Paswan today said, "The image of India has improved in the international circuit since the NDA came to power." Addressing the media on the sidelines of his party's national executive meeting here, he said the participation of SAARC members in the swearing-in ceremony of Narendra Modi was a testimony to the international recognition of the country under Modi's leadership.

LJP chief Ram Vilas Paswan and his son Chirag Paswan in New Delhi on Monday. A Tribune Photograph

Tandoor case
HC refuses urgent hearing to Sushil Sharma's parole plea
New Delhi, June 23
The Delhi High Court today refused to give an urgent hearing to the parole plea of Tandoor case convict Sushil Kumar Sharma, awarded life imprisonment for the murder and burning of the body of his wife Naina Sahni in 1995.