DSP suspended for clash in Gurdaspur jail
Gurdaspur, June 23
Taking action over the incident of clash between two police officers at the Central Jail here yesterday, Jails Minister Sohan Singh Thandal today suspended BS Bisla, Deputy Superintendent of Police, for dereliction of duty.
Muktsar highway to be opened after Dec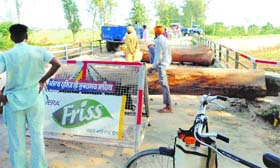 Muktsar, June 23
Three months after a bridge on the Abohar branch minor at Mehrajwala village on the Muktsar-Malout highway partially collapsed and closed for vehicular movement, the construction of a new bridge is yet to begin.


A partially collapsed bridge on the Muktsar-Malout highway is yet to be demolished to construct a new bridge. Tribune photo

Rajasthan Guv writes to Centre, Punjab over canal water
Abohar, June 23
Rajasthan Governor Margret Alva has shot letters to the Central and Punjab governments expressing concern over unchecked supply of contaminated canal water from Punjab to eight districts of Rajasthan, including Sriganganagar and Hanumangarh.
Pre-monsoon showers paralyse life in Abohar

Abohar, June 23
Business activities were hit by the first pre-monsoon rain that lashed Abohar sub-division on Monday.






Rain water accumulated in houses in Abohar on Monday. Tribune photos

Authorities fail to check encroachments in Pathankot
Pathankot, June 23
Pathankot city, which is known to be the gateway to the neighbouring states of Himachal Pradesh and Jammu and Kashmir, has a lot of pockmarks with encroachments on all important roads and alleys.
De-addiction centre constructed in Fazilka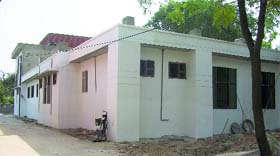 Fazilka, June 23
The construction of a drug de-addiction centre at the Civil Hospital has been completed. The hospital authorities will take over next week. The centre, which is equipped with modern facilities, was constructed at a cost of Rs 52 lakh.


The newly constructed de-addiction centre at the Civil Hospital in Fazilka. Tribune photo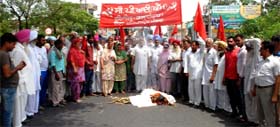 CPM burns Modi's effigy
Mahilpur, June 23
The Communist Party of India (Marxist) protested the recent hike in rail fares at Mahilpur today.



Workers protest in Hoshiarpur on Monday. Tribune photo

CM to head drug de-addiction board
Chandigarh, June 23
Chief Minister Parkash Singh Badal today gave his nod to setting up "Punjab State Board for Drug De-addiction and Rehabilitation".
Capt Amarinder seeks status report
Chandigarh, June 23
Expressing his displeasure over the manner in which the Centre has handled the issue of Indians stranded in Iraq, the Congress deputy leader in the Lok Sabha, Capt Amarinder Singh, has sought a status report on the situation.
No jobs for students, Phoolka lodges complaint against CM

Ludhiana, June 23
Aam Aadmi Party leader HS Phoolka has filed a complaint seeking registration of an FIR against Chief Minister Parkash Singh Badal for "committing a fraud" with students of the College of Fisheries, Guru Angad Dev Veterinary and Animal Sciences University, by not providing them jobs.

AAP leader HS Phoolka addresses mediapersons in Ludhiana on Monday. Tribune photo: Himanshu Mahajan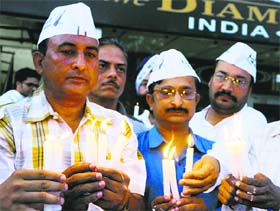 light of hope:

Aam Aadmi Party activists hold a candlelight march in support of the Punjabis abducted in Iraq, in Amritsar. Tribune photo
His dream to make a quick buck ended in nightmare
Hoshiarpur, June 23
The Gulf may be a dream destination for making a quick buck, not many Punjabis have good experiences to share. Several youths have become the victims of the human trafficking network run by travel agents. They have had to make do with menial jobs.
NHRC seeks report on boycott of Dalits
New Delhi, June 23
The National Human Rights Commission (NHRC) today sought a report from the Punjab Government on the alleged social boycott of Dalit families by upper caste residents of Baopur village in the Munka subdivision of Sangrur.
Row over land: Sarpanch, 9 others booked for assault
Sangrur, June 23
A row over the auction of 17 bighas of panchayat land ( reserved for Dalits) in Matoi village near Malerkotla took an ugly turn with village residents Ram Singh and Navdeep Singh being "beaten up" by rivals. They were admitted to the Civil Hospital at Malerkotla.
Retired judge offers to sponsor studies of tea vendor's son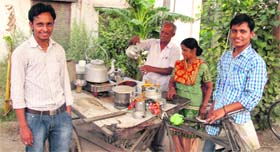 Jalandhar, June 23
Moved by the plight of a local tea vendor's sons who could not take admission in an IIT last year, despite good ranks, retired Supreme Court Judge Ashok Bhan and owners of the Jaypee Group have offered them help.


Amit and Sumit, who have cleared the IIT-JEE, with their father at his tea stall in Jalandhar. Tribune file photo

Low power generated at Dehar: Engineers
Patiala, June 23
Alleging that the Bhakra Beas Management Board (BBMB) generated low power at the Dehar power house despite sufficient water, the All-India Power Engineers' Federation (AIPEF) has written to the Power Ministry to look into the matter.
Sikh heritage sites in Pakistan in 'poor shape'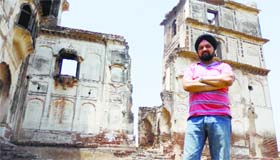 Amritsar, June 23
After his visit to Pakistan recently, UK-based Sikh historian Bobby Singh Bansal feels though Pakistan has several forts and palaces dating back to Maharaja Ranjit Singh's era, there was a dire need to restore and preserve these for the coming generations and to sensitise Pakistanis about their significance.

UK-based historian Bobby Bansal outside the Sheikhupura Fort in Pakistan. Tribune photo

Sufi singer Barkat Sidhu critical, his fans appeal for financial help
Ludhiana, June 23
Sufi singer Barkat Sidhu, being treated at the local Dayanand Medical College and Hospital (DMCH) here, is critically ill. He is undergoing treatment for cancer.


Delay in taking up representations to invite penalty
Chandigarh, June 23
Delinquent officers responsible for any delay on deciding on representations are in for trouble. The Punjab Chief Secretary has made it clear that aberrant officers are to be punished to prevent any "lapse in future".
MBBS seats
Adesh varsity allowed to hold counselling
Chandigarh, June 23
The Punjab and Haryana High Court today allowed Adesh University to hold provisional counselling for medical seats. The order was passed after Justice Navita Singh took note of the fact that the first round of counselling has to be over by June 25, as per the schedule given by the Supreme Court in the case of Lipika Gupta and another versus the Union of India.


Gangster attacked in Sangrur jail
Sangrur, June 23
Gangster Gurmeet Singh, alias Kala Dhanaula, lodged in the district jail here for the past two months, was today "attacked" by jail inmates. He was taken to the Civil Hospital, Sangrur, where the doctors referred him to the Government Rajindra Hospital, Patiala.
Markfed official held for graft
Mohali, June 23
The Mohali Vigilance flying squad arrested a senior accountant of Markfed for accepting a bribe of Rs 15,000 from a department contractor here today.