OPED —

health
Undernourishment, a silent emergency
Usha Rai
Looking at the growing obese population in urban India, it is difficult to believe that a staggering third of all adults in India have chronic protein energy malnutrition (PEM) as expressed in body mass indices. Children suffer a greater degree of under-nutrition and are stunted, wasted or underweight, making undernutrition India's major public health challenge.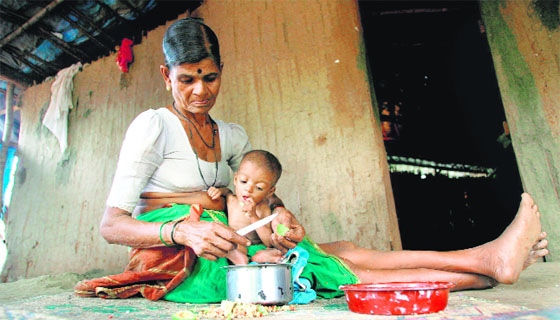 A National Shame: Close to 43 per cent children under five are found to be underweight in India. AFP photo
Forty three per cent of children below five years are underweight, and in Bihar, Jharkhand and Madhya Pradesh one of every two is underweight. And, of course, there is more undernourishment in the rural areas, among the poor, the scheduled tribes and castes and among the illiterate population. Ironically, while children remain undernourished in these areas, rats have a feast in the badly maintained food godowns and absence of proper storage facilities. Though under-nutrition is less of an issue in urban areas, it is still an unforgivable 40 per cent.


Of malnourished, underproductive men
Studies on malnutrition have largely focussed on children, adolescent girls and women. The present study also looks at undernutrition in men and the impact on their productivity. In many states, men are as undernourished as women and in some cases more than women.
According to the World Health Organisation an adult with a BMI (Body Mass Index) below 18.5 is classified as chronic energy deficient while those with BMI of 25 are classified as overweight. Some 202 million adults of working age have limited capacity because they are underweight. There are even anaemic men. It is only in 2005-2006 that the National Family Health Survey (NFHS) collected data on underweight men. The World Health Survey of 2002/2003 found that half a dozen countries of South Asia including Bangladesh, Nepal and Pakistan have a high percentage of undernourished men. However, like in India the debilitation of males is overlooked at the national and international level in terms of policy interventions. Global evidence places the economic loss to the undernourished worker between 7.5 and 18.6 per cent of lifetime income.
Closing the gender nutrition gap
Though gender disparities still exist with reference to nutrition as well as other development indicators, two positive changes have been observed. One, that gender disparities in nutrition are not all against the female sex, and two, that gender disparities overall are reducing. Though there are still pockets where gender disparities remain sharp, the country as a whole has witnessed a reduction in inequity between sexes. While adult women still tend to have lower nutrition outcomes in terms of BMIs as compared to their male counterparts, there are as many as 11 states out of 29 where a reverse trend prevails.
Paradox of plenty

With the largest population of hungry in the world, India ranks 66 among 105 countries in the 2012 Global Hunger Index.


More than 45 years after the Green Revolution began; India provides a unique spectre of overflowing godowns and rotting grains on the one hand while millions go to bed hungry.


To get rid of the huge stocks, India has aggressively resorted to food exports. As food production creates new milestones with each passing year, and Madhya Pradesh joining as another fast-emerging food bowl, stocking surplus grains remains a nightmare for the government.


Close to half of all children under the age of three are underweight, 30 per cent of newborns with low birth weight, and 52 per cent of women and 74 per cent of children are anaemic.


Productivity losses to individuals are estimated at more than 10 percent of lifetime earnings, and gross domestic product (GDP) loss to undernutrition and malnutrition runs as high as 3 to 4 per cent.
Though famines have receded and there is a marked shift in gender discrimination in accessing food, which has reduced, hunger and undernutrition still loom like black clouds on the Indian horizon. Persisting Undernutrition in India—causes, consequences and possible solutions, a book recently published, written by Dr Nira Ramachandran, based on two years of research as a senior fellow of the Indian Council of Social Science Research gives fresh insights into the complex issue of undernutrition.
In a developing economy like India, this is a constant source of mortification. It is not that the urgency of the issue remains unnoticed. Successive governments have put in place diverse policies and innovative programmes and schemes to address the problems, but the progress has been excruciatingly slow. Impressive economic development in India has not led to parallel improvements in food security and nutrition outcomes. Reduction in hunger and undernutrition levels is not in direct proportion to economic growth.
The legacy of hunger
Not only are the nutritionally deprived denied the right to normal physical and mental development and a disability free life, but this basic deprivation has manifold repercussions in terms of poorer employment opportunities, lower wages and, what is most portentous, the passing on of this legacy of hunger and deprivation to coming generations. Few can break out of the downward spiral of poverty/undernutrition unaided.
The study reveals that of the 28 states, for which comparable data is available, the top five states in terms of better family nutrition are Sikkim, Meghalaya, Mizoram, and Manipur — all from the North-East and Punjab. The five worst states are the cluster of the underdeveloped states of Bihar, Jharkhand, Madhya Pradesh and Chhattisgarh along with West Bengal.
For decades, the government has been trying to combat and arrest undernutrition through specific interventions like the Integrated Child Development Services (ICDS), mid-day meals and the public distribution system (PDS). Under ICDS children below six years as well as pregnant and nursing women come to anganwadi centres to receive nutritious food supplements as well as pre-school education for young ones; the mid-day meals scheme was also started to improve the nutritional status of children in primary schools by providing 300 calories and 8 to 12 grams of proteins meals.
Lack of coordination
The meals also ensured retention of children in schools. Through the PDS subsidised rations like rice, wheat, sugar and kerosene are distributed to the poor. But have these interventions helped? A reality check was done in four villages of Gumla District of Jharkhand, one of the 100 focus districts of the country, identified by UNICEF for special action. The villages; Keyound Tala, Khatgaon, Lodhama and Tapkara, 6 to 14 km from block headquarter Palkot, have a primary school, an ICDS centre and a Fair Price Shop.
In all the four villages, only two meals a day are eaten and that too not throughout the year. The mid-day meal in all the four villages was largely rice and rice gruel. Dal, vegetables and meat was at best served once a week. In Keyound Tala, a higher income village, add-ons were served twice a week.
While at Keyound Tala, mid-day meal was served to 75 per cent of primary school children, at Khatgaon though there were only 39 children in school, only one-fourth got the meals. Reasons for the disparity could be high dropout rate or high absenteeism. There were no mid-day meals during vacation, depriving children of their single hot meal of the day.
While the mid-day meal in schools was largely rice gruel, under the ICDS scheme anganwadis are supposed to serve rice, dal, soya beans and vegetables. However, only one of four anganwadis was providing the full range of the nutritious meal. Equally important, the mid-day meals in the same villages were not at par. While the schools had kitchens, only one of the four anganwadis had a kitchen. Why can't the kitchens available be shared to provide nutritious meals to all children whether in schools or anganwadis?
Schemes need numbers
In villages that have no school or there are no roads to commute to an adjoining village that has a school, children miss out on education as well as their nutritious mid-day meal. In Govinddhani, in the interior of Jaisalmer, Rajasthan, the children of the only extended family were going to a primary school but when the number of schoolchildren dropped to below 40, the school had to shut down. Because of poor roads and the absence of an escort, the children could not go to the school at Selat village. Ironically, though Selat has a school, it has no anganwadi because there are not enough children to run one.
In Rudrapur, Dehradun District, hygiene, food security and the importance of nutritious food seem to have little relevance. The study shows that mothers who visited the anganwadis disliked the panjeeri, the mix of nutritious food, and either took it home to feed the cattle or made paranthas. Women who worked as wage labour and needed the nutrition did not have the time to visit the anganwadis or escort their children because the anganwadi timings coincided with their working hours. In fact, attendance at the anganwadis dropped from 2004 to 2006.

In the global context, 40 per cent of the world's undernourished children and 35 per cent of the world's low birth weight babies are in India. Of all child deaths in India, nearly 50 per cent can be attributed directly or indirectly to malnutrition.
Educate mothers
The fact that there are more undernourished children than adults' raises questions about the root causes of under-nutrition. Though lack of access to food is a major cause, other causes include lack of knowledge about proper diet, poor caring practices and sanitation and food supplements provided by anganwadis which do not suit the local tastes. Due to India's faulty feeding practices there is a sharp increase in undernutrition among infants from 11.9 per cent at less than six months to over 58 per cent in the 12 to 23 months age group, a fact recognised in the 10th Five Year Plan.
The importance of mother's education in improving the nutritional status of the children is highlighted in the study. It has been found that mothers are unaware that their children are undernourished until it is almost too late to rectify their status. About two-thirds of the mothers interviewed in the worst districts were illiterate as against roughly the same proportion having completed schooling in the best districts. However, the good news is that the best performing districts of the worst states show a decrease in the proportion of illiterate mothers.
Adequate nutritional status can only be achieved if children have a diversified diet of all major food groups. However, in India the poor are largely dependent on a cereal diet and lose out on the benefits of protein-based foods, fresh fruits and vegetables. High cost as well as lack of access to markets where fruits and protein rich foods are available is an important factor for child undernutrition. Nutritional outcomes are also influenced by the availability of potable drinking water and adequate sanitation facilities.
The writer is an environment journalist.