Implement MSME Development Act in city: Home Min
New Delhi, June 24
Union Home Minister Rajnath Singh today directed the Union Territory of Chandigarh to swiftly implement the Micro, Small and Medium Entreprises Development Act and ensure thatprivate properties do not get affected while declaring heritage buildings.
Administration in a quandary
Chandigarh, June 24
Even as the Union Home Minister Rajnath Singh today asked the UT Administration to implement Micro, Small and Medium Enterprises Development (MSMED) Act, the UT Administration is in a quandary over its implementation in the city.
Dera Bassi MC limits extended
Dera Bassi, June 24
In an apparent move to benefit the well-connected politicians and realtors' lobby, the Punjab Government has extended the limits of the Dera Bassi Municipal Council by including 15 villages. Turning the land which has been included into a money-spinner, influential persons had over the last few years bought prime chunks of land located alongside the major roads in the area.
Director meets dept heads, seeks report
Chandigarh, June 24
A day after aspirants and their parents protested the last-minute clarification on the Medical Council India's (MCI) disapproval for increasing MBBS seats at GMCH-32, the Director met the department heads on the matter today, seeking a compliance report.



PGI to hold awareness camp on scleroderma on June 26
Chandigarh, June 24
The PGIMER is going to hold an awareness camp and panel discussion on scleroderma for patients suffering from this disease on June 26.
Plasticulture can tackle depleting groundwater level: Experts
Chandigarh, June 24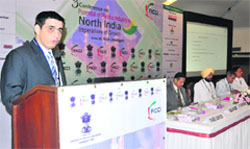 During a conference on potential of plastics industry focusing on plasticulture (plastic for agriculture) and food processing was organised here today, the problem of depleting groundwater level in Punjab, Haryana and Rajasthan was discussed.
Charu Kapoor, principal, TSMG, addresses the delegates during the conference on "Potential of plastic processing industry in North India" held at Mount View hotel, Sector 10, in Chandigarh, on Tuesday. Tribune Photo: S.Chandan
NRIs use helpline to give info on drug peddlers
Mohali, June 24
The recently launched drug helpline has been proving to be helpful to Punjab Police in getting information about active drug peddlers at various places across the state.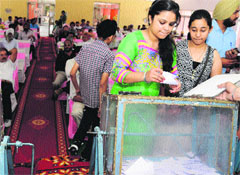 Allotment of plots at Aerocity
Mohali, June 24
The Greater Mohali Area Development Authority (GMADA) today held draw of lots for the allotment of plot numbers to beneficiaries in Aerocity here.




Aero city plots draw of GMADA at community centre phase-70 in Mohali on Tuesday. Tribune photo Vicky Gharu
Draw plan to spread awareness, officials told
Mohali, June 24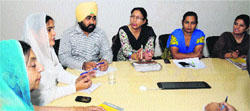 Punjab State Women Commission Chairperson Paramjit Kaur Landran today directed officers of the Social Security and Women and Child Department to draw up a plan to organise awareness seminars in villages to sensitise people about the Domestic Violence Protection Act, 2005.
Bibi Pararmjit kaur landran Chairperson Punjab State Woman Commission during meeting on domestic valiance at administration complex phase-1 in Mohali on Tuesday. Tribune photo Vicky Gharu
National Statistics Day to be observed on June 29
Panchkula, June 24
The Haryana Economic and Statistical Analysis Department will organise a state-level function to mark the 8th National Statistics Day here on June 29.
Hair transplant fad amongst all age-groups
Chandigarh, June 24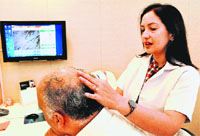 City residents seem to be developing an aesthetic sense, if the demand for hair transplant is any indication.




A hair specialist examines the hair strength before transplant at a centre in Sector 8, Chandigarh. Tribune photo: Parvesh Chauhan
Commission directs UT Dept to file affidavit
Chandigarh, June 24
On the review petition filed by the Chandigarh Renewal Energy and Science and Technology Promotion Society (CREST), challenging the Joint Electricity Regulatory Commission (JERC) decision on the solar power tariff, the commission today directed the UT Department of Science and Technology to file its affidavit.
Unidentified man lying on roadside admitted to hospital
Chandigarh, June 24
The unidentified patient, who had been lying in a pitiable condition outside Panjab University (PU) for the past two days, found relief when a group of PU students got him admitted to the GMSH-16 today.
Now, print your photo on postal stamp
Chandigarh, June 24 City residents can now have an image of their choice on the postage stamps that they use.
Cong councillors, Chief Engineer caught up in a war of words
Chandigarh, June 24
Differences brewing between Municipal Corporation officials and councillors came to the fore when a verbal altercation took place between two Congress councillors and the MC Chief Engineer at the latter's office today.
Bhatia gets additional charge
Chandigarh, June 24
During the leave period of CTU Director TPS Phoolka from July 4 to July 11, MC's Additional Commissioner Sunil Bhatia will look after the charge of the Divisional Manager, CTU-cum-Director Transport, UT, Chandigarh, in addition to his own duties, till the officer joins back.
2 bus routes introduced
Chandigarh, June 24
The Chandigarh Transport Undertaking (CTU) has introduced two routes — one from Manimajra to PGI and vice versa and the second one from the ISBT-43 to the IT Park and vice versa.
F&CC meeting held
Chandigarh, June 24
The Finance and Contract Committee (F&CC), of the Municipal Corporation of Chandigarh today passed various agenda items pertaining to development and policy.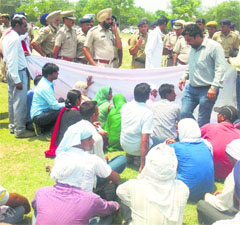 Jobless teachers voice anger
Panchkula, June 24
Dodging security agencies and Panchkula police, scores of striking PG unemployed teachers quietly reached Chandigarh and protested outside the Haryana Chief Minister's (CM) residence to lodge their resentment, today.






Teachers stage a dharna outside the residence of Haryana CM Bhupinder Singh Hooda in Chandigarh on Tuesday. A Tribune photograph
Lukewarm response to BDS counselling
Chandigarh, June 24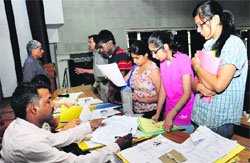 While the parents of MBBS aspirants created uproar over shortage of seats at the GMCH-32 yesterday, for BDS admissions to the Dr HS Judge Institute of Dental Sciences, 51 out of 100 seats remained vacant during the first counselling held today.


Students submit papers during the BDS counselling at the GHCH-32 auditorium in Chandigarh on Tuesday. Tribune photo: Manoj Mahajan
Counselling schedule for UIAMS announced
Chandigarh, June 24
Panjab University has announced the detailed counselling schedule for the University Institute of Applied Management Sciences (UIAMS) on the PU campus.
Power failure at PU dental college irks patients
Chandigarh, June 24
A 40-minute-long power failure at PU dental college led to major inconvenience to 20-25 patients. The power failure disrupted all services, including registrations at the dental OPD.
UIHMT to conduct final counselling on June 26
Chandigarh, June 24
The University Institute of Hotel Management and Tourism (UIHMT), Panjab University, will conduct its final counselling on June 26 (Thursday). It will be held at 10 AM at the UIHMT (near ICSSR Centre), Sector 14, PU, against vacant seats for open category students.
DAV school students bring laurels
Chandigarh, June 24
Students of DAV Model School, Sector 15, Chandigarh, claimed top 12 positions in the exam of Diploma in Early Childhood Education (DECEd) course. The exam was organised by the State Council of Educational Research and Training, Sector 32, here.
GGDSD College students' documentary adjudged best
Chandigarh, June 24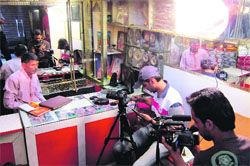 "Ankahi Ansuni", a documentary produced by students of Add-On Video Reporting Course from the Department of Journalism and Mass Communication, GGDSD College, here, has been adjudged the best documentary in the 3rd Bengaluru Short Film Festival held on June 21.


GGDSD College students during the shoot of the documentary, "Ankahi Ansuni". A Tribune photo