G R O U N D Z E R O
Mr PM, how about a manned space mission?
Raj Chengappa
Prime Minister Narendra Modi has a way with words even when he speaks in English. Last week, he punctured criticism against India's Mars Mission by making a comparison that caught the imagination of the public.
While congratulating scientists for the successful launch of five foreign satellites on June 30, 2014, Modi pointed out that the cost of sending an Indian mission to the red planet was less than that of producing the Hollywood blockbuster 'Gravity'. The sci-fi movie about space travel filmed in 3D cost an estimated $100 million to make, or Rs 600 crore, while the Mars Mission cost around Rs 450 crore.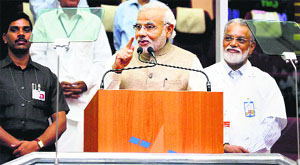 Prime Minister Narendra Modi and ISRO chief Dr K. Radhakrishnan at Sriharikota. PTI
India's Mars Orbiter is now on schedule for its rendezvous with the planet in September. It has traversed over 500 million km of the total journey of 680 km – the farthest any Indian-made spacecraft has gone. Before India's Mars Mission was launched a debate had raged across the scientific community whether it was worthwhile to attempt such a scientific feat when there were more pressing concerns the nation had to attend to. Many criticised the Mars Mission as wasteful and meant only to give an "ego-boost" for space scientists.
In the new Prime Minister, the Indian Space Research Organisation (ISRO) seems to have found an ardent supporter. At the Satish Dhawan Space Centre in Sriharikota, Andhra Pradesh, where Modi had gone to witness the launch of PSLV-C23, he made it clear that he believed that "technology is central to development" and that India's space programme was a perfect example of his vision of "Scale, Speed and Skill".
Modi stuck to English for most of his speech and many read in it a political message, both domestic and international, in his decision to do so. After his government had raised the hackles of southern states, particularly Tamil Nadu, over plans to impose Hindi in official communications, Modi seems to have dispelled such notions by speaking in English.
His speech was also aimed at a global audience and was meant to signal that the new Prime Minister would push all buttons in his desire to make India a global leader in technology and even share it with others. He did that by asking space scientists to develop a SAARC satellite that would enable India's neighbours to use its range of applications. While ISRO is working out its configuration, it is likely to be a satellite for communications rather than remote sensing.
While the SAARC satellite is a laudable venture, Modi could have used the occasion to boldly go where no Indian Prime Minister has gone before. He could have made a John F. Kennedy-like declaration by announcing a Vision 2025 plan of action for India in space. The late US President wowed his country by announcing in May 1961 that America would safely send a man to the moon by the end of that decade. Modi could have the raised the bar for our space scientists by announcing a more modest and doable Indian manned mission to space.
India already has plans for a manned mission but it has been moving rather slow for lack of a clear government decision to go ahead. While the process began in 2006, when Manmohan Singh was prime minister, space scientists were cleared only for starting pre-project activity on critical technologies related to human space flight and also to prepare a project report for a specific mission to put a two-member crew in orbit around the earth.
Among the critical technologies that ISRO had to develop was a module for which the crew had to travel in space, including its environmental control and life support systems, space suits, an escape system in case of a catastrophic failure and a special launch pad. Apart from that, ISRO would have to upgrade its launch vehicle capability, particularly the Geo-Synchronous Launch Vehicle, GSLV, to carry heavier payloads for the mission with failsafe reliability.
In 2008, when ISRO estimated the cost for such a manned mission it pegged it around Rs 12,000 crore and estimated that the project would take 10 years to fructify. The annual cost, in Modi parlance, would be like India buying a Boeing 787 Dreamliner every year. (The loss making Air India already has eight Dreamliners in its fleet)
ISRO Chairman Dr K. Radhakrishnan believes that human presence in space exploration along with robots is a long term priority quest for his organisation. In August, ISRO is likely to do the first test of the all-new and cleaner configuration for GSLV named Mark 3. Space scientists are planning to use the occasion to test a mock-up of the crew module and make it land back on earth.
Perhaps if that test is successful, Modi can make an announcement in Parliament that he was clearing a manned mission that would put two Indians in orbit around the earth by the end of the decade. That indeed would be a giant leap for Indian space.