| | | |
| --- | --- | --- |
| | ARTICLE | |
Indians trapped in Iraq
The roots of the malady lie in our own country
Sucha Singh Gill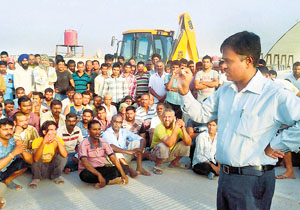 An Indian diplomat engages with the workers at their site of work in Najaf, Iraq. PTI

About 10,000 Indians are trapped in war-torn Iraq. Thirty-nine Punjabis are held hostage by rebels and 46 nurses are trapped in the fighting zones. There is a serious crisis of security and safety of these persons and a source of worry and agony for the families at home. Some have returned home with their tales of woes. A sizeable number among the trapped are not having passports in their possession. Passports are either with their employer companies or have been destroyed because they were illegal entrants in Iraq. Several among them have no money with them to buy air tickets as they have not been paid for more than three months. They are immediately expecting help from the Indian Embassy at Baghdad and the Government of India for the issuance of passports and purchase of air tickets to come back. This is the help which the government is contemplating. The government has stationed navy ships in the Persian Gulf to evacuate the trapped persons. The government is also trying to seek help of the Gulf governments to get freed the Indian hostages by establishing contact with rebels and other non-government players.
A question needs to be asked: Why do these persons continue to stay in the areas which can be described as a war zone? Similarly, why have the young men and women gone to Iraq which has remained strife torn for more than a decade and half? The Indian Government evacuated a large number of Indian, Bangladeshi, Nepalese and Sri Lankan citizens when Iraq attacked Kuwait in 1990-91. Since then the whole region has remained tense. It started boiling when the crisis in Syria erupted a couple of months ago. In spite of the emerging crisis the Indian youth continued to stay in Iraq till their life was in danger.
The youth trapped in Iraq generally belong to the low middle-class families. The Punjabi young men belong to small and marginal families. They have passed matriculation or plus two examinations. They had acquired some low-level skills such as driving of trucks, blacksmithery, carpentry and welding. Some of them learned these skills after landing in Iraq. Most of them arrived in Iraq through travel agents after paying Rs 1-3 lakh each to escape hardships or use Iraq to move on to countries in Europe. A similar situation had earlier led to the Malta tragedy when several Punjabi young men were drowned in the sea. Punjab is witnessing a high level of legal and illegal migration to Western countries due to push factors. This is especially true of children of small and marginal farming families. They sell or mortgage some piece of family land, risk their lives and occasionally face a major tragedy. At the individual level some succeed, others land in jails while crossing borders illegally. They have no reasonable options at the place of origin. In villages no work is available on small farms beyond two-three months. Employment options outside the farm or the village are very limited and of poor quality. This can be illustrated by the conditions of work in Punjab. The drivers employed by contractors for the 107 ambulance vans get a salary of Rs6,000-7,000 a month. Other jobs available to such youths are in the security services, again at the same meagre wages. Some teachers in private schools draw a monthly salary of Rs 2,000-3,000. Even in the government schools, teachers employed by PTAs draw a salary of Rs 4,000 per month or so. In private colleges qualified teachers employed on self-financed courses get a salary of Rs 6,000-8,000 a month. All these appointments are on contract and carry no retirement benefits like pension, provident fund, gratuity etc. There is no provision of sick leave and maternity leave for women. In such circumstances youth in Punjab try to escape poverty and humiliation by going abroad. They take big personal risks and also pauperise their families while arranging money for travel agents. They are being forced to leave the country by the circumstances and the policies of the government aimed at the privatisation of jobs and making appointments on a contract basis without enforcing the minimum wages and other social security measures. It is a survival strategy. These young men from the rural areas are inspirational in their outlook. Unlike a large number of youth who have fallen to drug addiction, they have taken the initiative to go abroad in search of better jobs with higher wages of US$500 (around Rs 30,000) a month.
In the wake of the risk to their life, they are returning home to join their families. The government is also helping them in various ways to end the danger to their life and remove worries of the families at home. A question arises: After their return to native villages, where will they be placed? They will be without work and without any money. They are returning home empty-handed. They will not be able to retrieve the assets/land they have mortgaged or sold. They have no means to earn their livelihood. They will fall back in the conditions they tried to escape. They will face dejection and deprivation. They will soon start cursing their meaningless existence. To face the harsh reality, they will either try to go to some other foreign land or resort to drug abuse. Some of them ultimately may fall prey to illegal activities in the absence of legitimate and reasonable job opportunities.
It is appropriate to plead with the governments of the day to combine evacuation of the youth with a policy of their rehabilitation in their native areas. Sustainable rehabilitation is possible only through the creation of employment opportunities. Our policy-makers emphasise only on a high growth rate without any care for employment generation. During the phase of high growth (2004-2010), there was little job creation in the country. The situation was worse in the rural areas of Punjab and Haryana. Youth unemployment is not giving sleepless nights to the politicians drunk in power. They are ready to be photographed with the distressed families for publicity without bothering to work for a policy of rehabilitation of the distressed youth and the creation of employment avenues for them. The roots of this malady are located in our own country which need to be attended to immediately. Massive employment-generation programmes with a social security mechanism can check the distressed migration abroad and solve such problems in the long run.
The writer is the Director General, CRRID, Chandigarh

| | | |
| --- | --- | --- |
| | MIDDLE | |
Restructuring the Politburo
N.N. Sachitanand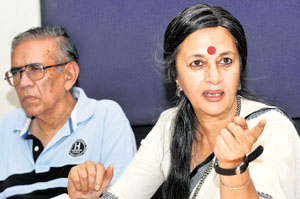 My friend Sudhanshu, an ardent card-holder of the CPM, looked down in the dumps.
"Sorry about the election results Sudhanshu," I said, trying to cheer him up . "But, don't worry, there will always be another election for the CPM to recover."
"It's not that," exploded Sudhanshu in anger. "What gets my goat is that none of the TV channels has seen it fit to question our leading members about bringing about structural changes in the party. No one has been interviewed about conducting — what's that word?"
"Introspection?"
"That's right, introspection about the loss. While every Tom, Dick and Harry in the Congress gets lots of mileage on the channels about their views about reforming their party; we are being totally ignored, as if we did not exist. That's so unfair. After all, the extent of loss of both the parties was proportionately the same. For example, why is Yechury not being cross-examined by Karan Thapar on prime time?"
"Yes, but you don't have a royal dynasty to explain away."
"Well, we have Prakash and Brinda. They are regal enough for us."
"It's not the same and you know it. Both had been too accessible to the Press in the past. To get our journalists into a frenzy of analysis, they should have been cold-shouldered with just a tight smile or a wooden face like Sonia did all these years. Anyhow, is the process of introspection on in your party?"
"Of course. There is talk of restructuring the Politburo. But we have run into some difficulties."
"What are those?"
"Like making the Politburo younger in average age to reflect the change in voter age distribution. Someone suggested retiring all above the age of 60 but that would have meant no Politburo at all. We thought of tapping young talent from Jawaharlal Nehru University. But we found that the graduates preferred joining the corporate sector, while the faculty preferred the Maoists to us. The disbanded National Advisory Council of Sonia had possible candidates except that they are competing in age with the Politburo members."
"Dear me, that does make things tough for you, doesn' t it?"
"It sure does. What a pity we lost West Bengal, otherwise we could have found scores of suitable persons in our strong-arm grassroots cadre there."
"Aren't they still there ?"
"Yes, but, unfortunately, they have shifted over to the Trinamul ."
"So, you have very little elbow room for restructuring."
"You are telling me. At this rate my deep fear is that we might not restructure but become extinct."

OPED N

eighbours
Why the discord over a century-old accord
Dinesh Kumar


A century ago, on July 3, 1914, an accord was purportedly reached between China, Tibet and then British-ruled India, which continues to have a bearing on Sino-Indian relations to this day. The Simla Convention, which started on October 13, 1913, and concluded on July 3, 1914, was meant to define and demarcate the boundaries between India and Outer Tibet and between China and Inner Tibet. The British had then proposed the 'division' of Tibet into 'Inner' Tibet, which was to be under Chinese control, and 'Outer' Tibet, which was to have a sovereign like status. The accord, or agreement, as it is variously known, reached after tripartite talks between the three, led to the creation of what is popularly referred to as the McMahon Line in the north-east, which China has consistently rejected.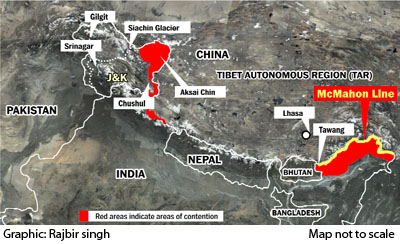 A series of political intrigues had both preceded and succeeded the holding of the tripartite talks, which is important to know in order to understand the context in which the convention was held. It goes back to the start of the 20th century when the 'Great Game' was at play. Colonial Britain, with its vast empire in the region, feared that Czarist Russia might be secretly planning to extend its influence over the strategically located Tibet. Whether or not Russia had any such plans in the region is a matter of much debate. But one of the factors that had reportedly sparked off London's suspicions was the Mongolian-Russian monk Aquang Dorji's (also referred to by the Russian name Dorzhiev) proximity to the 13th Dalai Lama. His political influence led to the signing of a treaty between Tibet and Mongolia in Ulan Bator (capital of Mongolia) in 1913, which incidentally he had signed on behalf of Tibet under the Tibetan name of Khen-chen Lobsang Ngawang.
The move, 100 years ago, behind the Simla Convention of 1913-1914 that led to an agreement being signed on July 3, 1914, to determine the boundary between India and Tibet was initiated by the British colonial government. The agreement has been consistently rejected by the Chinese and a series of questionable actions post-Independence by New Delhi has not helped India's case.
China's gain

China initialled the agreement in April 1914 but walked away without signing the agreement at the tripartite summit between China, Tibet and British-ruled India, in Simla on July 3, 1914.



Britain did not publicly acknowledge and accept the agreement until 1937, possibly because Britain did not want to offend China since they were both on the same side during World War-I (1914-1919). Much later in 2008, Britain recognised China's sovereignty over Tibet.



Post-Independence, India gave up its rights on Tibet by declaring that it recognised Tibet to be a part of China



Tibet came out the biggest loser having first been legally truncated and later usurped by China
The agreement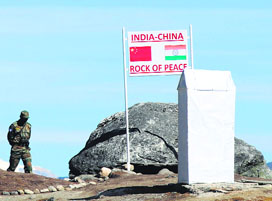 The Simla Agreement of July 3, 1914 comprises 11 Articles



China and Britain recognise that Tibet is under the suzerainty of China and recognise the autonomy of Outer Tibet. They will uphold the territorial integrity of Tibet and abstain from interference in the administration of Outer Tibet which shall remain in the hands of the Tibetan Government at Lhasa



China will not send troops into Outer Tibet, not station civil or military officers and will not establish Chinese colonies in the country.



The escort provided to the Chinese high official posted in Lhasa shall in no circumstances exceed 300 men



Britain will neither station military or civil officers in Tibet, nor troops, nor establish colonies in Tibet.
But the process of countering Russia had begun well before then. The British began involving China in matters pertaining to Tibet. In 1904, it sent a military expedition headed by Colonel Francis Younghusband to Lhasa from where the Dalai Lama temporarily fled to Mongolia. The British managed to open up trade agencies at Gyangtse, Yaltung and Gartok in Tibet, a long cherished desire of London. But the British were unable to make a breakthrough with the Tibetan government in Lhasa which consistently rebuffed all overtures. So in 1905 the British turned to the 9th Panchen Lama in nearby Shigatse, considering that he had influence over a vast area of Tibet bordering India.
With Lhasa discouraging Britain's moves, London decided to create an autonomous region in that portion of Tibet owing allegiance to the Panchen Lama independent of Lhasa with the purpose of securing India's northern border. And so Captain O'Conner went to Shigatse and extended an invitation on behalf of the British Indian government to the Panchen Lama to visit India. But then a number of rollercoaster events occurred in quick succession. The Panchen Lama visited India in 1906 but did not get the expected attention. Reason: Lord Curzon had been replaced by Lord Minto as Viceroy and suddenly London was no longer that enthusiastic in promoting the Panchen Lama. Lhasa understandably took a dim view of the Panchen Lama's visit to British ruled India. This was not helped by the fact that in 1911, during a visit of the Dalai Lama to India, the Chinese took the step of bringing the Panchen Lama to Lhasa and putting him up at the Norbulingka, the Dalai lama's traditional summer residence.
Breaking point
Tensions were building up and a breaking point was now fast approaching. In 1910, Chinese General Chao Erh-feng forced his way into Lhasa, which resulted in the Dalai Lama fleeing to India and spending over two years in Kalimpong. The following year, in 1911, the rule of the Manchu imperial dynasty ended in China and was replaced by the republican nationalists with Yuan Shih K'ai becoming the first President of the Chinese republic.
Then came the breaking point. In April 1912, Yuan Shih K'ai issued a proclamation making Tibet a province of China. Uncomfortable with China as a neighbour of British India, London told Peking (later renamed Beijing) that while it recognised China's suzerainty over Tibet, it did not recognise China's right to intervene in Tibet's internal administration and keeping unlimited troops in Tibet. Further, Britain threatened it would not accord recognition to the Chinese republic and close all communication with Tibet via India unless China gave a written acceptance of this position.
It was then that China agreed to participate in what is known as the Simla Convention. Much to its delight Tibet was invited to the tripartite talks with Arthur Henry McMahon, foreign secretary of the British Indian government, as the chairman. He was assisted by Charles Bell, Political Officer for Sikkim, Bhutan and Tibet who was then McMahon's adviser on Tibetan affairs. China was represented by Ivan Chen and was clearly uncomfortable at Tibet being invited as an equal partner. Tibet was represented by Lonchen Shatra, a confidant of the Dalai Lama.
On behalf of the Dalai Lama, Lonchen Shatra had at first demanded that Tibet be given full authority over both its internal and external affairs; that it would consult the British Indian government only on a few important foreign affairs issues; that only those Chinese running private businesses in Tibet would be allowed to stay in Tibet; and that Dhartse-doh would be the Tibetan border in the east with China. But all these demands were rejected.
It was on February 27, 1914, that McMahon proposed dividing Tibet into Inner and Outer Tibet that would serve as a buffer between India and China, just as Mongolia had been divided to serve as a buffer between Russia and China. The proposal stipulated that Lhasa would have full authority over 'Outer Tibet' while China would have unlimited presence in 'Inner Tibet'. Much later, after Communist China occupied Tibet in 1959, it turned Outer Tibet into the Tibet Autonomous Region in 1965 and subsequently merged portions of Inner Tibet into adjacent Chinese provinces.
All three representatives initialled the Simla Agreement comprising 11 Articles arising from the convention in April 1914. But when the time came to sign the document, Ivan Chen refused and walked out, leaving McMahon and Lonchen Shatra to sign. Following the Chinese representative's walkout, a declaration was added that China would not be entitled to any rights and privileges as a suzerain power in Tibet if it failed to sign or ratify the tripartite agreement. No Chinese representative ever returned to sign the document.
One aftermath of the agreement is that Tibet ceded Tawang and some other areas of what is now Arunachal Pradesh to India. These areas continue to be claimed by China. The implication for Tibet was more severe - a legally truncated territory eventually usurped by China.
Clashing convention
What is surprising is that initially the British themselves had rejected the agreement reached at the Simla Convention. The official treaty record, C.U. Aitchison's 'A Collection of Treaties', was published with a note stating that no binding agreement had been reached at Simla. Apparently the agreement was deemed to be incompatible with the 1907 Anglo-Russian Convention which was eventually renounced by both Britain and Russia. Yet it was not until 1937 — 23 years after the agreement was signed and 16 years after the Anglo-Russian Convention had been renounced — that the Survey of India published a map showing the McMahon Line to be the official boundary. In 1938, which was just nine years before India got Independence, the British government finally published the Simla Convention in Aitchison's Treaties.
In October 2008, which is 94 years after the signing of the 1914 Simla Agreement, the British reversed their earlier continuous stand that China only held suzerainty over Tibet by announcing that it recognised Chinese sovereignty over Tibet. Then British Foreign Secretary David Miliband described the old position as an anachronism originating in the geopolitics of the early 20th century. "We have made clear to the Chinese Government, and publicly, that we do not support Tibetan independence. Like every other EU member state, and the United States, we regard Tibet as part of the People's Republic of China," he stated on October 29, 2008, thereby bringing a closure to the very agreement for which his predecessors had a century ago manoeuvred almost a century ago.
Ironically, it is the signatories (India and Tibet) who have lost out. Soon after Independence, India was quick to first recognise Mao's take over of China in 1949 making it the second country to do so after Myanmar. Soon after it accepted Tibet to be a part of China. On the other hand a politically weakened Tibet in a post-colonial world of modern realpolitik and with hardly a military force to reckon with was run over by a mighty China which quickly and brutally put down a massive Tibetan revolt against the Chinese in October 1950 leading the Dalai Lama to forever flee to India. The initiator (Britain) has since left the subcontinent and subsequently gone on to disown the convention, governed as it is by its own foreign policy interests. As a result the boycotter (China), which is among the world's militarily and economically most powerful countries, has so far prevailed. India's choice lies between taking some radical steps in an attempt to salvage the 1914 agreement or chart a pragmatic course and find a middle way out to resolve the border dispute. Taking either route will be a long drawn affair.
As it stands a century later, the Simla Convention of 1914 is no more. Long live the Simla Convention!