State demands Rs 2,330 cr to combat deficit monsoon
Chandigarh, July 3
Chief Minister Parkash Singh Badal today sought the intervention of Prime Minister Narendra Modi for providing special central assistance of Rs 2,330 crore to combat deficit monsoon and the prevailing drought-like situation in the state.
Ex-DGP 'drops a bombshell' on ex-MLA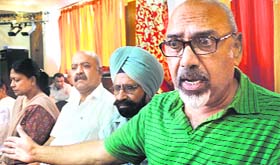 Ludhiana, July 3
Former DGP, Jails, Shashikant today triggered yet another controversy by alleging that a former MLA from Ludhiana, who was a Cabinet minister during the previous tenure of the SAD-BJP government, had tried to press him to go slow on drive against drug peddling in jails.

Former DGP Shashikant levels allegation against a former minister in Ludhiana on Thursday. Tribune photo: Himanshu Mahajan

Now, addicts shift to grocery shops
Bathinda, July 3
After the government tightened the noose around pharmacists for selling-habit forming medicines, addicts have started picking up their 'kick' dose from grocery shops in the form of adhesives (Magic Fix).
Upgrading rural roads
Two months on, govt fails to utilise Rs 130-cr Central aid
Bathinda, July 3
The state government has failed to utilise Rs 130-crore Central aid meant for upgrading rural roads even two months after receiving it.
Riverbeds yet to be cleared of encroachments, weeds in Patiala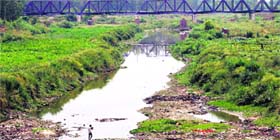 Patiala, July 3
Unperturbed by floods that rocked parts of Patiala and surrounding areas in 2010, the Irrigation Department is yet to complete the work of cleaning rivers and rivulets, causing panic among villagers.


Dense wild growth can be seen on the banks of the Ghaggar. A Tribune photograph

Baopur panchayat land row ends
Sangrur, July 3
The controversy over 26 acres of panchayat land in Baopur village (Moonak), reserved for SCs, ended today with the auction of land for Rs 25,000 per acre. In 2013-14, the land was auctioned for Rs 32,700 per acre. Three successful SC bidders got the land for cultivation for 2014-15.
Baopur Dalits facing excommunication: Panel
Chandigarh, July 3
Belying claims of the Sangrur district administration, the Punjab State Scheduled Castes Commission has said that Dalits in Baopur village have been excommunicated by the upper castes. The commission, in its inquiry report submitted to the state government, has also exposed how land reserved for the Dalits was actually being leased to the upper castes.
Punjab to construct 1 lakh houses for the poor: Sukhbir
New Delhi, July 3
Punjab Deputy Chief Minister Sukhbir Singh Badal today announced that the state government would construct one lakh houses for economically weaker sections in the next three years. He asked the Centre to form state-specific schemes and create special funds to facilitate such efforts of state governments.
Rajindra hospital deputes junior residents on emergency duty

Patiala, July 3
The state government's decision of shunting out all medical officers from Government Medical College and Hospital has come as a big blow to the emergency ward.



The Rajindra Hospital in Patiala. Tribune file photo

Case against Deputy CM
Judicial Magistrate summons case record
Faridkot, July 3
Taking cognisance of a complaint against Deputy Chief Minister Sukhbir Singh Badal, the court of Judicial Magistrate, Faridkot, today summoned the case record. The complainant, Naresh Sehgal, had alleged that Sukhbir violated the terms and conditions of bail granted to him in an attempt to murder case. The court also issued directions to Jail Superintendent, Faridkot, to produce Sehgal in the court on July 7.
Govt should hike maize MSP: Experts
Ludhiana, July 3
Though the state government has been motivating farmers to diversify and cultivate maize, the BJP-led Union Government did not increase Minimum Support Price for maize crop. The MSP remains Rs 1,310 this year. Economists and agricultural experts said the move would prove a hurdle in the diversification plan of government.
Buddha Nullah breach widens, 1,500 acres in 14 villages flooded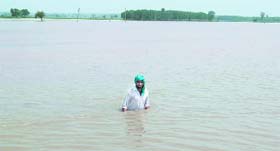 Machhiwara, July 3
The breach that occurred in Buddha Nullah near Machhiwara on Wednesday widened today, flooding standing crop on 1,500 acres in 14 villages in the area. Until yesterday, around five villages had been flooded.


A farmer standing in his flooded field near Powat village on Thursday. Tribune photo

PAU panel to review promotions of assistant professors
Ludhiana, July 3
The Vice Chancellor, Punjab Agricultural University, has formed a committee to review the promotions of assistant professors to associate professors (senior grade) in 2004.
Domestic waste in Ropar to be treated
Ropar, July 3
In order to check pollution in the Sutlej, the district administration has decided to divert domestic waste to sewage treatment plants (STP). Moreover, waste stabilisation ponds (WSP) will be constructed in rural areas to prevent sewage from entering the river. Ropar Deputy Commissioner Tanu Kashyap said these steps would stop any sewage from entering the Sutlej.
Vidhu Jain murder case
Order CBI probe, CM urges Centre
Chandigarh, July 3
Chief Minister Parkash Singh Badal today asked Union Home Minister Rajnath Singh to order a CBI inquiry into the murder case of 11-year-old Vidhu Jain of Malerkotla, who was burnt to death in September 2013.
synthetic drug racket
ED grills Gaba's elder son for eight hours
Jalandhar, July 3
In the multi-crore rupee synthetic drugs case, Goraya-based businessman Chunni Lal Gaba's elder son Gurmesh Gaba was today grilled by the Enforcement Directorate for around eight hours.
Militant's aide denied bail
Ropar, July 3
A local court today rejected the bail application of Pal Singh France, an accomplice of Babbar Khalsa militant Narain Singh Chaura. He was made an accused along with Chaura in a case lodged at the Kurali police station regarding the recovery of arms and ammunition on February 27 last year.


HC eases RTI rules
Chandigarh, July 3
The Punjab and Haryana High Court has amended its right to information rules, probably making these the most citizen friendly rules by any high court in the country.


Three couples booked for youth's death
Faridkot, July 3
The police have registered a case against three couples for allegedly serving liquor laced with poison to 32-year-old Rajeev Kumar in Kotkapura.
4 traders arrested for clash with SGPC task force
Amritsar, July 3
The Amritsar police have arrested four traders in connection with a clash with the SGPC task force on Sunday. At least 10 persons from both sides were injured in the incident.