Frail security has indoor patients on a high
Jalandhar, July 1
The ongoing de-addiction drive seems to have lost its track as families of patients admitted to de-addiction centres alleged peddlers were supplying drugs to their kin even inside these centres due to inadequate security arrangements.
Bootleggers attack cops in Jalalabad, 18 booked
Fazilka: Bootleggers in Chack Balocha village of Fazilka district reportedly attacked Excise Department and police officials on Monday night. They were returning to their headquarters after seizing 10,000 litres of illicit countrymade liquor.
Cannabis growth in Muktsar goes unchecked
Muktsar, July 1
With the authorities failing to check the huge growth of cannabis along the roadsides in the district, addicts are making the most of it.
Little help, suicide by farmers unabated
Lale (Sangrur), July 1
Unable to pay debt, 32-year-old farmer Nirmal Singh hanged himself to death on June 28. Two years ago, his younger brother Sukhvinder had killed himself likewise. Their father Surjit Singh had died in peculiar circumstances a few months prior to Sukhvinder's death.
Election of alliance MPs challenged in HC
Chandigarh, July 1
The election of all six SAD-BJP Members of Parliament , including that of Union Minister Harsimrat Badal, was today challenged in the Punjab and Haryana High Court.
Farming getting capital intensive
Lale (Sangrur), July 1
Declining returns is the main reason why more and more farmers are getting into a debt-trap. Farming has become capital intensive. This means a lot of money has to be spent on a tractor, tube well, thresher and other equipment. With the input costs rising, the net return has declined.
Batala faces flood scare as main drain choked
Batala, July 1
The steel town of Batala faces a threat from floods as the decade-old Hansli drain, which absorbs the flood water, is yet to be cleaned. This despite the tall claims of the district administration that all the drains have been cleared ahead of the monsoon season.
Riverbeds yet to be cleared of encroachments, weeds in Patiala
Patiala, July 1
Unperturbed by floods that rocked parts of Patiala and surrounding areas in 2010, the Irrigation Department is yet to complete the work of cleaning rivers and rivulets causing panic among villagers. While the deadline for the completion of the work lapsed on June 30, the work is pending in many parts of the state.
4 docs found missing from duty
Patiala, July 1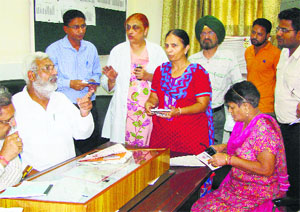 State Health Minister Surjit Kumar Jyani today held a surprise check at Mata Kaushalya Hospital, Patiala, and found four doctors, including the Medical Superintendent, absent from duty. The minister reached the hospital at 9.20 am. Even as more than an hour had elapsed after the beginning of the official timing at 8 am, Medical Superintendent Dr Amarjeet Kaur, Dr Gurman, Dr Ranjana and Dr Kewal Kishan Pawan were absent from duty.
Health Minister Surjit Kumar Jyani during a raid at Mata Kaushalya Hospital in Patiala on Tuesday. Tribune photo: Rajesh Sachar

IAS officer under scanner for graft
Chandigarh, July 1
The state government has asked senior IAS officer C Roul to conduct an inquiry into allegations against a former director of the Transport Department, Sumer Singh Gurjar, of seeking commission for clearing bills of suppliers and employees.
Selection of 312 medical officers
State accepts SIT report, to take action
Chandigarh, July 1
Just over a month after a special investigation team (SIT) constituted to probe the selection of 312 medical officers by the Punjab Public Service Commission (PPSC) in 2008-09 claimed that the entire process was "full of blatant irregularities", the State of Punjab has made it clear that the report was acceptable to it in toto. The state has indicated that "necessary action" would follow.
Note-for-vote scam
2 months on, accused shown in videos still to be identified
Muktsar, July 1
Two months after the alleged note-for-vote scam of Kauni village in Gidderbaha sub-division came to light, the authorities concerned are yet to even identify the persons seen in two videos handed over to the district election authorities by the complainants.
denial of PostGraduate quota
Rural doctors observe 'black day'
Jalandhar, July 1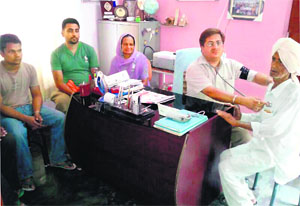 Rural Medical Officers (RMOs) working in rural dispensaries across the state today observed 'black day' protesting the Punjab Government's attitude towards rural healthcare. The protest call was given by the Rural Medical Service Association (RMSA), Punjab. The RMOs wore black badges during the OPD hours and announced that if the government failed to resolve their issues, they would launch an agitation.
A doctor (wearing black badge) examines a patient in Hoshiarpur on Tuesday. A Tribune Photograph

8 chlorination plants sanctioned for Sriganganagar
Abohar, July 1
Concerned over unchecked supply of contaminated water through canal system from Punjab, the Rajasthan Government has decided to set up chlorination plants in eight segments of Sriganganagar. The initial budget of Rs 6.5 crore has been sanctioned for the project.
Rain brings waterlogging woes to Phagwara
Phagwara, July 1
Phagwara residents faced inconvenience due to erratic power cuts and non-availability of drinking water following pre-monsoon showers in several parts of the state. Many tubewells of the Municipal Corporation are out of function since last night after they developed some technical snag.
Dalits object to Punjabi novel, demand action
Mansa, July 1
Members of the Dalit community today raised objection to Punjabi novel 'Maaru Thal', written by Harchand Gill Mayani, for insulting the community.
After quitting PPP, Chahal visits Talwandi Sabo
Bathinda, July 1
A day after PPP district chief Sukhdev Singh Chahal announced that he had quit the PPP, he visited several villages in the Talwandi Sabo Assembly segment where a byelection is to be held.
Rs 20,000 pm for kin of Punjabis stuck in Iraq
Chandigarh, July 1
Chief Minister Parkash Singh Badal today announced a grant of Rs 20,000 per month to the distressed families of 40 Punjabis stuck up in Mosul in Iraq. Badal also asked all the Deputy Commissioners to personally visit the families of Punjabis, who have safely returned from Iraq.
Blood donors hold protest
PHAGWARA, JULY 1
The Activists of Hindustan Welfare Blood Donors' Club held today sat on a dharna in front of the local civil hospital protesting government's decision of price hike of blood units in civil hospitals of the state. They said all blood associations of Punjab had decided not to organise any blood donation camp the till withdrawal of the decision.—OC
plea on bullock cart race
SC seeks response of state govt, Centre
New Delhi, July 1
The Supreme Court today sought the responses of the Centre and Punjab government on a plea by an NGO, seeking permission to file a petition challenging the validity of the Punjab and Haryana High Court verdict, allowing bullock cart race in Kila Raipur Sports Festival.
21 yrs after Army man got life term, High Court sets aside trial
Chandigarh, July 1
Twenty-one years after an Army captain was awarded life imprisonment and dismissed from service by a general court martial (GCM) for allegedly murdering a civilian, the Punjab and Haryana High Court today set aside the trial. The High Court has also taken strong exception to the manner in which the military authorities concerned handled the case, resulting in several procedural irregularities.
SAD leader held for assault
Ropar, July 1
SAD leader Jagtar Singh Bhaini, who was earlier accused of selling land belonging to Takht Kesgarh Sahib, was arrested for allegedly attacking six persons.