Cops use 'secret dope info' for frame-up
Moga, June 30
Gurmeet Singh, a city resident, is languishing in the Faridkot jail for months after he was convicted in a drug trafficking case. But, the local police on "secret information" registered a criminal case against him along with five others on May 27 in the Moga City (I) police station suspecting him of selling opium, smack, heroin and other narcotic drugs.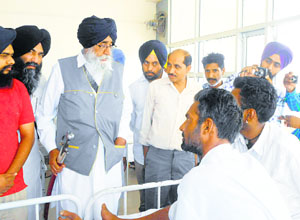 Simranjit Singh Mann talking to inmates of a de-addiction centre in Abohar on Monday. A Tribune Photo

Drive a farce, say addicts' relatives
Faridkot, June 30
The Faridkot police have registered 71 NDPS cases in the last one month and arrested 92 persons for possessing drugs. They claimed to tackled the drug menace in the district to some extent. However, family members of several arrested addicts termed the government's anti-drug drive as a farce to improve its image.
ED quizzes Damanvir again, this time for 6 hrs
Jalandhar, June 30
Damanvir Singh, son of former Punjab Minister Sarwan Singh Phillaur, was again quizzed by the Enforcement Directorate (ED) in the synthetic drug case here today. Damanvir reached the ED office at 9.45 am and remained there till 3.45 pm. While the ED authorities have refused to divulge any details, sources said Damanvir was primarily asked about his business transactions and financial matters.
Amarinder writes to PM
Chandigarh, June 30
Amritsar MP Amarinder Singh has urged Prime Minister Narendra Modi to formulate a national drug policy to tackle the menace across the country and Punjab in particular where the problem has "assumed alarming propositions".

Judicial remand for six Nigerians

Sniffer dogs to check drug flow into jails
52 youths stuck in Iraq back home, vow never to return
Hoshiarpur, June 30
The evacuation of 450 Indians stuck near Karbala in Iraq has started and 52 of them reached India last night. They were happy to be home, but felt dejected because their dreams of making big on foreign shores were smashed.
They survived on single meal, water
Khatuali (Patiala), June 30
"Jae ladai wich naa marey taan bhukh naal mar janwan gey (if not killed in war, will die of hunger)," said a Punjabi youth who returned from Iraq recently. He urged the government to take immediate action facilitating safe return of the Indians stuck in Iraq.
Big farmers given rights of land reserved for us: Dalits
Sangrur, June 30
The Dalits of Balad Kalan village have alleged that landlords have got the rights of land reserved for SCs through proxy bidders by paying a huge amount. They had earlier held a protest during the auction of the panchayat land on June 27 at Bhawanigarh.

Rural medical officers to wear black badges on Doctor's Day
Jalandhar, June 30
Perturbed at the government's "casual approach" to rural healthcare, the Rural Medical Officers Association (RMOA) has announced to observe July 1 as "Black Day". The RMSA state president, Dr Aslam Parvez, said here today that all RMOs working in rural dispensaries would support black badges tomorrow as a mark of protest.
Digital library in a limbo at Fazilka
Fazilka, June 30
The project to convert the library of MR Government College in Fazilka into a digital library has been hanging fire due to paucity of funds for the past five years. The foundation stone of the library was laid by local MLA Surjit Kumar Jyani on February 5, 2009. The construction work was allotted to the PWD Department.
Rs 1,300 MSP for maize too less, says Kapurthala MLA
Jalandhar, June 30
Senior Congress leader and Kapurthala MLA Rana Gurjeet Singh today said even as the Akali-BJP Government claimed to be pro-farmers, it "did not seem to be serious" about crop diversification that could give a lot of relief to agriculturists.
Police thwart protesters' designs
Talwandi Sabo, June 30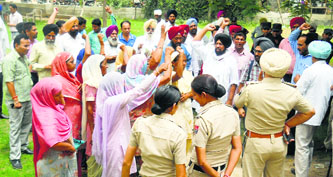 A clash between the police and members of the Mulazim Sangharsh Committee was averted Talwandi Sabo today. The protesters, comprising members of various government department unions, had decided to take out a protest march before submitting a memorandum to the Sub Divisional Magistrate (SDM).

Members of the Mulazim Sangharsh Committee protest in support of their demands in Talwandi Sabo on Monday. A Tribune photograph

Two docs suspended in TB medicine scam
Patiala, June 30
Six months after the submission of a report by the Vigilance Bureau's Economic Offence Wing confirming that the Patiala District TB Centre had been purchasing medicines at inflated prices, the Department of Health and Family Welfare has suspended two doctors who were posted as TB officers during the alleged scam.
Staff shortage: 28 PCS officers get extension
Phagwara, June 30
The contractual services of all 28 PCS officers that were to expire today have been extended till December 31. The state government has been constrained to re-employ these officers on contract on account of acute shortage of PCS officers. Punjab has 288 posts of PCS officers of which 128 are vacant.
Anandpur Sahib to have 3-star hotel
Ropar, June 30
The Punjab Tourism Department has decided to revive its three-star Ashoka Hotel project at Anandpur Sahib. The hotel was proposed to be built in collaboration with the Indian Hotel Development Corporation (ITDC) in 1998. It was left incomplete a few years later as the ITDC started disinvestment and put it on sale.
Spurious fertilisers seized
Moga, June 30
The Agriculture Department has busted a gang manufacturing spurious fertilisers in the Moga district. The department officials seized 30 quintals of fertiliser in packets of 5 kg each yesterday.
Self-help: Villagers set up laboratory
Ropar, June 30
While Nangal residents staged a protest over inadequate facilities at the local BBMB hospital on Friday, residents of Dumna village contributed Rs 1.3 lakh for opening a diagnostic laboratory at the local government dispensary today.
Surprise check by CM, 14 officers found absent
Chandigarh, June 30 Chief Minister Parkash Singh Badal today conducted a surprise check at the mini Civil Secretariat at 09:05 am and found 14 senior officers absent from their offices. A spokesperson for the Chief Minister's office said the exercise was aimed at ensuring punctuality and discipline in government offices as the government was committed to a prompt delivery of citizen-centric services.
Woman, two kids burnt to death
Abohar, June 30
Lichhma Devi (30), her daughter Aarti (3) and son Rakesh (1) were burnt alive in a dwelling located outside Mandelia village, bordering Nagaur segment, on the Sriganganagar-Bikaner road today. The police said they were informed at about 6 am. By the time they reached, people had doused the fire.
Akali Dal Panch Pardhani seeks action against publisher
Amritsar, June 30
Akali Dal Panch Pardhani vice-president Baldev Singh Sirsa today urged the Police Commissioner to act tough against the publisher and sellers of a Punjabi book dwelling on Sikh history. He said "objectionable language" had been used in the book against the Sikh gurus. He said the book's Punjabi version was being sold in markets despite the fact that its Hindi version was withdrawn earlier due to this reason. He also alleged that the book titled "Sikh Itihas" distorted the history of Sikhs. TNS
Honorarium of nambardars enhanced
Chandigarh, June 30
Conceding to the long-pending demand of nambardars, Chief Minister Parkash Singh Badal today announced to enhance their monthly honorarium from Rs 1,000 to Rs 1,500 from January 1, 2015. A decision to this effect was taken by Badal during a meeting with a delegation of the Punjab Nambardars' Union led by its president Gurpal Singh Samra at Punjab Bhawan in Chandigarh this evening. TNS


MOGA SHOOTOUT
Arrested youths sent to 2-day police custody
Moga, June 30
The Moga police have formally arrested Gurcharan Singh Rinku of Channuwala village and Sukhpal Singh alias Khuspinder Singh of Sangatpura village. Allegedly tortured by the Chandigarh Police after the Moga shootout on June 25, they were produced before Aneesh Goel, Judicial Magistrate (First Class), here today. The court sent them to police custody for two days, even as the prosecution pressed for a five-day remand.


Sangrur cops solve 2-yr-old murder
Sangrur, June 30
The district police today claimed to have cracked a two-year-old murder case by arresting five persons, including a brother of the deceased. The police also reportedly recovered from them a mobile phone snatched at the time of the crime, a motorcycle and a wooden frame of a cot.