SDM begins probe into Moga shootout
Moga, June 27
The Moga SDM, Mohinder Pal, has begun a probe into the Moga shootout in which two local residents were killed by the Chandigarh Police on Wednesday night.
Rs 400 crore to be spent on renovation of canals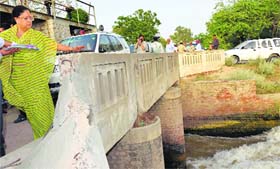 Abohar, June 27
Rajasthan Chief Minister Vasundhara Raje discussed bottlenecks in the canal system during the last phase of her three-day visit to Sriganganagar and Hanumangarh districts today.



Rajasthan Chief Minister Vasundhara Raje at the Lohgarh headworks on Friday. A Tribune PhotoGRAPH

Govt fails to cut revenue deficit
Chandigarh, June 27
Punjab has failed to reduce its revenue deficit to Rs1,746 crore in 2013-14, as targeted. The deficit for the last fiscal, calculated now as the state readies to present its Budget proposals for 2014-15, is much higher (Rs 4632.89 crore).
Smart cards for PU students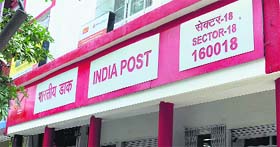 Chandigarh, June 27
In a pilot project, Panjab University (PU) will issue smarts cards that students can use at a post office in any part of the country to avail the services of the university. The project will be launched in Punjab and Chandigarh from the academic session of 2014-15.

A special counter will be set up at the post office of Panjab University in Chandigarh. Tribune photo: Manoj Mahajan



Homemade drugs real threat: Captain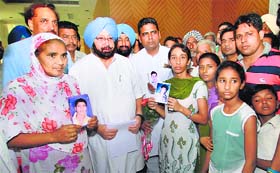 Amritsar, June 27
Former Chief Minister and Member of Parliament from Amritsar Captain Amarinder Singh today said the synthetic drugs produced within the country, specifically in Punjab, were a bigger threat than those smuggled from across the border.

Capt Amarinder Singh meets the families of four youths stranded in Iraq, in Amritsar on Friday. He assured them of taking up the case with the Government of India. A Tribune photograph

synthetic drug racket
Monu's arrest: Raids on in Delhi, Himachal
Jalandhar, June 27
The Patiala police have got vital clues in the multi-crore rupee synthetic drugs case, days after the arrest of Gurjit Singh Gaba, alias Monu, son of one of the key accused in the case. Sources in the police department say Monu has disclosed the names of some persons allegedly involved in the drug racket.
Alarming trend: Two in every 10 addicts are under 16, say doctors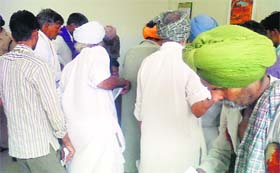 Bathinda, June 27
At least two in every 10 drug addicts are children aged between nine and 16 years, claim doctors at a drug de-addiction centre run by the state government at the Bathinda Civil Hospital.



Patients collect medicines at the drug de-addiction centre in Civil Hospital, Bathinda, on Friday. Photo by writer

Dal Khalsa backs Haryana Sikhs' demand
Hoshiarpur, June 27
Dal Khalsa has said that the tussle between the SAD and Sikh leaders of Haryana over the proposed separate gurdwara management committee shows lack of political maturity.
Rajasthan trust member excommunicated
Amritsar, June 27
The Sikh high priests today excommunicated Baldev Singh of Budha Johar Educational Trust in Rajasthan for disregarding Akal Takht directions.
Benegal to make film on role of Punjabis in freedom movement
Chandigarh, June 27
Punjab has engaged the services of eminent film director Shyam Benegal for a 90-minutes film on the role of Punjabis in the national freedom struggle.
Ropar areas to have lift irrigation: Chandumajra
Ropar, June 27
The state government will provide water to villages falling in changar area of the district through lift irrigation system on the pattern of neghbouring Himachal Pradesh.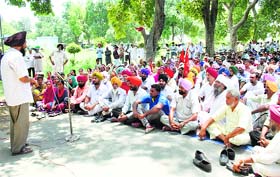 for a safer neighbourhood:

Residents protest the disappearance of youths outside the DC's office in Faridkot on Friday. A Tribune photograph
Hospital charges to be hiked from July 1
Muktsar, June 27
The state government has decided to hike the charges of a number of health care services from July 1 in all the government hospitals.
Will continue to fight for Ram Temple, says Togadia
Phagwara, June 27
The Vishwa Hindu Parishad will continue its struggle to construct Ram Temple in Ayodhya and to abolish Article 370 in Jammu and Kashmir. Parveen Togadia, VHP national general secretary, said this at nearby Virk village today.
Change in mindset must to boost India-Pak trade, say experts
Chandigarh, June 27
While delivering his presidential address at a seminar organised by the CRRID today, Prof SS Johl, Chancellor, Central University, Bathinda, said there was a need to change our mindset to improve trade between India and Pakistan through the Wagah border.
HIV-positive woman alleges bias at work
Hoshiarpur, June 27
An HIV-positive woman attendant of the ECHS Polyclinic in Hoshiarpur has accused the officer in charge of having a discriminatory attitude towards her.
3 crushed by TV van cremated
Abohar, June 27
Abdul Hamid, Subhash and Lala, who were allegedly crushed to death by a TV channel's outdoor broadcast van outside the military station in Lalgarh Jattan on the Sriganganagar-Hanumangarh road on Thursday, were cremated today.
Jail supdts to be accountable, says minister
Hoshiarpur, June 27
The government has decided to hold jail superintendents accountable for incidents of narcotics smuggling and abuse in Punjab jails, said Minister for Jails, Tourism and Cultural Affairs Sohan Singh Thandal today.
Ropar XEN found absent during surprise check
Ropar, June 27
Deputy Commissioner Tanu Kashyap in a surprise check found the Xen of Drainage Department absent from duty here today.


Case against Deputy CM
Complainant asks court to cancel Sukhbir's bail
Faridkot, June 27
A complainant against Sukhbir Singh Badal in an 8-year-old "attempt to murder" case has asked a court in Faridkot to cancel the bail of Deputy Chief Minister and confiscate his passport as he has gone abroad without taking the permission of the court.
Court orders fresh survey of forest land
Chandigarh, June 27
The Punjab and Haryana High Court, acting on a petition filed by the gram panchayat of Bari Karoran, has issued five commandments that may alter the face of the city's periphery.


Moga woman poisons her two kids, one dead
Moga, June 27
A woman allegedly administered poison to her son and daughter and then tried to kill herself at Kothe Patti Mohabbat village in Moga district yesterday. Her son died while the woman and her daughter are said to be critical.