Dhanas murder: In-laws, youth arrested
Chandigarh, June 27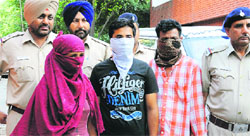 A day after the body of 25-year-old Ravi Kumar, a resident of Sector 49, was found dumped in the forest area near Dhanas, the UT police arrested his in-laws and another youth for the crime.


Three accused in police custody at the Sector 11 police station in Chandigarh on Friday. Tribune Photo: S Chandan



New criteria exceeds constitutional limit
Chandigarh, June 27
The reservation of one of six NRI seats for a Scheduled Caste (SC) candidate in the GMCH-32 MBBS admission process and further criteria adopted on the directions of the UT Health Secretary, Anil Kumar, has increased the reservation for SC candidates in the UT Pool to 17 per cent against the Central Government's specified maximum limit of 15 per cent.
UT gets regular DHS after 2 years


Chandigarh, June 27
Putting an end to the fight for the post of UT Director Health Services (DHS) between the UT Administration and the Punjab Government, Dr VK Gagneja, a Punjab-cadre officer, has been finally appointed as the UT DHS. Dr Gagneja's name was finalised in a meeting held on Thursday and he will serve a tenure of two years. A regular DHS has been appointed nearly two years after the post was being handled by officials on acting charges.

Dr VK Gagneja at his residence in panchkula. Tribune Photo: Nitin Mittal
MC councillors should not seek meeting allowance: Advocate to UT Admn
Chandigarh, June 27 In view of the MC House failing to pass even a single agenda item during meetings held on two consecutive days, a city-based lawyer today wrote to the UT Administration suggesting that the councillors should not seek meeting allowance for the two meetings.
Fortis launches road safety campaign
Mohali, June 27
The Director-General of Police, Punjab, Sumedh Singh Saini, today inaugurated 'Suraksha', a road safety campaign of Fortis Hospital, Mohali.
Fire breaks out at P'kula golf club
Panchkula, June 27
Golf sets worth Rs 25 lakh were gutted when a major fire broke out at the golf club in Sector 3, Panchkula, today.
UT Admn posts reshuffled
Chandigarh, June 27
In a late evening decision of the UT Administratrion, various posts were reshuffled. Rahul Gupta, who was handling the post of Assistant Estate Officer was relieved of the charges and was given various other charges.
Fenced borders not impregnable: Guv
Chandigarh, June 27
Stating that border management was a vast and highly complex task, Punjab Governor and UT Administrator Shivraj V Patil stressed that paramilitary forces need continuous modernisation and upgradation of their training and operational capabilities.
Gurdas Maan mesmerises audience at musical soiree
Chandigarh, June 27


The City Beautiful's atmosphere elevated to Sufi and folk musical notes as singer Gurdas Maan performed during an event organised by the Rani Breast Cancer Trust at Tagore Theatre here today.





Punjabi singer Gurdas Mann performs at Tagore Theatre in Chandigarh on Friday. Tribune photo: Pradeep Tewari
Woman was pregnant, harassed by in-laws: Victim's neighbours
Panchkula, June 27
The woman who allegedly set herself ablaze was seven-month pregnant and was being troubled by her in-laws. This was alleged by owners of the neighbouring houses where the victim worked as a maid, raising doubts on the statement of the police that she had committed suicide.
Story-telling session held
Chandigarh, June 27
A story-telling and reading session was organised by the Children Library of the TS Central State Library, Sector 17, Chandigarh here today.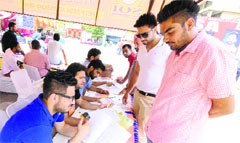 PUSU inaugurates help desk
Chandigarh, June 27
The Panjab University Students Union (PUSU), today inaugurated a help desk and announced its panel for the campus and state body.



Students getting information from the help desk at Panjab University on Friday. Tribune Photo: Pradeep Tewari
Last date for submission of forms online extended
Chandigarh, June 27
In view of the delay in the declaration of results of some courses, the UT Higher Education Department has extended the last date for the submission of online admission forms of undergraduate courses by a day.
Urdu classes from July 1
Chandigarh, June 27
Students wanting to learn Urdu have a reason to cheer.
15,232 applicants in first common merit list of Class XI
Chandigarh, June 27
A total of 15,232 applicants have made it to the first common merit list for securing admission to Class XI in government schools today.
5 students from city bag int'l ranks
Chandigarh, June 27
Five students from the city recently secured international ranks in the Olympiad Awards 2013-14 organised by the Science Olympiad Foundation (SOF), in New Delhi.
PUTA to approach ministry to reconsider capping of API scores
Chandigarh, June 27
The Panjab University Teachers Association (PUTA), has decided to approach the Ministry of Human Resource Development (MHRD), to reconsider the capping of the Academic Performance Indicator (API) scores for the promotion of university teachers.