They paid $400 each for passports to return home

Jalandhar, June 25
Eight Punjabi youths who returned home from strife-torn Iraq on Wednesday claimed they were forced to work like bonded labourers for months in the country. While the government claimed it was providing support to the Indians stuck in Iraq, the youths claimed they paid $400 each to get their passports back from their companies.

Punjabi workers Jagpreet and Kamaldeep (R) show their passports after their return from Iraq, in Jalandhar. Photo: Sarabjit Singh

No ban on 'kirpan' at Akal Takht: SGPC
Amritsar, June 25
In what is seen as a volte face by many, the SGPC today clarified that it had not imposed a ban on carrying 'kirpan' at Akal Takht during the Operation Bluestar anniversary celebrations.
Patna Sahib panel seeks action against Makkar
Amritsar, June 25
Takht Shri Patna Sahib Management Committee today urged the Akal Takht to summon all those who had held a meeting in Patna on June 22 in violation of the orders issued by the Takht to maintain status quo.
Akal Takht warns Haryana Sikh leaders
Amritsar, June 25
Akal Takht Jathedar Giani Gurbachan Singh today told a delegation of Shiromani Gurdwara Parbandhak Committee (SGPC) members from Haryana that action would be taken against Sikh leaders in Haryana working for a separate gurdwara panel.
Will make state drug-free in two years, says Badal
Chandigarh, June 25
Claiming that he would eliminate the drug menace in the state in two years, Chief Minister Parkash Singh Badal today said he had prepared a short term and a long-term plan to achieve this objective. "I am determined to go to any length to free Punjab of drugs," he said.
Congress accuses ED of going slow in drug case
Jalandhar, June 25
The Congress today accused the Enforcement Directorate (ED) of soft-pedalling the crucial issue of the drug racket. Punjab Pradesh Congress Committee (PPCC) spokesperson Sukhpal Singh Khaira alleged the ED was adopting double standards by not summoning Revenue Minister Bikram Singh Majithia.

Poll debacle a collective responsibility, says BJP
Chandigarh, June 25
Admitting that it was worried at the Aam Aadmi Party (AAP) walking away with a 24 per cent votes in Punjab, the top BJP leadership has said that the poor showing by the SAD-BJP alliance in the recent Lok Sabha poll was a "collective responsibility".


Shanta Kumar addresses a press conference in Chandigarh on Wednesday. Tribune photo: Manoj Mahajan

plea to increase mbbs seats
Medical colleges get another chance
Chandigarh, June 25
The Ministry of Health and Family Welfare has given another chance to medical colleges to hear their plea to increase seats that had earlier been rejected by the Medical Council of India (MCI).
PRTC staff bring Faridkot to a halt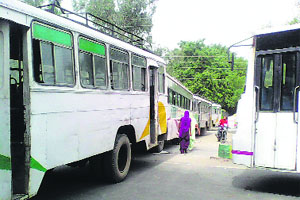 Faridkot, June 25
Traffic came to a standstill in the town today after PRTC employees blocked all roads leading to the bus stand. They were protesting against the alleged failure of the police to take action against a Jaitu-based private transporter who had damaged PRTC buses and injured some of its employees during a clash on June 1.

PRTC buses parked in the middle of a road in Faridkot on Wednesday. A Tribune photograph

Panchayat land under illegal possession
Ferozepur, June 25
Following the gruesome murder of three brothers over the possession of 4.5 kanals of panchayat land in Karia Pehalwan village a few days ago, the district administration has woken up to several such cases.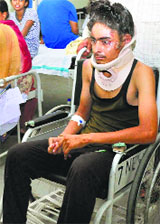 ghaggar mishap
12 admitted to Patiala hospital
Patiala, June 25
The ambition to get placed with multi-national companies turned tragic for over 60 students of various institutions, mainly from Punjab, as the private bus they were travelling in fell off the bridge over the Ghaggar near Tatiana village of Kaithal district last evening.





An injured student at Rajindra Hospital in Patiala on Wednesday. Tribune photo: Rajesh Sachar

Pbi varsity eyes Central grants
Patiala, June 25
Punjabi University has taken a slew of measures and introduced academic reforms in a bid to get Central grants under the Rashtriya Uchchatar Siksha Abhiyan.
Shifting of Muktsar post office pending for a year
Muktsar, June 25
A year after a huge hall in the Red Cross complex was renovated to accommodate the main post office of Muktsar, the shifting is yet to be done. The post office is presently being run from a dilapidated building constructed in 1898, which could "collapse anytime".
State to have mobile fertiliser labs
Chandigarh, June 25
The state government is all set to launch mobile labs to ensure quality checks of fertilisers, insecticides and pesticides.
17 die at Chandigarh PGI everyday
Muktsar, June 25
As per the information procured under the Right to Information (RTI) Act, 76,135 patients lost their lives at PGIMER, Chandigarh, between 2002 and 2013. This included 46,530 indoor deaths and 29,605 emergency outdoor deaths.
Jeep falls into canal; 3 feared drowned
Abohar, June 25
A jeep with a young couple and their child from Hanumangarh district reportedly fell into the Indira Gandhi Canal near Kalwana village today. The police in Sangria segment of the district said Ami Lal Godara (27) left his native village Kishanpura with wife Suman (25) and their two-year-old son at 10 am following some dispute with relatives.

The jeep that fell into Indira Gandhi Canal being taken out on Wednesday. A Tribune Photograph

3 killed in rail mishap
Ferozepur, June 25
Tragedy struck two families belonging to Ferozepur when the Rajdhani Express in which they were travelling from New Delhi to Dibrugarh got derailed near Chhapra station in Bihar last night.
Drug smugglers using school kids to scout for customers
Gurdaspur, June 25
The story of a 14-year-old schoolboy from Awan village in this district reveals how drug peddlers are using children to supply drugs to end-users. Once a courier, the boy has now become an addict. He has been taking high-grade heroin for the past three years. His distressed parents have admitted him to the de-addiction centre at the Batala Civil Hospital.
No headway in dera chief's murder case
Moga, June 25
The Moga police have so far failed to make a breakthrough in the murder case of Paras Mani, head of Baba Farid Dera. The spiritual leader was shot dead on the dera premises situated on the Moga-Ferozepur highway on June 14.
Custodial death
Department inquiry to take months
Gurdaspur, June 25
The departmental inquiry into the charges levelled against Baldev Singh, narcotics cell in charge, by the family of Kulwinder Singh, who committed suicide in the Gurdaspur Central Jail on June 11, will take three-six months.
Book on martyr released
Sangrur, June 25
The revised edition of author Rakesh Kumar's book on the life of Shaheed Udham Singh titled "Bharat Di Azadi Di Shama Da Parvana, Mahan Gadri Inqulabi Shaheed Udham Singh" was released here today.