No roll numbers, dental students block highway
Muktsar, July 2
Students of BDS (first year), Desh Bhagat Dental College and Hospital (DBDCH), today blocked the Muktsar-Kotkapura highway, alleging that the college management had cheated them as they had not been given roll numbers for the annual exam, that began today.
Ludhiana milk plant loses Rs 1.3 cr due to poor handling
Chandigarh, July 2
Ludhiana District Co-operative Milk Producers Union Limited is at the centre of a controversy over the alleged loss of more than Rs 1.3 crore due to improper handling of the produce and illegal purchases made from a society of Rajasthan-based milk producers.
Police probe bares drug peddlers' modus operandi
Patiala, July 2
The Punjab Police are contemplating coordinating with the authorities and the police departments of other states on the issue of drug trade.
Illegal distilleries in Jalalabad destroyed
Ferozepur, July 2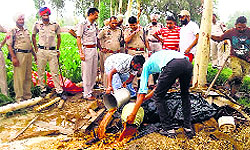 In an early morning operation, the police today swooped down on Mahlam village of Jalalabad sub-division and seized over 2 lakh litres of "lahan" (country-made liquor), which was illegally distilled by some villagers.


Policemen destroy an illegal liquor brewing unit at Mahalam village in Fazilka. A Tribune photograph

Breach in Budha Nullah, 500 acres flooded



A 50-ft breach in the Budha Nullah near Machhiwara inundated 500 acres of agriculture land this evening even as rainwater entered several houses in Govind Nagar, Kalangidhar Enclave and Chauhan Colony here
The breach at Majra village washed away a temporary bridge. Affected farmers complained that their pleas to officials to have the Budha Nullah cleaned before the onset of the rainy season had fallen on deaf ears
An official of the Drainage Department, Baljit Singh Sandhu, said the breach would be plugged as soon as possible
row over separate gurdwara panel for haryana
Haryana Govt's move illegal: CM


Mohali, July 2
Chief Minister Parkash Singh Badal today described the Hooda government's move to set up a separate gurdwara management body in Haryana as "ill-conceived and unconstitutional." Talking to mediapersons here after the installation ceremony of the chairman of the Punjab State Rajput Kalyan Board, Capt RS Pathania, Badal said the Hooda government's designs to divide the Sikhs would not materialise.

Capt: Demand a political issue
Chandigarh, July 2
Congress Deputy Leader in the Lok Sabha Capt Amarinder Singh today lashed out at Chief Minister Parkash Singh Badal for "using" SGPC president Avatar Singh Makkar into dragging Akal Takht into a row over a separate management body for Haryana gurdwaras.

Kalia may head BJP Legislature Party
Chandigarh, July 2
The state BJP is likely to replace all four ministers in the state cabinet which will pave the way for the rehabilitation of the faction opposed to state BJP president Kamal Sharma.

Manoranjan Kalia
Batala faces flood scare as old main drain lies choked
Batala, July 2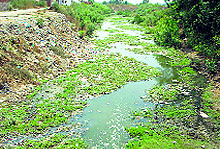 The steel town of Batala faces a threat from floods as the decade-old Hansli drain, which absorbs the flood water, is yet to be cleaned. This despite the tall claims of the district administration that all the drains have been cleared ahead of the monsoon season.



The clogged Hansli drain in Batala. The state had directed the administration to clean the drains by June 30. A Tribune photograph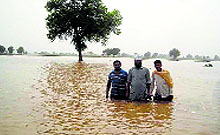 Fields inundated due to canal breach
Abohar, July 2
An approximately 50-foot-wide breach in the Lambi minor (sub-canal) in Bazidpur Bhoma village in Seetogunno sub-tehsil of Abohar sub-division last evening inundated 150 acres of land.



Farmers stand in an inundated field in Abohar. A Tribune photograph


3 of family die of diarrhoea
Patiala, July 2
Three members of a family died in Raj Colony in Ward number 29 in Patiala within a span of five days after suffering from gastroenteritis. Seven others, including two girls, from the same family are being treated for gastroenteritis in city hospitals.


Meenu, whose father, brother and uncle died of diarrhoea, in Patiala on Wednesday. Tribune photo: Rajesh Sachar


Development projects
Get proactive, CM tells babus
Chandigarh, July 2
In an apparent bid to ensure good governance, Chief Minister Parkash Singh Badal has offered his intervention for an early disposal of issues hindering development projects besides directing Chief Secretary Sarvesh Kaushal to supervise matters pending with the Centre.

iraq imbroglio
Youths confined by employers, allege kin
Hoshiarpur, July 2
The families of youths stuck in Iraq today alleged that the companies their kin were working for had not been allowing them to return.

Patiala MP Gandhi meets Sushma


Patiala, July 2
Patiala MP Dharamvir Gandhi today met Minister of External Affairs Sushma Swaraj at her residence in New Delhi. He urged her to step up efforts to ensure a safe return of Indian workers in Iraq.



AI planes ready to evacuate victims: Khanna

Relief to youths returned from Iraq meagre: NAPA


Chandigarh, July 2
The North American Punjabi Association (NAPA) has termed the compensation of Rs 20,000 to the families of Punjabi youths who have returned from strife-torn Iraq as a "cruel joke".

PSPCL buys costly power to meet demand
Patiala, July 2
The coal-starved Punjab State Power Corporation Limited (PSPCL) is relying on short-term purchase to meet the paddy season power demand, despite the first spell of monsoon rain in the past two days.

8 IPS, 16 PPS officers transferred
Chandigarh, July 2
The Punjab Government has issued posting/transfer orders of eight IPS and 16 PPS officers.

Class X pass-outs from other states allowed MBBS seats
Chandigarh, July 2
Students who have done Class XII from Punjab, but have not passed their Class X examination from the state, will now be eligible for 85 per cent state quota in MBBS-BDS seats for 2014-15 session.

Varsities told to collect fresh data on suicides by farmers
Chandigarh, July 2
A high-level committee set up under Dr GS Kalkat, Chairman of the Farmers' Commission, will submit its report on the measures required to be taken to check suicide by farmers in Punjab after a meeting on July 7.

Mumbai divers to clean Golden Temple sarovar
Amritsar, July 2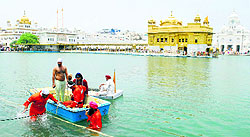 The sacred sarovar at the Golden Temple is being cleaned by professional divers hired from Mumbai. The sacred tank is equipped with a hi-tech water treatment system that purifies water automatically.



Divers clean the filters in the holy sarovar during voluntary service (kar sewa) at the Golden Temple in Amritsar on Wednesday. Photo: RK Soni

Thandal: Jail warders to be recruited afresh
Chandigarh, July 2
In a heart-breaking development for hundreds of youths awaiting appointment in the Prison Department after going through a recruitment process for over two years, state Jail Minister SS Thandal has announced that the entire process will be conducted afresh.
Security to 150 VIPs may be pruned
New Delhi, July 2
The NDA Government has said it will review the security provided to more than 150 VIPs, including those in Punjab. After the Budget session, the threat perception to these VIPs will be reviewed.
Fish market to come up on land earmarked for cricket stadium
Bathinda, July 2
Seven year after the SAD-BJP government laid the foundation stone of a cricket stadium of international standards here, a plan has been finalised to open a fish market on the land earmarked for the stadium.
Move to ensure minimum health standards
Chandigarh, July 2
Specialists will now test the eyesight of students attending government schools. The Education Department and the Health Department have jointly launched a venture in this regard.
Bhawanigarh clash
Withdraw case against Dalits: SC panels
Chandigarh, July 2
A delegation of various organisations today met Jagpal Singh Sandhu, Principal Secretary, Home, to seek withdrawal of a case registered against Dalits following a clash in Bhawanigarh over the auction of panchayat land.