In her very first month as HRD Minister Smriti Irani has pulled off something many thought she would take months to figure. She has fulfilled the BJP's poll promise of rolling back the controversial Four-Year Undergraduate Programme (FYUP) which the DU had introduced last year amid stiff resistance from students and teachers.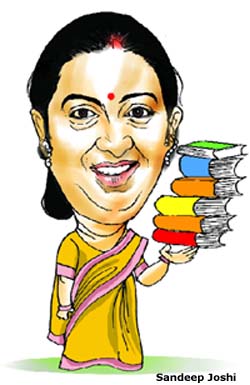 The move may have exposed the 38-year-old minister to criticism from some academics who feel DU's autonomy stands compromised, but Smriti has scored a major political goal for her party early in the game. "How the rollback happened is another story. The important bit is it happened. She is a hard nut to crack," says a BJP sympathiser in the know of her moves as the DU-UGC controversy blew over to settle in the latter's favour.
It's this resolve to deliver which her supporters vouch for in India's youngest and 31st HRD Minister, whom PM Narendra Modi handpicked for the coveted portfolio. Smriti too came into office conscious of her obligations to the BJP. She clarified from the word go that she had no personal priorities for the sector.
"All our priorities have been mentioned in our manifesto. We will establish a Central University for Himalayan Technology, a national e-library for teachers and raise public spending on education to 6 per cent of the GDP," she said on June 27 after taking charge. In a month, the FYUP is history and a decision to locate the Himalayan university in Uttarakhand has been taken.
No wonder, even her political adversaries laud her vibrancy. Former HRD Minister MM Pallam says, "I have seen her in the Rajya Sabha. She is very active and articulate. She has the commitment to deliver." Former MoS HRD Shashi Tharoor was another Congress man who was all praise for her.
Personally, Smriti likes to maintain a low profile. She consciously evaded media questioning on the FYUP matter, saying she had no role to play in it and the UGC was engaging with the DU. When coaxed to say something, she retorted, "Don't compel me to breach constitutional propriety." Privately though Smriti was taking regular updates on the issue; even briefing BJP leaders Sidhartha Nath Singh and Nalin Kohli on what to say publicly on the controversy.
"She knows her mind. She is focused. I have seen her functioning from the days she was BJP Mahila Morcha president. She has accomplished so much in such little time. It speaks volumes about her competence," says Anurag Thakur, BJP youth wing president.
It has taken her just a decade to reach where she is today. She joined the BJP in 2004, contested against former HRD Minister Kapil Sibal from Chandni Chowk the same year and lost; became BJP Rajya Sabha MP from Gujarat and later the party's Mahila Morcha chief and vice-president during Nitin Gadkari's presidentship of the party. Most recently, she was BJP's chosen challenger for Congress vice-president Rahul Gandhi.
It was known all along that even if she lost the election, she would bag a major role in the Cabinet if the BJP cruised to power. Seen as part of Modi's inner circle, leaders speak of how he trusted her to engage with industry when he was the Gujarat Chief Minister. "She is rated as a very effective communicator," says a BJP leader, referring to how she is now being called Sushma Swaraj of the Modi camp.
But RSS leaders differ. "Smriti was chosen for this ministry because she is young and dynamic and comes with no baggage. She can take bold decisions," says one.
That apart, her remarkable rise remains a topic of discussion within and outside the BJP, considering she was once a McDonald's outlet worker, a model and TV star "Tulsi" in "Kyunki Saas Bhi Kabhi Bahu Thi".
Writer Madhu Kishwar, the first to question Smriti's educational credentials, says, "I have nothing against her. I hardly know her except that I was once a guest on a TV show she hosted. On the matter of principle, the HRD Minister cannot be a 12th pass and she can't make false declarations about being a BCom graduate when she is not."
Smriti, however, remains unfazed by controversies that have stalked her into the ministry. "Judge me by my work," was all she said when questions were raised about her qualifications. Like Modi, Smriti too has ensured insulation from the media. Her office in New Delhi's Shastri Bhavan is out of bounds for mediapersons, unlike in the past when walk-in was routine. Now prior appointment is a norm and cell phones are barred inside her room.
That's not to say she's not working hard. An HRD officer points out, "She's a quick learner. She is in by 9 am and stays until 9 pm." Ministry staffers recall the surprise visit she paid to them a day after she joined. "Never has a minister visited us in the past. We were pleasantly surprised," says a woman HRD staffer, admitting she finds it difficult to dissociate Smriti the minister from Tulsi the actor. "It will take time," she says.
For her part, she has in the past spoken of how her party never judged her for what she is — daughter of a Punjab-Bengali couple; wife of a Parsi; someone who left Delhi at a young age to seek a life in the tinsel town but ended up in power circles. "You cannot command destiny, can you?" asks a BJP leader.