66 lions killed in Gir in a year
Gandhinagar, July 12
As many as 66 lions, including 29 cubs, have died in the Gir forest sanctuary, the only abode of the Asiatic Lions in the Saurashtra region of Gujarat, in the past one year, said Forest Minister Ganpat Vasava.
More tax relief as economy revives: Jaitley
New Delhi, July 12


Finance Minister Arun Jaitley today promised more concessions in income tax when the economy improves. "We do not want a high taxation regime. It was because of the high taxation regime of the previous government that inflation rose. "I think there was never a Union Budget since 1947, which gave relief up to Rs 50,000 across all three classes of tax payers — right from lower to the middle and higher income brackets," he told to a national new channel. The Finance Minister said had the government more money in its coffers, he would have given more reliefs. "May be, if the government has more money tomorrow, I will raise (reliefs)," he said.
Involve us in Roerich Memorial Trust affairs, Russia tells India
New Delhi, July 12
Russia has asked the Government of India to be directly involved in the activities of the Naggar-based International Roerich Memorial trust (IRMT) in Himachal Pradesh. The active involvement of the Indian government in the affairs of IRMT has always remained the focus of Moscow's contacts with New Delhi in recent years, Russian Ambassador to India Alexander Kadakin said. The situation in the Roerich Kullu Estate was discussed during the last India-Russia Summit between then Prime Minister Manmohan Singh and Russian President Vladimir Putin in Moscow in October 2013.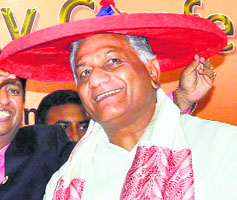 MoS (Independent Charge) for Development of North Eastern Region General (retd) VK Singh in Guwahati on Saturday. PTI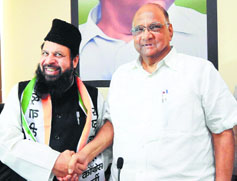 Ex-MP Maulana Obaidullah Khan Azmi with NCP chief Sharad Pawar in Mumbai. PTI

Budget focuses on revival of growth, says govt
New Delhi, July 12
The government today said the focus of the Union Budget was to revive growth, boost manufacturing and rationalise taxes. "The main focus of the government is to revive growth and manufacturing sector, to take steps that will result in creation of jobs, go in for tax rationalisation, reduce tax litigations and ambiguity in policies," Revenue Secretary Shaktikanta Das said. At the post-budget interaction with industry chamber Ficci, Das said the Budget had sought to bring in greater clarity in taxation policy.
Modi is BJP Parliamentary Party leader; Rajnath his deputy in LS
New Delhi, July 12
BJP president Amit Shah today officially announced Prime Minister Narendra Modi's as the leader of the reconstituted BJP Parliamentary Party in both the Houses of Parliament. The BJP chief also announced his deputies in the Lok Sabha and Rajya Sabha.
Aim at rehab of convicts, welfare of victims: SC to trial courts
New Delhi, July 12
The Supreme Court has laid down five cardinal principles and directed the trial courts across the country to follow these scrupulously to ensure the convicts' rehabilitation as well as the victims' welfare. A Bench comprising Justices Ranjana Desai and Madan Lokur observed that recent judgments "indicate that the philosophical basis of our criminal jurisprudence is undergoing a shift – from punishment being a humanising mission to punishment being deterrent and retributive.
More Indians returning on fake passports from Gulf countries
New Delhi, July 12
The number of Indians returning from Gulf countries on fake passports has increased this year. Sources in the Delhi Police said until June this year, 13 persons had been arrested for travelling on fake passports. Last year, 12 people were held, while in 2012, 19 were arrested for the crime.
Cell phones behind rapes: Karnataka panel
Bangalore, July 12
In a recommendation stoking controversy, a committee of the Karnataka Legislature has proposed a ban on mobile phones in schools and colleges as a step to curb incidents like rape.
Telangana shuts down against Andhra Reorganisation Bill
Hyderabad, July 12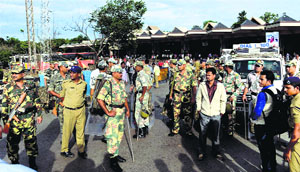 A day-long Telangana bandh called today in protest against the passage in the Lok Sabha of a Bill to transfer some mandals of the newly created state to Andhra Pradesh to aid the construction of the Polavaram project, went off peacefully, police said today.

Paramilitary personnel deployed in front of the Mahatma Gandhi Bus station in Hyderabad during a bandh, called by Left parties and the Telangana Joint Action Committee. PTI

Vardhan checks children's hospital in Delhi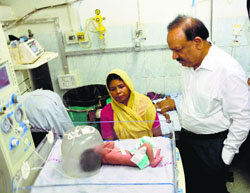 New Delhi, July 12
Health Minister Harsh Vardhan found several inconsistencies in prescriptions written by resident doctors at a children's hospital in the capital which he visited to oversee the implementation of child health policies. During his visit, the Health Minister spotted inconsistencies in prescriptions signed by junior doctors. He asked senior doctors to train residents in rational prescription of medicines.

Health Minister Harsh Vardhan looks at an infant during a visit to Kalawati Saran Children's Hospital in New Delhi on Saturday. PTI

Govt to give cashless care worth Rs 30,000 to mishap victim
New Delhi, July 12
The government proposes to provide free treatment worth Rs 30,000 for accident victims on national highways all over the country in a phased manner. Currently the pilot project is running on 226 kilometre Gurgaon-Jaipur stretch and has now been extended to Mumbai- Baroda and Ranchi-Jamshedpur link, a top official said today.
Curfew in Assam's Bodo areas after four abducted
Guwahati, July 12
Curfew has been clamped in Gobardhana and Ananda Bazar police station areas in Baksa district of Bodoland Territorial Autonomous District Council (BTC) areas of Assam, while the Army has been put on alert following abduction of four persons, including two boys, allegedly by suspected NDFB (S) militants from the Labdanguri area in the district yesterday.
Hunger strike did not help me, says Kejriwal
New Delhi, July 12
Doing hunger strike did not help me and that is why I finally entered politics, AAP National Convenor Arvind Kejriwal told protesting teachers who are sitting on fast unto death here, urging them to end their strike.
HSGPC political drama by Congress: Badal


Chandigarh/Mohali, July 12
Punjab Chief Minister Parkash Singh Badal today called the Bill passed in the Haryana Assembly to create a separate SGPC for the state as a political drama enacted by the Congress. By dividing the SGPC, Badal said the Congress would have to pay dearly for 'playing dirty politics' and interfering in the affairs of the Sikhs.

Punjab CM Parkash Singh Badal

Hooda: Respect Haryana Sikhs' sentiments


Chandigarh, July 12
Haryana Chief Minister Bhupinder Singh Hooda today urged his Punjab counterpart Parkash Singh Badal and SGPC chief Avtar Singh Makkar to respect the sentiments of the Haryana Sikhs and stop creating hurdles for Sikhs in serving the Haryana gurdwaras.

Haryana Chief Minister Bhupinder Singh

CPM asks Centre to allocate funds for sub-plan for SC
New Delhi, July 12
The Communist Party of India (Marxist) today asked the Centre to allocate funds for Scheduled Castes Sub Plan or SCSP equivalent to the population proportion of SCs in the country.
Ministers to occupy bungalows by July-end
New Delhi, July 12
Several new Union ministers will be able to move in to their allotted bungalows by the end of July after repair work is completed in nearly 25 houses vacated by previous occupants.
Mars orbiter spacecraft to reach target in 75 days
Bangalore, July 12
Exactly 75 days from today, India's Mars spacecraft is scheduled for a rendezvous with the red planet as it is rapidly coasting towards its target. Mars Orbiter Spacecraft has travelled 525 million kilometers on its heliocentric arc. Radio signals from earth now take 15 minutes to reach Mars Orbiter mission (MOM) and return, Bangalore-headquartered Indian Space Research Organisation (ISRO) said.
7 injured in Manipur blast
Imphal, July 12
At least seven people, including a six-year-old boy, were injured in a blast in front of the Manipur University here on Saturday, the police said. The blast occurred minutes after Chief Minister Okram Ibobi Singh's convoy crossed the area. The convoy was headed towards Chandel district where he will attend a programme.
37 fishermen return from Sri Lanka
Rameswaram, July 12
Thirty seven fishermen who were arrested in two batches by Sri Lankan Navy while fishing near Katchateevu recently were brought to Mandapam here after a court in the island nation ordered their release. An Indian Coast Guard ship received them from a Sri Lankan naval ship at the International Maritime Bourdary Line (IMBL) and brought them to Mandapam, Fisheries Department sources said. Mannar court magistrate Aanandhi Kanagarathinam had yesterday ordered the release of the fishermen. They were arrested by June 19 and July 4 on charges of crossing IMBL. Talking to reporters, the fishermen thanked Tamil Nadu Chief Minister J Jayalalithaa and the Union Government for taking efforts for their release. — PTI
Give funds for SC sub-plan: CPM to Centre
New Delhi, July 12
The Communist Party of India (Marxist) today asked the Centre to allocate funds for Scheduled Castes Sub Plan or SCSP equivalent to the population proportion of SCs in the country. Stating that the Census 2011 had pegged the population of Scheduled Castes at 16.6 per cent of the total population of the country, CPM Politburo member K Varadharajan, in a letter to Finance Minister Arun Jaitley, said 16.6 per cent of the plan outlay should be allocated for SCSP. — PTI