A foot of water!
Mona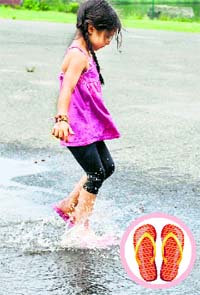 Come rain and the first thing that most of us, with a child in the heart alive, want to do is hit a puddle. Let the thought of soiling your shoes not stop you from enjoying. There is a range of stuff available, right from flip flops, wedges, jelly flats and even proper formal shoes for men and women, to help you have all the fun.
Flip side
If you haven't been shoe-shopping for wet weather, the time is just right. Not only are there colours and sizes available, but also off up to 50 per cent on most brands. At Puma, flip-flops are available at Rs 400 onwards. If sporty is not your style, head to Westside, not only are there more feminine flip flops but also jelly flats. The trusted Bata too has plenty of options right from colourful slappies to jelly flats; transparent to colourful. Remember, the hottie Bipasha Basu puts jelly flats in your Monsoon wardrobe! Add some bling to them with stones and plaited look at Regal-17. If you still have not opened to flip flop option, let us clue you in; reportedly Barack Obama is the first-ever American President to have been spotted in them, Dalai Lama has seen distinguished people, including state heads, in flip flops.
Price range: Rs 150 to Rs 1,500
High five

If you want to stand high to keep infections from rainy water away, Benetton has platform flip-flops in bold colours. They can well raise you good two inches above the road. If you shop now, you can get them at discounted price of Rs 750 onwards. We spotted a steal at Bata where there is huge pile in different colours, motifs for Rs 150 onwards. Crocs are another good option for kids, if girls are too shy wearing them to college or work.
Price range: Rs 150 to Rs 1,000
Colour full
If you want to own multiple pairs to match with capris or dresses, street shopping at Sector 22, 19 or 15 might just do the trick for you. Right from a ladybird on side to flowers, stones, faux crystals and bits of bling, there a riot of colour on offer. Flats, wedges, bellies; styles are as many as colours. Right from whites and silvers to oranges, blues, greens and purples, there are options aplenty.
Price range: Rs 100 to Rs 500
Get sporty
Many sports shoes are not only waterproof, but also offer unparalleled comfort. Be sure to check 'water-resistant' label if you wish to flaunt them. Most footwear brands right from Bata that has Power and Northstar on board to Nike, Reebok and Adidas offer select options.
Price range: Rs 1,500 to Rs 15,000
Men's corner
Men needn't lose heart. There are as many if not more options for them too, albeit not that easy on the wallet. While you can pick up a flip flop from anywhere, not so casual ones comes at a cost. Bata's leather water-resistant shoes come for Rs 8,000 while Woodland's anti- microbe shoes are effective in both wet and dry conditions. The shoes are fabricated to prevent the growth of microbes and harmful microorganisms such as bacteria, fungi and algae that grow due to excessive moisture. These are priced at Rs 4,495 onwards. Timberland has few sturdy options in black and brown, priced at Rs 10,000 onwards.
Price range: Rs 4495 to Rs 12000
Gummy tales
Gumboots might still be the best option for kids especially if you are packing them off to school for larger part of the day. Duckback still is a favoured name; from ankle high to knee length there are many styles, sizes and colours available. While the city might not offer as many options, you can try your luck online.
Now that we have listed the options and if you are still not enticed enough, let us put a caveat in place - you certainly don't want your favourite pumps to grow mould or break at the seams! If you absolutely can't do without delicate sandals at work, shove off the slippers in a packet as you enter the office and put on your choice of the day. Add on a transparent waterproof tote for college or bright water-proof bag to go with a monochrome office outfit. Enjoy the rain till it lasts!
mona@tribunemail.com