Waterlogging: Rs 1,800 cr for canal re-lining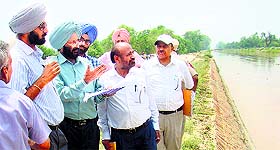 Badal (Muktsar), July 20
The Irrigation Department has come up with Rs 1,800 crore project for the relining of Rajasthan and Sirhind Feeder canals in order to tackle the perennial problem of waterlogging in Muktsar, Fazilka, Ferozepur and Faridkot districts.


Officials of the Irrigation and the Drainage Departments inspect the Sirhind canal. Tribune file photograph
Illegal liquor vends dot Muktsar dist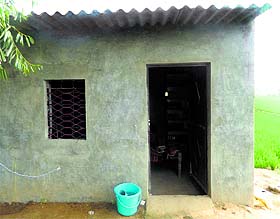 Muktsar, July 20
The excise and taxation officials and liquor contractors seem to be having a nexus in Muktsar district as a large number of illegal liquor vends have come up in villages even as the authorities concerned are sitting silent. The illegal vends are doing brisk business on the village link roads as there is hardly any check on these establishments.


An illegal liquor vend at Gidderbaha sub-division in Muktsar district. A Tribune photograph
Power staff attacked in Abohar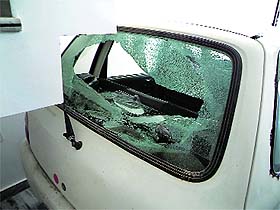 Abohar, July 20
Over a dozen residents on Saturday night intercepted the car in which Punjab State Power Corporation Limited (PSPCL) sub-divisional engineer (SDE) Vijay Aneja and junior engineer (JE) Hardeep Singh were travelling in and thrashed them at Seetogunno sub-tehsil of Balluana segment in Abohar sub-division. The accused fled on seeing technical staff coming towards the spot.


The car in which the officials were travelling was also damaged.

Badal trying to flare up issue: Bajwa
Chandigarh, July 20
Punjab Congress president Partap Singh Bajwa today said Chief Minister Parkash Singh Badal was trying to flare up the situation in Punjab and Haryana over the issue of creation of the Haryana Shiromani Gurdwara Parbandhak Committee (HSGPC).
Deficient rainfall: State to miss target on maize cultivation
Ropar, July 20
Deficient rainfall has forced the state Agriculture Department to revise its target of bringing 2 lakh hectares under maize cultivation this year. Due to delay in the monsoon and a projected shortfall of more than 50 per cent, it would not be possible to increase the area under maize cultivation beyond 1.7 lakh hectare, sources in the department said.
Early basmati variety hits market
Fazilka, July 20
Early variety of basmati (Pusa 1509) has started arriving in the Fazilka market—one of the largest basmati markets in the country. The first heap of 200 quintals reached the market today.
BSF proposes to widen main gate at Wagah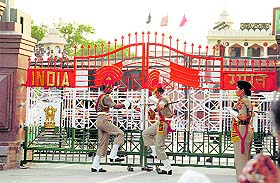 Amritsar, July 20
The Border Security Force (BSF) has proposed to widen the main gate at the zero line at the Attari-Wagah joint check-post for a better view of the Retreat ceremony. Thousands of visitors, including foreigners, arrive here to witness the flag-lowering ceremony.


The Retreat ceremony in progress at Attari-Wagah joint check post, near Amritsar on Sunday. Photo: Vishal Kumar
Badal village stadium to be ready by August-end
Badal (Muktsar), July 20
Secretary of the Sports Department Kahan Singh Pannu today inspected the ongoing work on state-of-the-art stadium coming up in Badal village.
Thefts in schools
Shift goods to safe place, teachers told
Faridkot, July 20
Unable to check the rising incidents of thefts in rural schools, the Faridkot police have come out with a unique plan. They have directed the school authorities to shift all goods susceptible to theft to the house of a reputed person in the village everyday after school hours.
Voting for HSGPC
Sehajdhari party may move court
Ludhiana, July 20
The Sehajdhari Sikh Party has planned to move court against the Haryana Government on the issue of the voting rights to Sehajdhari Sikhs. Referring to the Haryana Sikh Gurdwara Management (HSGM) Bill 2014, the party's national president, Dr PS Ranu, alleged the Sehajdhari Sikhs had been cheated by the Hooda government.
Villagers 'detain' policemen for thrashing youth
Barnala, July 20
Members of a police team from Baghapurana (Moga district) were today "detained" by residents of Jodhpur village near here.
Patiala Land scam
PO's arrest may spell trouble for ex-DC
Patiala, July 20
The arrest of Ravdeep Singh in the Patiala land scam case yesterday could spell trouble for other accused in the case, including IAS officer Vikas Garg, who was reinstated recently.
Tight security for Amritsar bandh today

Amritsar, July 20
A heavy posse of police has been deployed in various parts of the city in view of the 'bandh' call tomorrow by various Hindu organisations. They have been protesting the clash that erupted at Baltal base camp en route Amarnath Yatra a few days ago.



A policeman deployed at Hall Bazaar in Amritsar on Sunday. PHOTO:RK SONI
Sewerage project in Sangrur hangs fire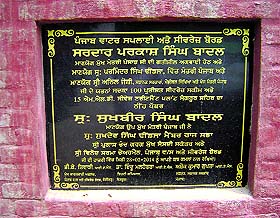 Sangrur, July 20
A multi-crore sewerage project that included the setting up of a sewage treatment plant has been hanging fire due to the non-release of funds. The officials of the Punjab Water Supply and Sewerage Board (PWSSB) here are not sure if the project will ever take off. The stone of the project was laid by Deputy Chief Minister Sukhbir Singh Badal on February 28, but the Central Government failed to release funds for the project.



The foundation stone
Transfers of 12 jail dept officials under scanner
Patiala, July 20
The new postings and transfers of 12 senior jail officials have come under the scanner. A few of them were recently shifted following serious charges of dereliction of duty, while some junior non-gazetted officials have got posts meant for gazetted officers. When The Tribune inquired into the matter, the Jail Department chose not to go through with the transfers.
Sewerage not laid, Khamano residents allege vendetta
Fatehgarh Sahib, July 20
In yet another case of alleged political vendetta, the Punjab Water Supply and Sewerage Board (PWSSB) Punjab has allegedly not laid sewerage for some of the houses under the centrally sponsored scheme in Khamano sub-division in the district.
Projects in Gurdaspur fail to take off
Gurdaspur, July 20
Several projects in Gurdaspur have failed to materialise. One can see several foundation stones in the town gathering dust.
CM for more funds to govt medical colleges
Chandigarh, July 20
Chief Minister Parkash Singh Badal today directed the Departments of Health and Medical Education & Research to chalk out a comprehensive plan for providing additional funds to the government medical colleges. A decision to this effect was taken by Badal in a meeting with Dr Rajendra A. Badwe, Director, Tata Memorial Centre, who called on the Chief Minister at his residence this morning.
Recovery of AMMO
Probe now with CIA
Faridkot, July 20
Four days after the recovery of 400-gm explosive powder, a small monitor, two galvanised pipes, a China-made battery, a 'Pakistan-made' identity card and two mobile SIM cards near Kendriya Vidyalaya school in the cantonment area of Faridkot, the police have registered a case.
R'sthan farmers fume as water diverted to Pak
Abohar, July 20
Even as hundreds of farmers in Sriganganagar district of Rajasthan were gearing up to launch a stir over the non-availability of canal water, Punjab Government officials reportedly diverted the water to West Punjab province of Pakistan.
Staff protest jail term for SDM
Ludhiana, July 20
The executive body of the Punjab Revenue Officer Association today held a meeting to discuss the punishment awarded to Ram Singh, Garshankar Sub-Divisional Magistrate, and Baljinder Singh, a patwari, by a local court. The revenue officials threatened to go on a strike on July 28 if Ram Singh is not reinstated.
Couple among 3 held with Rs 2.6-crore heroin
Tarn Taran, July 20
In two separate incidents, the police have arrested three persons, including a couple, after recovering 530 grams of heroin from their possession. The contraband is estimated to be around Rs 2.65 crore in the international market.