Weak monsoon: PSPCL imposes regulatory measures
Jalandhar, July 11
With power crisis in the state aggravating, Punjab State Power Corporation Limited (PSPCL) has imposed regulatory measures on the industry. In the wake of a weak monsoon, the peak load exemptions to consumers have been withdrawn. The industry will not be able to operate from 8 pm to 8 am.
Punjab reduces water supply to Rajasthan, farmers protest
Abohar, July 11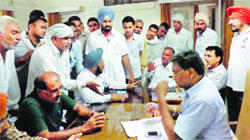 The state government has drastically reduced the supply of water to Sriganganagar and Hanumangarh through the Gang (Bikaner) canal to recover Rs 4.11 crore maintenance charges from the Rajasthan Government. The move triggered strong protests in Sriganganagar today.

Farmers protest inside the Irrigation Department office in Abohar on Friday. Tribune photo

Notice to Vinod Khanna on plea against election
Chandigarh, July 11
The Punjab and Haryana High Court today issued a notice to BJP Member of Parliament (MP) Vinod Khanna on a petition against his election.
Move a bid to divide Sikhs, claims Sukhbir
Amritsar, July 11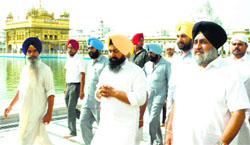 Even as the HSGPC (Management) Bill 2014 was moved in Haryana Assembly today, Deputy Chief Minister Sukhbir Badal said any such move on part of the Haryana Government would be a clear transgression upon the power of Parliament to make such a law.



Deputy CM Sukhbir Badal pays obeisance at the Golden Temple in Amritsar on Friday. Tribune photo

Cong MPs: Budget is anti-Punjab
Ludhiana, July 11
Ravneet Singh Bittu, Member of Parliament (MP) from the Ludhiana Lok Sabha constituency, today said that the Union Budget clearly showed that the Modi government had no concern for the Punjab's deteriorating fiscal condition.


SAD to ask Haryana Guv not to sign Bill
Chandigarh, July 11
The Shiromani Akali Dal (SAD) has formed a strategy to pressurise the Haryana Governor into delaying the signing of the Haryana Sikh Gurdwaras (Management) Act, 2014. The Act was passed by the Haryana Vidhan Sabha today. It paves the way for the bifurcation of the SGPC, by recognising a separate management body for the gurdwaras in Haryana. The SAD has termed the Haryana Government's move as "illegal and unconstitutional."
Union Govt unlikely to intervene
New Delhi, July 11
Punjab Chief Minister Parkash Singh Badal's last-ditch efforts to persuade Union Home Minister Rajnath Singh to restrain the Haryana Government from creating a separate body for management of Sikh shrines in the state is learnt to have met with lukewarm response.
Coop Dept corrupt, alleges Bains
Chandigarh, July 11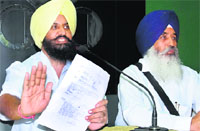 The independent MLA from Atamnagar (Ludhiana), Simarjit Singh Bains, today took on the Chief Minister Parkash Singh Badal, accusing him of ignoring corruption in the Cooperatives Department. Bringing to light "irregularities" in the functioning of Milkfed, the MLA alleged that synthetic milk was being supplied to the milk plant at Ludhiana, which "amounted to cheating the consumers".
MLA Simarjeet Singh Bains (left) with his brother Balwinder Singh Bains in Chandigarh on Friday. Tribune photo
Why bring down 'heritage' buildings, asks Chawla
Amritsar, July 11
Senior BJP leader Laxmi Kanta Chawla today criticised the state government over the state of heritage buildings in Amritsar and the random chopping of trees.
Principal Secy pulls up officials for delay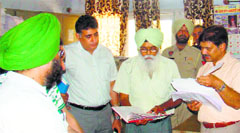 Fatehgarh Sahib, July 11
Finding discrepancies in providing services to the residents of this district, Principal Secretary Administrative Reforms C Rao today pulled up administration officials. He directed them to improve the system.
Principal Secretary, Administrative Reforms, C Rao (extreme right) checks documents at a Suvidha Kendra in Fatehgarh Sahib on Friday. A Tribune photograph
Two officials found absent
Nawanshahr, July 11
Deputy Commissioner Anindita Mitra today found Naib Tehsildar and the Block Development and Panchayat Officer, Nawanshahr, absent during a surprise checking.
School says can't be blamed for pupil's suicide
Gurdaspur, July 11
The death of a Class IX student of the Government Senior Secondary School, Jagowal Bet, Kahnuwan, has taken a new turn with the school principal claiming that the deceased was under "no duress to pay his tuition fee."
Faridkot kidnappings: NGOs to go on strike today
Faridkot, July 11
Various social and political organisations will go on a strike tomorrow in protest against the increasing kidnapping incidents in the district.


Judicial remand of 41 Dalits extended
Sangrur, July 11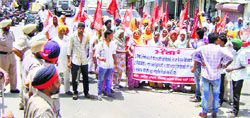 Gurmeet Singh Tiwana, Judicial Magistrate First Class (JMIC), extended the judicial remand of 41 Dalits till July 25 today. These persons were arrested from Bhawanigarh on June 27 while protesting against the auction of panchayat land of Balad Kalan village (reserved for SCs). They have been in judicial custody since June 28.
The police stop Dalit protesters of Balad Kalan village from heading towards the judicial courts complex in Sangrur on Friday. A Tribune photograph
7-year jail for rape
Ropar, July 11
Ropar District and Sessions Judge Amarjot Bhatti has awarded seven-year imprisonment to Harjinder Singh, alias Mani, a resident of neighbouring Bhakku Majra village, for raping a minor.


19 phones seized from Amritsar jail
Amritsar, July 11
The police today conducted a massive raid inside the high-security Amritsar Central Jail that also houses Pakistani nationals.
5 killed, 46 hurt as bus rams into 2 trucks
Abohar, July 11
Five passengers were killed and 46 were injured as the bus ferrying them reportedly collided with two trucks on the Sriganganagar—Bikaner highway in Rajasthan late last evening.