Canal water supply suspended, Abohar farmers stage protest
Abohar, July 9
While farmers from different villages lodged protest with the Irrigation Department over frequent cuts in water supply, Congress Legislature Party Leader Sunil Jakhar criticised the authorities for poor water management.
Soon, new cars for ministers, CPSs
Chandigarh, July 9
The Punjab Government will be lifting a two-year ban on the purchase of vehicles for ministers, chief parliamentary secretaries and other political appointees. The state will soon be purchasing Fortuners, Camrys or Corollas for them.
separate haryana gurdwara panel
SGPC executive panel to take up issue tomorrow
Amritsar, July 9
Stung by the Haryana Government's move to form a separate gurdwara panel, the SGPC is set to hold yet another executive committee meeting on July 11, the day the Bill for the same is expected to be tabled in the Haryana Assembly.
AAP: Release funds for NIS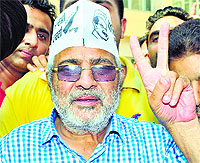 Patiala, July 9
Patiala MP Dharamvira Gandhi met Union Sports Minister Sarbananda Sonowal and demanded that the planned coaching centre at Netaji Subhas National Institute of Sports (NIS) should not be shifted anywhere else and the earmarked Rs 250 crore should be released soon for the early execution of the plan.


Dharamvira Gandhi

Inflation: Cong protests in Abohar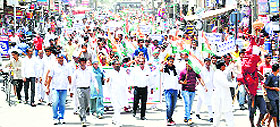 Abohar, July 9
Concerned over the spiralling food price, hundreds of Congress workers organised a protest in Sriganganagar, about 40 km from here, in Rajasthan, against the Centre and the state government.

VCongress workers during a protest rally at Sriganganagar on Wednesday. A Tribune photograph

TRACKING RAILWAY BUDGET-2014
Bathinda-Delhi Shatabdi was halted in 2002 due to poor response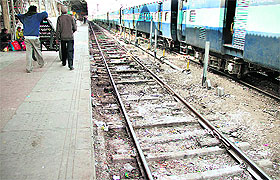 Bathinda, July 9
Announced yesterday in the Rail Budget, the Bathinda-Delhi biweekly Shatabdi was stopped within a month of its launch in 2002 due to poor response.It was started by then Railway Minister Nitish Kumar, but discontinued within 30 days as the train occupancy was even less than 15 passengers daily.


The train was halted within a month of its launch
No word on electrification of Amritsar-Pathankot link
Gurdaspur, July 9
The proposed electrification of the 110-km Amritsar-Pathankot link through Gurdaspur and Batala has been put in the cold store reportedly due to the vested interests of the private transporters.
State incurs heavy losses on storing grain
Bathinda, July 9
Punjab has incurred huge losses during storage and transportation of foodgrain in the past four years, reveal sources. More than 52.52 lakh bags (each containing 50 kg of grain) were lost during storage and 1.83 lakh bags disappeared during transportation between April 1, 2011 and May 2014.
Centre to fund state's tourism projects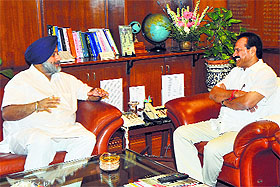 New Delhi, July 9
The Centre has agreed to grant financial assistance to Punjab for its upcoming heritage and tourism projects. It has decided to grant the state Rs 25 crore annually. Chief Minister Parkash Singh Badal met Union Tourism and Cultural Affairs Minister Shirpad Yesso Naik here yesterday.

Punjab Deputy Chief Minister Sukhbir Singh Badal with Union Railways Minister DV Sadananda Gowda at Rail Bhawan in New Delhi on Wednesday. A Tribune photograph

Involve families of addicts in counselling: Kiran Bedi to CM
Chandigarh, July 9
In its bid to eliminate the drug menace from Punjab, the state government is all set to establish a "state-of-the-art" drug de-addiction and rehabilitation centre in Mohali.
Powercom officials axe trees, probe ordered
Muktsar, July 9
The power department officials allegedly axed nearly a dozen trees from the powergrid at Chak Gilzewala village in Gidderbaha assembly segment without obtaining permission. Superintending Engineer TP Singla today visited the spot and marked an inquiry in this regard. The axed trees reportedly included sheesham and eucalyptus.
Rehab centre to be set up near Ghabdan Kothi
Sangrur, July 9
A 50-bed rehabilitation centre for Sangrur district will be set up near Ghabdan Kothi. KS Cheema, Special Principal Secretary to Chief Minister, said in such centres across the state, drug addicts who have been treated would be rehabilitated. They would be given vocational training in different fields, he said.
Gurdwara Buddha Johad Trust row
Activists blame Akal Takht for going slow on 2012 edict
Abohar, July 9


The Bhai Bulaka Singh Sangharsh Morcha today launched a stir against Gurdwara Buddha Johad Trust in Raisinghnagar segment of Sriganganagar in Rajasthan. They blamed Akal Takht for the slow implementation of the edict announced on October 1, 2012 to dissolve all gurd-wara trusts.
Sikh leaders address mediapersons at Sriganganagar on Wednesday. A Tribune photograph
Dera followers protest police inaction in Moga
Moga, July 9
Followers of the Dera Sacha Sauda came out on the streets and protested outside the police station at Baghapurana town in the district today demanding registration of a criminal case against a youth who allegedly posted a derogatory video in his voice on the social media against Gurmeet Ram Rahim Singh, the sect head.
Rs 26 cr 'shagun' money released
Chandigarh, July 9
The government today released Rs 26.39 crore under the Shagun scheme for 17,594 Scheduled Caste girls to clear all cases up to May.
Bathinda MC first in state to impose cow cess
Jalandhar, July 9
The Bathinda Municipal Corporation has become the first and the only civic body in the state to impose cow cess. The Local Bodies Department has issued a notification in that regard under Section 7 of the Punjab Prohibition of Cow Slaughter Act 1955. The step aims at generating additional funds for the welfare of animals lodged in cowsheds in the city.
Yannick case: Murder trial may be delayed by months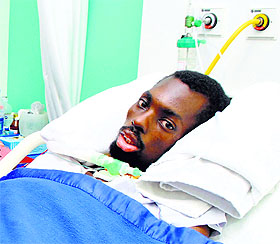 Jalandhar, July 9
After the death of Burundi national Yannick Nihangaza, who remained in coma for two years after a murderous attack on him in Jalandhar on April 22, 2012, a fresh trial under Section 302 (murder) of the Indian Penal Code may take months to start. The reason: The Jalandhar Commissionerate is yet to receive an official confirmation of Yannick's death. Yannick Nihangaza breathed his last at his home in Burundi on July 1.



File photo of Yannick Nihangaza
Principal, two teachers suspended for minor's rape
Ludhiana, July 9
Taking serious note of the rape of a minor student by a schoolboy, Education Minister Daljit Singh Cheema today suspended Headmistress Joginder Kaur and two teachers, Tarwinder Kaur and Yojna Sharma, of Government High School, Sanet (Ludhiana).
Complainant against Sukhbir gets 5 yrs in jail for murder bid
Faridkot, July 9
Naresh Kumar Sehgal, a complainant in a poll violence case of 1999 against Deputy Chief Minister Sukhbir Badal, was today awarded five-year jail term by the court of District and Sessions Judge, Faridkot, in an attempt-to-murder case.
HC condoles death of Justice Dewan
Chandigarh, July 9
The Punjab and Haryana High Court today convened a Full Court reference to condole the demise of "noted Justice, jurist and legal luminary", Justice Shanti Sarup Dewan. Silence was observed for two minutes to pay homage to the departed soul.
Bhola case: Charges may be framed on July 19
Mohali, July 9
Charges against druglord Jagdish Bhola may be framed during the next hearing on July 19. The arguments in the case concluded today.
4 kg heroin, Rs 7.8 lakh fake currency seized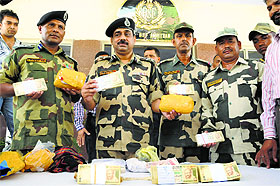 Amritsar, July 9
The BSF today seized 4 kg of heroin worth Rs 20 crore and counterfeit Indian currency to the tune of Rs 7.83 lakh from the Pulmoran border outpost. It also recovered 250 gm of opium.





MF Farooqui, DIG (2nd from left), displays the seized heroin and fake currency in Amritsar on Wednesday. Photo: Vishal Kumar

Heroin seized from peddler's Delhi house
Amritsar, July 9
The Tarn Taran police today seized 1.5 kg of heroin from the house of Raman Pandit, who was nabbed a few days ago, in Delhi. The contraband was concealed in the shoe rack of an almirah.
Banker held in graft case
Patiala, July 9
The Vigilance Bureau (VB) today arrested Ghanaur Primary Cooperative Agriculture Development Bank Limited manager Tarvinder Singh Walia for allegedly accepting a bribe of Rs 10,000. Walia had sought money from Ranjit Singh, a resident of Madiana village, in lieu of releasing his loan amount.