City gets 50% less rain this month; dry spell to continue
Chandigarh, July 9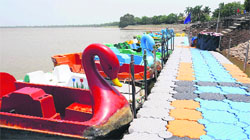 Due to a weak monsoon in the region, the city has received 50 per cent less rainfall so far in July. The Met Department has forecast that there will be no relief for residents from the dry and humid weather conditions during the next five days as there is no likelyhood of rain in the city.
With the mercury and humidity levels rising in the city, Sukhna Lake wears a deserted look on Wednesday afternoon.Tribune photo: Manoj Mahajan
Carjacking incident could have been averted
Chandigarh, July 9
Showcasing sheer callousness on the part of the UT police, the incident of carjacking of a Haryana government official this Monday could have been averted had the police taken a similar call received 30 minutes prior to the incident seriously. The robbers who forcible took away the Swift Dezire car from Ishwar Singh, had made a failed attempt to forcibly take away another Swift Dezire car 30 minutes before this incident, but the UT police failed to visit the crime spot in Sector 43.

Banker goes missing
Panchkula, July 9
While the Panchkula police are yet to start their probe into the case of suicide by Punjab National Bank (PNB) officer Ajay Sehgal, who had blamed two seniors in his suicide note, another banker, an official of the State Bank of Patiala (SBoP), has gone missing.
Rajeev Sharma, the victim


UNION BUDGET 2014-15
UT hopes to get back Rs 63.2 crore
Chandigarh, July 9
With Union Finance Minister Arun Jaitley all set to present the General Budget on Thursday, the UT Administration is hopeful of getting Rs 63.2 crore under the Plan head, which was reduced when the interim Budget was presented in February this year.
Residents want IT exemption limit raised, price rise regulated
Chandigarh, July 9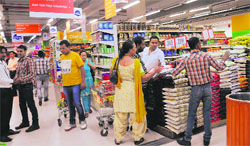 From making adjustments in the monthly budget to coping with a frequent rise in the prices of basic food items, commodities and fuel, and hunting for cheaper vegetables across the city, residents are tired of inflation.


A reduction in the prices of food items and basic commodities is on the mind of city residents ahead of the Budget. Tribune photo: Manoj Mahajan
Pension scheme for CHB staff approved
Chandigarh, July 9
Members of the Chandigarh Housing Board (CHB) today approved the pensions scheme for CHB employees.
Residents protest power cuts
Panchkula, July 9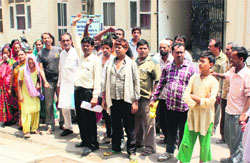 Residents of Rajeev Colony and Indira Colony in Panchkula held a protest at the Power Colony in Sector 15 against the unscheduled power cuts in the areas.






Indira Colony residents hold a protest at the electricity office in Panchkula on Wednesday. Tribune Photo: Nitin Mittal
Re-carpeting of road begins in Industrial Area
Panchkula, July 9
Re-carpeting of a road at Industrial Area in Phase II started today.
MC hires pvt agency to check encroachments
Mohali, July 9
The Global Securex Private Limited hired by the Mohali Municipal Corporation, to check prevailing tehbazari (encroachment of places by vendors in markets) and other encroachments started their work today.
MC receives over 50 calls on Day 1
Chandigarh, July 9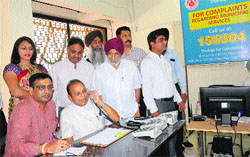 On the first day of the launch of helpline number for various civic problems and stray dog menace, the Municipal Corporation (MC) received over 50 calls. The complaints of non-functional streetlights, poor quality of water, garbage littered in the residential were made by residents on the first day.

Mayor Harphool Chandra Kalyan receives a complaint after the launch of an MC helpline at Sector 17 in Chandigarh on Wednesday. Tribune Photo: S Chandan
Only 2 Congress councillors show up at launch function
Chandigarh, July 9
The differences between the Congress councillors came to fore during the launch of the toll-free helpline number for civic problems by Mayor HC Kalyan, as only two Congress councillors turned-up for the inauguration.
Snakebite cases surface as monsoon sets in
Chandigarh, July 9
With the monsoon setting in, as many as 10 cases of snakebite have been reported at the PGIMER Emergency in the past two weeks. Two of the patients could not survive.
Five special teams formed to nab culprits
Mohali, July 9
A day after a SAD activist Gurjant Singh, alias Jenta, was found murdered, the Mohali police today constituted five special teams to nab the culprits. So far, no arrest has been made in the case.
Members elected to planning committee
Mohali, July 9
Five elected members of the Zila Parishad became members of the District Planning Committee, Mohali, today.
129 cops to pass out today
Chandigarh, July 9
As many as 129 freshly recruited constables will participate in the passing out parade to be held at police lines tomorrow evening. All these constables will be undergoing commando training. It is for the first time in the history of UT police that such a large number of constables will be going for commando training.
Railways gears up for semi-high speed train
Chandigarh, July 9
With the announcement of semi-high speed train from Delhi to Chandigarh in the railway budget, which will cut down the journey time by around one hour thirty minutes , the work on the strengthening of the infrastructure has paced up by the Northern Railway authorities.
MC staff donate day's salary to firemen's kin
Chandigarh, July 9
The staff of MC, Chandigarh, has decided to donate one day's salary to the family members of the two firemen, who died battling the raging fire at NIELIT in Sector 17.
Hit by train, man dies
Dera Bassi, July 9
A man died in a train accident on the railway track near Mohan Nagar here this morning. The deceased has been identified as Sukhayi, a resident of Uttar Pradesh.


Work hit as phone lines go dead at PU
Chandigarh, July 9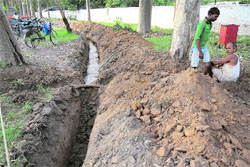 The administrative work of the four arts blocks of Panjab University (PU) suffered for the whole day today as around 100 telephones, intercom and internet connections became non-functional due to the damage of underground cables during the ongoing digging work in the backyard of the blocks.


Digging work in progress near the arts department at Panjab University in Chandigarh
on Wednesday. Tribune Photo: S Chandan
Panjab varsity to launch 24x7 anti-ragging helpline
Chandigarh, July 9
Panjab University has decided to start a helpline number to immediately entertain complaints of ragging on the campus.
GMCH-32 will get nod for increasing seats, claims BJP
Chandigarh, July 9
While an official confirmation on the Medical Council of India (MCI) approval for increasing seats from 50 to 100 in MBBS course is awaited, BJP officials celebrated their efforts in pursuing the authorites to grant approval.
Various aspects of Companies Act, notification of CSR rules discussed
Mohali, July 9
The Indian School of Business (ISB) hosted Bhaskar Chatterjee, director-general, Indian Institute of Corporate Affairs, and Rakesh Bharti Mittal, vice-chairman, Bharti Enterprises, on its Mohali campus today.
Interactive session for IAS aspirants
Chandigarh, July 9
ETEN-ALS IAS, an IAS coaching institute, today organised an interactive session for civil services aspirants with Jojo Mathews, one of the country's renowned mentor in civil services preparation, here today.
Teachers beg, polish shoes to highlight demands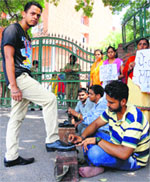 Mohali, July 9
The protesting members of Inclusive Education Resource Teachers Union, Punjab, today begged on the roads and also polished shoes of people and cleaned cars to mark their protest at Phase VIII, here today.






Inclusive education resource teachers polish shoes at Phase VIII in Mohali on Wednesday. Tribune photo: Vicky Gharu
Three held for clash at DAV College
Chandigarh, July 9
Three students belonging to Panjab University Students' Union (PUSU) have been arrested for the brawl that took place in the DAV College, Sector 10, here two days ago.