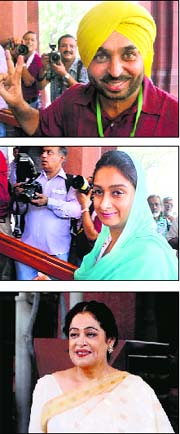 MPs from Punjab

: Bhagwant Mann of AAP, Harsimrat Kaur Badal of the SAD and Kirron Kher of the BJP at Parliament on Monday. Tribune photos
Union Budget 2014—People's Expectations
Excise duty a worry for Ludhiana's knitwear industry
Ludhiana, July 7
The industry in Ludhiana is looking forward to the NDA government's maiden Budget. It expects to get incentives. But excise duty remains a major worry for the city's knitwear industry. Knitwear Club president Darshan Dawar says that levying excise duty on readymade garments will adversely impact the functioning of knitwear units in Punjab.
Furnace units on strike from today
Ludhiana, July 7
Steel, re-rolling mills and induction furnace units of Mandi Gobindgarh will go on a 48-hour strike from tomorrow. They are angry with the Excise and Taxation Department that has fixed 750 units for per tonne consumption and is charging VAT at 2.75 per cent.
State Cabinet may give sops to new steel units
Chandigarh, July 7
Several changes in key policies are expected to be discussed among the Council of Ministers during a Cabinet meeting to be chaired by Chief Minister Parkash Singh Badal here tomorrow.
Iraq imbroglio: Badal to meet Sushma again
Chandigarh, July 7
All 39 Punjabis trapped in the Mosul region of Iraq are safe and the Union Government is using all diplomatic channels to ensure their release. Chief Minister Parkash Singh Badal spoke with Suresh Reddy, special envoy to Iraq, on the phone.
BJP to name its new ministers by weekend
Chandigarh, July 7
The change in BJP leadership in Punjab has reportedly been postponed. The four ministers of BJP, who had resigned in the last week of June, are now expected to be replaced by the end of this week.
A rehab centre that craves for inmates
Gurdaspur, July 7
Barely 48 hours after Chief Minister Parkash Singh Badal praised the "facilities" available at the de-addiction centre at Babbri, 6 km from here, all the inmates deemed it fit to leave following lack of amenities and infrastructure.
Yannick case
Rommy may have fled on fake passport
Jalandhar, July 7
Deceased Superintendent of Police (SP) Dharam Singh Uppal's son Rommy Uppal, one of the accused in the murderous attack on Burundi national Yannick Nihangaza, has fled the country on a fake passport. The Jalandhar Commissionerate has confirmed that Uppal's original passport was confiscated by the police after he was arrested in the case.
Area under basmati up
Amritsar, July 7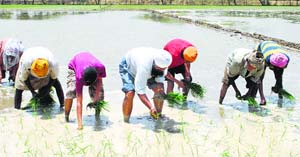 With a significant rise in the area under basmati, farmers fear that they may not get remunerative prices for their crop this season. Initial findings by the Agricultural Department indicate that the area under basmati may increase to 1.25 lakh hectares from 1.03 lakh hectares last year.
Labourers transplant paddy in a field near Amritsar. PHOTO: RK SONI

Damanvir Singh quizzed again
Jalandhar, july 7
Continuing its probe in the multi-crore synthetic drug racket, the Enforcement Directorate (ED) today again grilled Damanvir Singh, son of former Jail Minister Sarwan Singh Phillaur.
SMS service for lawyers, litigants
Chandigarh, July 7
The Punjab and Haryana High Court today launched a free SMS service for informing litigants and lawyers about the status of their cases.
2 labourers killed in accident
Barnala, July 7
Two migrant labourers were killed while two others sustained injuries when a Tata Canter 407 vehicle overturned on the Barnala-Raikot road today. The accident took place between Bhadalwad and Sangherra villages, about 5 km from Barnala.
No land for wife of 'missing' Major
Chandigarh, July 7
Nearly 43 years after Major Kanwaljit Singh went missing in the 1971 war with Pakistan, his wife is fighting a different battle. In response to her plea for allotment of cultivable land, the Punjab Government has claimed that her request cannot be acceded to till the Army authorities confirm his death.
BSP demands land ownership rights for Dalits
Sangrur, July 7
The Punjab unit of the Bahujan Samaj Party (BSP) today asked the state government to enact a law for allotting 33 per cent of the panchayat land (reserved for Scheduled Castes in villages) to Dalits of the same village on permanent basis.
Violations of building bylaws go unabated in Phagwara
Phagwara, July 7
Officials of the Municipal Corporation (MC) and Improvement Trust, Phagwara, have turned a blind eye towards illegal constructions in the town. The Punjab and Haryana High Court had instructed the government to act against violators. Chief Minister Parkash singh Badal and his deputy Sukhbir Badal too had issued statements against illegal encroachments and violations of building bylaws, instructing officials to check and demolish illegal structures and encroachments. However, the officials are yet to get their act together.
PCS officer indicted for disrespect to martyr
Jalandhar, July 7
In a major trouble for PCS officer Vijay Kumar Syal, who had landed himself in a controversy about a year and a half ago for having rested his feet on the pedestal of the statue of Bhagat Singh at the memorial site in Khatkar Kalan, a fact-finding report of the Commissioner, Jalandhar Division, has pointed out that there were no photography tricks involved in the incident. His picture in the pose had appeared in various newspapers, including The Tribune
Poll plea against Jakhar dismissed, with costs
Chandigarh, July 7
Just over two years after Congress candidate Sunil Jakhar emerged victorious from Abohar Assembly constituency, the Punjab and Haryana High Court has dismissed a petition against his election with Rs 50,000 costs after holding that rival candidate Shiv Lal Doda's plea was based on wholly frivolous and vexatious averments.
Notice to CBI in Vidhu Jain case
Chandigarh, July 7
Acting on a petition for a CBI probe into Malerkotla boy Vidhu Jain's murder, the Punjab and Haryana High Court today put the CBI, the Union of India and the Punjab Police on notice.

Fatehjung gets 30-month jail
Batala, July 7
The court of Judicial Magistrate (Senior Division) Amita Singh today sentenced Fatehjung Singh Bajwa, brother of PPCC chief Partap Singh Bajwa, and his eight accomplices to two-and-a half years' imprisonment in a case related to a clash between two groups 12 years ago. Each of the guilty persons was fined Rs 11,000.
Lok Adalat quashes PSPCL demand notice issued to widow
Fatehgarh Sahib, July 7
In a major relief to a widow, the Permanent Lok Adalat (PLA) here has quashed the demand notice for Rs 24,943 issued by the Punjab State Power Corporation Limited (PSPCL) after the latter found the meter working properly.
Undertrial alleges sale of drugs in jail; court orders probe
Mohali, July 7
An inmate of Nabha jail today stunned a local court after he placed a packet of heroin before the judge and claimed that he had purchased it from within the jail.
Ex-sarpanch's kin shot over land row
Bathinda, July 7
A grandson of a former sarpanch of Kothe Malluana Mehraj village near Rampura was allegedly shot dead today. The police said the deceased, Baljinder Singh's family had recently took over the contract of a piece of land which was earlier being cultivated by a fellow villager Avtar Singh Tari and his family. The land belongs to the uncle of the deceased.
4 booked for siphoning rice worth Rs 1.6 cr
Tarn Taran, July 7
Rice stock belonging to the Punjab State Godown Corporation (PSGC) worth Rs 1.59 crore has allegedly been embezzled by rice millers at Gandiwind, near here.
Rs 1.5 lakh looted at gunpoint
Hoshiarpur, July 7
A money exchanger in Piplanwala village on the Hoshiarpur-Jalandhar road was allegedly robbed of Rs 1.5 lakh at gunpoint by four masked robbers. When he opposed their move, they allegedly thrashed him.