JBM Group eyes turnover of Rs 10,000 crore in two years
Nishant Arya Executive Director, JBM Group talks to Girja Shankar Kaura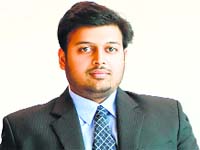 JBM Group, a $1.2-billion conglomerate engaged in manufacturing auto components, has embarked on a road map to achieve a turnover of Rs 10,000 crore in the next two years. The group is also expanding its business and graduating to a full-fledged Original Equipment Manufacturer (OEM). The company recently launched India's first true low-floor luxurious intra-city bus 'CityLife' at the Auto Expo this year, which it plans to sell to state transport undertakings, airlines, airport operators and schools. Nishant Arya, executive director, JBM Group, talks about the company's plans.
Q. How did JBM Group get into the field of auto components?
A. JBM Group commenced its journey in 1983 with the manufacturing of LPG cylinders. Most oil and gas companies were clients of the company. In the early 80s, Maruti Suzuki India Ltd entered into Indian market and was looking for competent vendors to cater to their growth plans. Seeing our expertise, they partnered with us for the manufacturing of sheet metal components. MSIL and Jay Bharat Maruti Limited jointly worked towards creation of quality sheet metal products. As the economy opened up and with new automobile manufacturers entering the Indian markets, JBM Group sensed their requirements well in time and was able to tap them. We have now grown into a $1.2 billion conglomerate with business interests in automotive, engineering & design and education services.
Q. How many manufacturing units do you have and where are they located? Do you have any plant outside India also?
A. JBM Group has set up its manufacturing base in all major auto hubs within the country i.e. North, Central, West and South. At present, we have 35 manufacturing plants and four engineering and design centres across 18 locations globally. In India, we have plants across 14 locations — Indore, Pune, Chennai, Nasik, Bangalore (Hosur), Faridabad, Gurgaon, Haridwar, Pantnagar, Nalagarh, Greater Noida, Sanand, Pathredi and Kosi. Some of the manufacturing plants are located in the suppliers' park to minimise transportation costs and time. Our international design centres are located at Detroit, London, Turin and Shanghai.
Q. Which are the key customers of your group?
A. JBM Group today supplies to almost all OEMs in the domestic and global markets in the four-wheeler, two-wheeler, three-wheeler, commercial vehicle and farm & construction equipment domains.
Q. Tell us about the products that you manufacture.
A. The products are customised in-house as per the customer's requirements. Our 'art to part' philosophy starts with the drawing board designing of the product and ends with the product being manufactured under the guidelines given by the customer. This is our USP to suit the needs of the customers. Some of the products that we manufacture are air tanks, body-in-white parts, corner module, cross car beam, cross members, chassis & suspension systems, door impact beam, exhaust systems, fuel tanks, fuel fillers, high tensile fasteners, heat shields, skin panels, tooling, jigs and fixtures, tailor welded blanks, tubes & tubular parts, wheel assemblies, welded modules and pressure die casting. The group is also involved in the manufacturing of CNG/LPG cylinders and railway coaches and locomotive accessories.
Q. Why did JBM Group decide to enter into commercial segment with intra-city bus segment and why not trucks/earth movers etc.?
A. Our latest foray into bus manufacturing focuses on creating a niche segment in the intra-city public transportation domain and aims at providing luxury, comfort and safety. We have extensively worked towards understanding the requirements of this product category and have also studied similar products that are being used globally. We feel that a big opportunity lies in this segment and can be catered to with the introduction of the right kind of product.
Q. What are your expectations from the upcoming Union Budget?
A. In the past few months, the automobile industry has seen some revival. For this momentum to continue, we expect a reduction in customs duty imposed on raw material such as alloy steel, mild steel, aluminium alloy & secondary aluminium alloy; increase in Cenvat credit to 100% from the current 50% in the purchase of capital goods in the first year itself rather than the current practice of 50% in the first year and remaining in subsequent years and increase in the depreciation rate of capital goods to about 25-30% that shall give the right spurt for capital investments in the country. The most important issue with the industry is the multiple tax structures across the states. Hence, GST should be implemented at the earliest to eliminate multiplicity.
The government has already extended the deadline for excise duty benefits on cars till the end of this year. This is one of the initial positive measures taken by the government towards pulling growth to the auto sector.