FIFA World Cup: Get ready for live soccer action in pubs
Chandigarh, July 7
There is good news for soccer lovers! The UT Excise Department and the Deputy Commissioner's office have given the green light to local hotels and pubs to show the semi-final and final matches of the ongoing FIFA World Cup live on big screens.
Soccer fans watch a match at a pub in Chandigarh. A file photo
Clash at DAV College leaves 2 students hurt
Chandigarh, July 7
A violent clash took place at DAV College, Sector 10, today, which left two students injured. The incident occurred in the morning when two leaders of the Students Organisation of India (SOI) were allegedly attacked with blunt as well as sharp weapons by members of the Panjab University Students Union (PUSU).
The students who were injured in the clash at DAV College, Sector 10, Chandigarh, on Monday. Tribune photos: Pradeep Tewari
PU student injured as bricks come off bus queue shelter
Chandigarh, July 7
With the UT Administration and the Municipal Corporation failing to maintain bus queue shelters in the city, a Panjab University girl student was injured today at the Sector 15 bus queue shelter when bricks started falling off from its roof all of a sudden.
| | |
| --- | --- |
| Saurabh Joshi, councillor, shows the portion of the bus queue shelter from where bricks came off at Sector 15, Chandigarh, on Monday. | The injured girl at the GMSH, Sector 16, Chandigarh. Tribune photos: Pradeep Tewari |

Rescued from Iraq, youths blame travel agency
Chandigarh, July 7
At least 36 Punjabi youths rescued from Iraq, who reached the city today from Delhi, lodged a police complaint against a Sector 20-based travel ageny, Shiv Enterprises, for cheating them by not paying their dues for the period they worked in Iraq. The youths had flown to Iraq around three months ago.
Youths rescued from Iraq at the Sector 19 police station to lodge a complaint against a travel agency on Monday. Tribune photo: Manoj Mahajan
Railway Budget 2014: People's Expectations
State-of-the-art facilities a distant dream at rly station
Chandigarh, July 7
In September 2013, former railway Minister Pawan Kumar Bansal released Rs 20 crore for the completion of six projects, but the works have been delayed due inadequate funds. New ticket counters are still not incomplete and escalators are non-functional due to technical problems.
| | |
| --- | --- |
| The Chandigarh railway station, which was to have state-of -art facilities, is still lying incomplete. | The escalator on Platform No. 2 is still not functional due to technical reasons. Tribune photos Manoj Mahajan |
Disconnection of water, power supply
Traders oppose UT's move
Chandigarh, July 7
Traders have opposed the UT Administration's move to disconnect water and electricity connections of many restaurants, food joints for not following environment norms in the last two months.


Panchkula gets marriage palace
Panchkula, July 7
No longer Panchkula residents have to depend on Zirakpur as the township for organising marriage functions has got its own marriage palace. The first pillar-less palace on the Kalka-Shimla highway just next to Red Bishop Complex in Sector 1 here has been constructed at a cost of Rs 7 crore.
The newly constructed marriage palace at Sector 1 in Panchkula. Tribune photo: Nitin Mittal

Wall collapse: 20 days on, family awaits justice
Panchkula, July 7
Even after 20 days of the wall collapse incident that claimed the lives of four persons, including two children, the Panchkula police is still waiting for reasons to arrest the accused.

The site where the boundary wall fell on shanties in Panchkula. A file photo



Mortuary freezers conk out
Panchkula, July 7
Vivek Kumar (name changed) is already under shock after losing his 40-year-old relative as he has to shuttle with the body in the night as he got to know that all four freezers of the sole mortuary in Panchkula are out of order.
Not getting letters, parcels, complain residents
Mohali, July 7
Residents of Paradise Apartments, Shivalik City, Sector 127, have claimed that they have not been receiving post through the Postal Department. Smita Seth, a resident, said around 80 families living in the apartments, on the Kharar-Landran road, have also been facing a similar problem.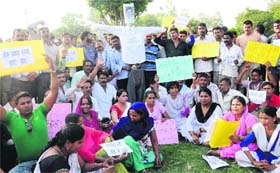 UP in arms: Workers of the Congress Colony Cell hold a protest at the Hallo Majra light point against BJP leader OP Dhankar's remarks that his party would get girls from Bihar to ensure that men in Haryana got married. Tribune photo: Manoj Mahajan
No significant difference in expenses incurred on the healthcare of women: Study
Chandigarh, July 7
A PGIMER study assessing the impact of Janani Shishu Suraksha Karyakram (JSSK), the scheme which aimed at providing free-of-cost care to expectant mothers and the newborns, found that there was no significant difference in expenses incurred on the healthcare of women following its launch in city.
Dealing with drug addicts not easy, say docs at de-addiction centre
Mohali, July 7
Doctors at the Drug De-addiction Centre in Mohali Civil Hospital are facing problems while treating patients here. "Most of the patients or their family members are not paying the charges of the treatment and many a times we have to bear the cost of their treatment," said Dr Andesh Kang, Senior Medical Officer of the hospital.
World Allergy Day
Keep your skin clean during monsoon, say experts
Chandigarh, July 7
With the onset of rainy season, the high humidity in the air and the wet environment makes it more favourable for allergens to penetrate the skin folds, said experts. Those having skin allergies get further infected during the rainy season.
Stem cell therapy for type II diabetics
Chandigarh, July 7
The PGIMER is hoping to complete trial of stem cell therapy in treatment of type II diabetes in six months. On completion of the trial, another trial will be initiated depending upon the results of the current trial.


GMCH-32 MBBS seats
Led by Kirron, parents meet Health Minister
Chandigarh, July 7
Irked over the lack of clarity on increasing seats for the MBBS course at the GMCH-32 from 50 to 100, about 11 days after the first counselling, as many as 30 parents of MBBS aspirants met Union Health Minister in New Delhi today. The parents were led by Chandigarh Member of Parliament Kirron Kher.


admissions to undergraduate courses
Day 1: Forms go missing; students in a fix
Chandigarh, July 7
Four government colleges in the city were flooded with complaints on the first day of admission to the undergraduate courses regarding missing forms and their names in the provisional merit list put up on the notice board.

Prof RK Gupta, coordinator of centralised BCom admissions for Chandigarh, checks the documents of a student at the Law Auditorium, Panjab University, Chandigarh, on Monday. Tribune photo: Pradeep Tewari

BCA admissions
196 seats filled in government colleges
Chandigarh, July 7
On the first day of counselling for the BCA course in four government colleges of the city, out of 206 seats, as many as 196 were filled under the general and UT pool categories.
A heavy rush was witnessed at SD College, Sector 32, on the first day of counselling in Chandigarh on Monday. Tribune Photo: Manoj Mahajan


aipmt examination
Notice of motion issued to CBSE chairman
Chandigarh, July 7
The Central Board of Secondary Education (CBSE), chairman Vineet Joshi, was issued a notice of motion by the Punjab Haryana High Court (HC) today for the contempt of court proceedings.
Resource teachers intensify protest
Mohali, July 7
Intensifying their protest, members of the Inclusive Education Resource Teachers Union (IERTU), Punjab, broke earthen pots in front of the office of Director General School Education (DGSE) at Phase VIII, today afternoon.


FROM SCHOOLS
Clay modelling workshop
CHANDIGARH: The Tribune Model School organised a workshop on clay modelling for the students on the premises today. The workshop was conducted by artistes Gurpreet Singh Dhuri and Gagandeep Kaur. The renowned sculptors from Ahmedabad work in Indian movies.
A clay modelling workshop under way at Tribune Model School, Sector 29, Chandigarh, on Monday. Tribune Photo: Manoj Mahajan