Ashwani: Congress, SAD must sink differences for state's sake


Chandigarh, July 14
Rajya Sabha MP and former Union Law Minister Ashwani Kumar today called upon the SAD-BJP combine and the Congress to arrive at a meeting point for securing the development of the state.
Shandil panel submits report on LS poll losses
New Delhi, July 14


Congress general secretary in charge of Punjab Shakeel Ahmed today said the report of the Shandil Committee on poll losses had been submitted to the Congress high command. Talking to The Tribune, he said, "The committee's report on reasons behind the party's dismal performance in the state has been received.

BJP opposes curtailing of municipal councils' powers


Sangrur, July 14
The state unit of the BJP has expressed concern over the state government's move to allegedly weaken municipal councils by curtailing their administrative and operational powers.

Congress MLAs want House session extended
Chandigarh, July 14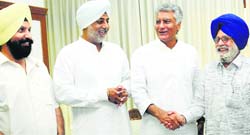 Urging the SAD-BJP Government to extend the Punjab Vidhan Sabha's Budget session, Congress Legislature Party Leader Sunil Jakhar today said here were several issues that his party wanted to raise and discuss.


Charanjit Singh Atawal, Vidhan Sabha Speaker, welcomes Opposition leaders Sunil Jakhar and Randeep Singh Nabha in his room in Vidhan Sabha on Monday. Tribune Photo Manoj Mahajan



4 months on, work on ROB yet to begin
Muktsar, July 14
Four months after Deputy Chief Minister Sukhbir Singh Badal laid the foundation stone of the first-ever railway overbridge (ROB) in Muktsar town on the Jalalabad road here, the work on the project is yet to begin.
Work on PGI satellite centre to start soon
Sangrur, July 14
A team of the Bharatiya Janata Party (BJP), headed by state secretary Jatinder Kalra, visited site of the proposed 300-bed PGI Satellite Centre (known as cancer hospital) at Ghabdan Kothi, near Sangrur, today.
Chandumajra's pet project to beautify choe hangs fire
Fatehgarh Sahib, July 14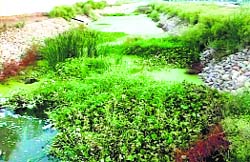 The project to beautify Sirhind choe near the historical Fatehgarh Sahib Gurdwara so as to convert it into a tourist spot is still a distant dream. The project was initiated around a year ago.




Despite the announcement of a beautification project for Sirhind choe, it remains an eyesore. A Tribune photograph
Staff faltering on RTS to be fined Rs 10,000
Chandigarh, July 14
Not providing services under the Right to Service Act can now invite a fine of Rs 10,000.
Chawla, CPS Sidhu protest felling of trees
Amritsar, July 14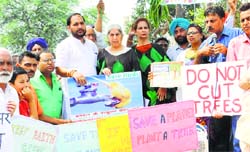 The BJP vice-president, Laxmi Kanta Chawla, and Chief Parliamentary Secretary Dr Navjot Kaur Sidhu today held a demonstration against the "indiscriminate" axing of trees in the city on the pretext of carrying out development works.


BJP leaders Laxmi Kanta Chawla and Dr Navjot Kaur Sidhu protest against axing of trees in Amritsar on Monday.
Anti-drug efforts to reflect in ACRs of IAS, PCS officers
Patiala, July 14
Patiala Divisional Commissioner Ajit Singh Pannu has issued a letter to the deputy commissioners of five districts within his jurisdiction asking them to record efforts against drug menace by IAS and PCS officers and heads of other departments in their annual confidential report (ACR).
13 years on, injured kabaddi player gets financial assistance
Faridkot, July 14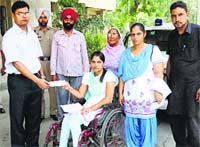 About 13 years after a promising sportswoman suffered from a serious spinal injury during the National Kabaddi Championship, the state government has provided her Rs 35,000 so she could buy artificial limbs for herself.




Faridkot DC Mohammad Tayyab hands over a cheque of Rs 35,000 to Jaspreet Kaur on Monday. Tribune photo
Abohar residents protest water shortage
Abohar, July 14
Hundreds of residents protested the shortage of drinking water outside the office of the Punjab Water Supply and Sewerage Board (PWSSB) here today. They marched from their colonies located near the tombs of Panjpeers to the PWSSB office. Some of them gheraoed the offices, others blocked the entry and exit of buses on the Bus Stand Road. Hundred of commuters were inconvenienced.
Delay in development of PUDA locality sparks stir
Abohar, July 14
Upset over the delay in the development of the maiden PUDA enclave here, the plot holders today urged Chief Minister Parkash Singh Badal to intervene in the matter immediately.
GND varsity student drowns in Ravi waters
Dera Baba Nanak, July 14
A BTech (final) student of Guru Nanak Dev University (GNDU), Amritsar, was drowned in the Ravi near Dharamkot Pattan village late last evening. Another student, Aditya Chowan, was rescued by Army men.
Minister's aide trying to usurp my land: NRI
Chandigarh/Moga, July 14
Moga-based NRI Nirmal Singh Sidhu has been running from pillar to post to prevent being evicted from 14 acres of his land at Burj Hamira village in Nihalsinghwala by an Akali leader who is believed to be close to a powerful minister.
New serai to come up at Takht Sri Kesgarh Sahib
Anandpur Sahib, July 14
The SGPC today decided to build a 500-room serai near Takht Sri Kesgarh Sahib. The "kar seva" for the purpose has been handed over to Baba Kashmir Singh Bhuriwale.
Medical college staff block traffic for 2 hrs
Patiala, July 14
Staff members of the Gian Sagar Medical College and Hospital blocked traffic on the Patiala-Chandigarh highway today. The blockade continued for over two hours and was lifted after Rajpura SDM and other senior officers of the hospital management intervened and got the matter resolved.
Capt seeks plan to tackle weak monsoon
Amritsar, July 14
Expressing concern over drought-like situation prevailing in Punjab, Amritsar MP Capt Amarinder Singh today asked the state government to draw up a contingency plan to help the farmers.
CBI asked to probe PIMS's foreign funds
Bathinda, july 14
The Union Home Ministry has directed the CBI to conduct an inquiry into the foreign funds received by the PIMS Medical and Educational Charitable Society, Punjab. The society, headed by state Cabinet Minister Surjit Singh Rakhra, runs the Punjab Institute of Medical Science (PIMS), Jalandhar.
Coal on way, will improve power scenario, says Dy CM
Chandigarh, July 14
Deputy Chief Minister Sukhbir Badal today claimed that the power situation in the state would improve in two days following steps taken by the government to step up coal supply to thermal plants.
IAF all-women cycle expedition leaves for Leh
Chandigarh, July 14
An all-women cycle expedition of IAF officers to Leh was flagged off from the Air Force Station, Pathankot, by Air Commodore Ashok Shiragannavar today.


Chief Justice Kaul transferred to Chennai
Chandigarh, July 14
Less than a month after his return to the Punjab and Haryana High Court, Justice Ashutosh Mohunta is all set to be elevated as Acting Chief Justice. He is expected to assume the charge on July 22 following Chief Justice Sanjay Kishan Kaul's transfer to Chennai.

Booked for raping daughter
Muktsar, July 14
A 40-year-old labourer has been booked for allegedly raping his minor daughter several times between 2009 and 2014 at nearby Bhagsar village.
DEO suspended for embezzling funds
Jalandhar, July 14
District Education Officer (Secondary Education), Jalandhar, Kuldeep Sharma has been suspended in connection with a case of fund embezzlement.
Dairy dept inspector held taking Rs 8,000 bribe
Moga, July 14
The Vigilance Bureau has caught red-handed an inspector of the Dairy Development Department accepting a bribe of Rs 8,000 from a farmer for recommending his application to obtain loan for setting up a dairy farm.