Congress demands white paper
New Delhi, July 14
The stage is set for a debate on the Centre's decision to destroy government files in the name of office cleanliness with the opposition Congress today demanding a white paper on the nature of files destroyed.
Andhra Pradesh Re-organisation Bill passed in RS
New Delhi, July 14
The Rajya Sabha today passed the Andhra Pradesh Re-organisation (Amendment) Bill 2014, which deals with the controversial Polavaram project, by a voice vote.
Smaller version of BrahMos missile on cards
New Delhi, July 14
Indo-Russian joint venture firm BrahMos Aerospace today said it was developing a smaller version of the 290-km supersonic cruise missile for enabling its deployment on submarines and smaller fighter aircraft such as MiG 29K.
Tandon a fearless leader who speaks his mind
Chandigarh, July 14
A political contemporary of CM Parkash Singh Badal, Balramji Das Tandon (87) is a fearless leader who doesn't hesitate to call a spade a spade. He has never shied away from raising public issues at various platforms.
Mumbai cops told to prepare lists of missing Muslim youths
Mumbai, July 14
Mumbai's Police Commissioner Rakesh Maria, who is credited with solving the 1993 serial bomb blasts and several other terror cases, has asked his men to prepare lists of missing Muslim youths who could be fighting in Iraq and Syria.
Lalu deposes in two more fodder scam cases
Ranchi, July 14
Rashtriya Janata Dal (RJD) chief Lalu Prasad appeared in a CBI court here to record his statement in connection with two cases of the multi-million-rupee fodder scam.
Controversial TRAI Bill passed
New Delhi, July 14
Leaving the Congress isolated in its opposition to the TRAI (Telecom Regulatory Authority of India) Amendment Bill, The Mamata Banerjee-led Trinamool Congress today took an absolute U-turn in the Lok Sabha by supporting the amendment brought about by the Narendra Modi-led BJP government.
Govt confident of clearing RS hurdle
New Delhi, July 14
The Narendra Modi government is confident of the passage of the TRAI (Amendment) Bill in the Rajya Sabha where the numbers are stacked up against it.
Rights groups pan Maneka over remarks on teens in rape cases
New Delhi, July 14 Women and Child Development Minister Maneka Gandhi's stand that juveniles who commit rape should be tried as adults has evoked mixed reaction, with women's and political leaders stressing widespread consultations but child rights organisations completely opposed to the suggestion.
paid news case
EC notice to Chavan a blow to Cong ahead of Maha polls
Mumbai, July 14
The Congress is facing a leadership crisis in Maharashtra after the Election Commission (EC) found former Chief Minister Ashok Chavan guilty of fudging poll expenses.
Mumbai woman drowns during high tide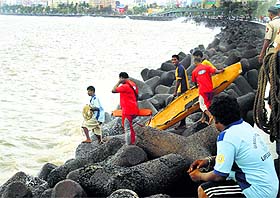 An elderly woman was swept into the sea at Marine Drive while she was standing on the promenade at the time of high tide on Monday. Officials have asked people to stay away from the waters in view of the high tides of more than 4.5 metres expected in the Arabian Sea during this week. An operation has been launched to search the body. PTI
Ex-CM Mahanta quits as AGP chief
Guwahati, July 14
Asom Gana Parishad (AGP) president Prafulla Kumar Mahanta today resigned from the post, taking the responsibility for defeat of the party in successive elections held in Assam for the last few years.
13 crib deaths in WB
Malda, July 14 A total of 13 crib deaths have taken place in Malda Medical College and Hospital in the past 72 hours with one infant succumbing till evening today.
Coast Guard rescues 11 crew from cargo ship off Raigad
Mumbai, July 14 In a daring operation, the Indian Coast Guard braved stormy weather on Monday to rescue 11 out of 16 crewmen from a drifting cargo vessel in the Arabian Sea off Maharashtra's Raigad, an official said here.
salman case
List steps against drunk driving , HC tells Maharashtra
Mumbai, July 14
The Bombay High Court today sought to know from the Maharashtra Government what measures it had taken to prevent drunk driving cases after the accident involving Bollywood actor Salman Khan in 2002.


defiant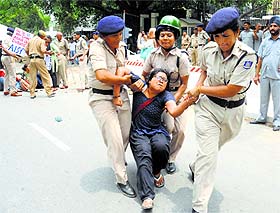 Police detain a JNU student during a demonstration against Israeli attacks on Gaza outside the Israeli Embassy in New Delhi on Monday. Tribune photo: Manas Ranjan Bhui
Sai idols to be removed from temples in Gujarat town
Ahmedabad, July 14
It may be the beginning, but steps to remove Sai Baba idols from the Hindu temples seems to have started by the trustees of a Shiva temple in the tribal-dominated Dharampur town in Valsad district in south Gujarat in the wake of the controversy initiated by Jagadguru Shankaracharya Swaroopanand Saraswati of Dwarkapeeth.
SC stays hanging of 2 convicts in Delhi gang-rape case
New Delhi, July 14
The Supreme Court today stayed the execution of two of the four persons sentenced to death for raping and murdering a 23-year-old physiotherapy intern in Delhi in December 2012.
Minister asks 48 units polluting Ganga to shut
New Delhi July 14
Directions have been issued to about 48 industrial units polluting River Ganga to close down, the Rajya Sabha was informed today.
Row over Haryana Sikh gurdwara parbandhak committee
SAD launches statewide protest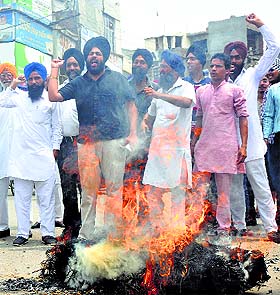 Karnal, July 14
Furious over the issue of separate SGPC for Haryana, the youth wing of Shiromani Akali Dal (SAD) today launched a statewide agitation against the Bill passed by the state government and burnt effigies of Chief Minister Bhupinder Singh Hooda and Finance Minister Harmohinder Singh Chattha at committee chowk here. Protesters also raised slogans against the state Congress government and demanded the rollback of the Bill.



Members of the youth wing of the Shiromani Akali Dal burn an effigy of Haryana Chief Minister Bhupinder Singh Hooda in Karnal on Monday. Tribune photo: Ravi Kumar
AI flight lands safely after bird strike
Newark (US), July 14
An Air India Boeing 777 flight carrying 313 people on board returned here, soon after takeoff, following a bird hit that damaged its left engine.
Indian warships in Russia for naval wargames
New Delhi, July 14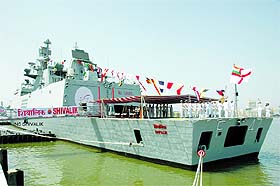 Three Indian Navy warships on Monday entered Vladivostok in Russia for the INDRA series of naval wargames with that country. After the exercises with the Russian navy, the warships will proceed to the Pacific Ocean where they will hold the multilateral 'Malabar' series exercises with the US and Japanese Navy there. "After travelling over 5,000 nautical miles, three Indian Navy warships, including the Rajput-class destroyer INS Ranvijay.


Three warships, including stealth frigate INS Shivalik, entered the Russian port of Vladivostok on Monday. A file photo
Punjab CM wants Centre to step in
Chandigarh, July 14
Punjab Chief Minister Parkash Singh Badal today urged the Central Government to intervene in the formation of the Haryana Sikh Gurdwara Parbandak Committee (HSGPC).
Nalvi calls INLD, BJP anti-Sikh
Ambala, July 14
Soon after Haryana Governor Jagannath Pahadia signed the Bill for the separate SGPC in Haryana, Sikh leader Didar Singh Nalvi, who was one of the leaders spearheading the movement for the separate body, went ballistic accusing the INLD and the BJP of following "anti-Sikh policies".Nalvi said the Indian National Lok Dal (INLD) had remained in power only after securing votes of Sikh peasantry of Haryana, but when it came to supporting them in their movement for a separate body to manage their shrines, the party adopted an anti stance.