A tale of two worlds and many universes
Abbas Nasir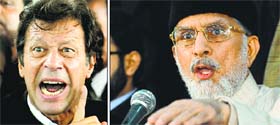 The self-righteous Imran Khan, the self-proclaimed keeper of Pakistan's conscience and (right) the leader of revolution Tahirul Qadri
ONE of the major issues our country has done nothing to resolve is the parallel universes which many different Pakistanis inhabit.
A Reuters' photo feature on this paper's website recently demonstrated that this "other Pakistan" in which some (not all, hopefully) of our decision-making elite live is glitzy, glamorous and, if you ask me, nauseatingly distant from the real Pakistan.
I am not sure if Reuters and the website joined hands for this feature to present a parody of the lifestyle in this "other" Pakistan or simply thought it was something worth reporting in earnest. Therefore, I am unable to dwell on it anymore.
Read the newspapers, flick TV channels, or hear people speak and one's notion of parallel universes is reinforced. It is parallel universes and not just an issue like the Dickensian Tale of Two Cities. This isn't even a tale of two worlds.
Look at the national scene. The army, we are now told, has decided to go after terrorists of all descriptions without fail and that the past is another country. The current leadership, unlike the recent past, is committed to an across-the-board clean-up.
The army leadership today, this argument continues, neither has a favourite denomination of the militant/terrorist nor is indecisive and dithering in contrast to the one it replaced. Of course, we are pleased with this declaration. But we also know there is many a slip between cup and lip.
We are forced to ask whether an institution, which prides itself publicly on being an "institution" first and foremost where individuals come and go, can have such a dramatic shift of emphasis and direction with the exit of one individual. Didn't the current leadership by and large form the decision-making echelon of the defence forces earlier too? And if it did, how did Raheel Sharif's universe sit so comfortably with Ashfaq Kayani's?
Admittedly, these questions are for when hostilities are concluded and not for when our proud men and women in khaki are taking on the terrorists and, in doing so, laying their lives on the line. Also, parallel universes exist all over Pakistan so the focus has to be wider.
Yes, the wider focus ushers in a picture so confused one doesn't know whether it is steeped in hilarity or simply a tragedy of unfathomable proportions. And I am not even referring to the shameful shenanigans of various political figures, some of whom are again trying to rope in the judiciary to do their bidding.
No. We need look no further than the governing PML-N. And not even the whole party. For now, what catches one's attention is what was called Mr Sharif's kitchen cabinet.
One of the most influential members was/is the Prime Minister's brother, the Punjab chief minister Shahbaz Sharif, with close family member, bonded together by marriage, Finance Minister Ishaq Dar, another key element here. And not far behind were Interior Minister Chaudhry Nisar Ali Khan and Water and Power (with the crisis addition of Defence) Minister Khawaja Asif.
For the sake of a sharper focus, we'll leave out the Prime Minister's son, daughter, nephew and his favourite civil servant Fawad Hassan Fawad who complete his inner, decision-making sanctum and will stick to the elected office-holders.
Nobody need remind the elected government of the challenges the country is up against. Lawlessness, economy and energy, just to cite a few, topped by runaway bigotry and intolerance make for a terribly unsettling scenario.
And how do our elected leaders react? For reasons best known to Chaudhry Nisar, Nawaz Sharif and probably a few insiders, the interior minister goes AWOL (absent without leave) at such a critical juncture in Pakistan's life.
The army is engaged in finally trying to take apart the terrorist citadel of North Waziristan Agency; it also says it's determined to hunt down terrorists in every nook and corner of the country; and badly needs and appreciates the national 'consensus' behind its action.
But the harder you look the more hard-pressed you are to spot this consensus. The exceedingly touchy and ultrasensitive interior minister, who was to move ahead with the rollout of the Internal Security Policy and imperatives such as the National Counter Terrorism Authority, somehow feels so jilted that he goes into hibernation, stops work altogether.
Bereft of any principles as so many of us are, and guided by a bloated ego, we are unable to do the honourable thing: Resign if we feel our thoughts aren't valued and have no place at the decision table anymore.
All ministers, be assured there is a world out there beyond the cabinet and ministerial portfolios. And, while I can offer no more than my word, it may still be a lot better than a life of frustration, anger and histrionics befitting a jilted lover than a key arbiter of the nation's destiny.
As the government has taken the lead in keeping the focus firmly on non-issues, can one blame others such as the self-righteous Imran Khan, the self-proclaimed keeper of our conscience and the leader of our revolution Tahirul Qadri and the wholly unsavoury figure of one Arsalan Ifitkhar? Do any of them really fathom what Pakistan is up against? Or all is well and hunky-dory in the universe they currently claim residence in? Before I let my criticism get the better of me allow me to confirm I also inhabit a strange place still full of hope.Yes, where I live Shahbaz Bhatti's and Salman Taseer's high-profile killers wouldn't get off the hook; Junaid Hafeez charged and imprisoned for alleged blasphemy would have every hope of getting justice; and where tele-mullahs would lead enlightened debates on philosophy of religion rather than constantly suggest ways and means to deprive women of their rights.
— The writer is a former editor of Dawn
To serve sans fear
Pakistan's civil services worked relatively effectively until the 1960s. The British legacy of requiring public servants to resist social pressures and act according to rules lasted a few years after 1947.
Prime Minister ZA Bhutto, who removed constitutional security of tenure for civil servants.
President Musharraf packed civil services with military officers at the top, and politicised local administration.
The Supreme Court's reformative verdict on insulating officers from political interference is a boost for officers.
Following a petition by more than 80 former bureaucrats, the court directed a fixed tenure for civil servants and a stipulation that all instructions by superiors be in writing.
To prevent arbitrary transfers, the court has directed that the centre and the states establish Civil Service Boards comprising serving officers to advise the political executive on transfers, postings and disciplinary action, until parliament enacts a law in this regard.