bonhomie in house:

Rana Gurjeet Singh (blue jacket), Congress MLA from Kapurthala, and Virsa Singh Valtoha, Akali Dal legislator from Valtoha constituency, greet each other after the Vidhan Sabha session on Thursday. Revenue Minister Bikram Majithia (extreme left) is also seen in the picture. About two years ago, Rana Gurjeet and Majithia were involved in an ugly spat in the Assembly, allegedly exchanging expletives, an incident that had snowballed into a major controversy. Tribune Photo: Pradeep Tewari
syl issue
SAD, Cong on same page
Chandigarh, July 17
The ruling Akali Dal and Opposition Congress MLAs may hold different views on most of the issues, but both think alike as far as the Sutlej-Yamuna Link (SYL) issue is concerned.
Power supply to be normal in few days: Dy CM
Chandigarh, July 17
Deputy Chief Minister Sukhbir Singh Badal today told the Assembly that the power situation in the state had improved as the Centre had increased the coal supply to the state's thermal plants. He said that private thermal plants had become operational too and power supply would become normal within a few days.
Jakhar apologises for revealing panel proceedings
Chandigarh, July 17
Congress Legislature Party leader Sunil Jakhar today apologised to Speaker Charanjit Singh Atawal for "inadvertently" revealing the proceedings of the Business Advisory Committee to the media.
Majithia took Rs 70 lakh hawala money: Cong
Chandigarh, July 17
Punjab Pradesh Congress spokesperson Sukhpal Singh Khaira today accused Revenue Minister Bikram Majithia of receiving Hawala money in 2011 through an accomplice of arrested drug lord Jagdish Bhola.

excommunication of Haryana Sikh leaders over formation of HSGPC
Depoliticise Akal Takht: Ex-Jathedars
Amritsar, July 17
A day after the Akal Takht ex-communicated Haryana Sikh leaders, Sikh intellectuals opine that some of the recent edicts of the highest temporal seat have a political tinge to them and it is high time to "depoliticise the Akal Takht so as to restore its dignity which has been eroded by such edicts".
Jathedar urged to take back decision
Amritsar, July 17
A delegation of Sikh leaders led by United Sikh Forum convener Bhai Mohkam Singh today met Akal Takht Jathedar Giani Gurbachan Singh and demanded that the decision to ex-communicate Haryana Sikh leaders be withdrawn.
A day after, SGPC reinstates auditor
Amritsar, July 17
In a major volte-face, the SGPC today reinstated its internal auditor SS Kohli within 24 hours of terminating his services on the charge of "misuse of power".
Managements of 11 Adarsh schools back out
Faridkot, July 17
The managements of 11 Adarsh schools have refused to run the institutions blaming tougher norms and delay in release of grant.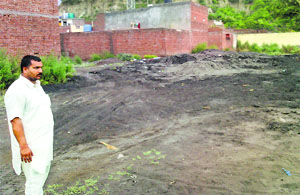 Industrial waste makes life miserable for Ropar villagers
Ropar, July 17
DCM Engineeering Products, a company manufacturing automotive engineering parts, has allegedly made the lives of people residing in three villages situated in the vicinity of its plant miserable by dumping industrial waste recklessly.

Burnt sand dumped at Prem Nagar near Ropar. A Tribune photo

Burundi national Yannick's death
Role of cops under lens for helping SP's son flee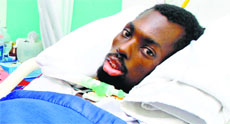 Jalandhar, July 17
The role of some police officials is under the scanner for allegedly helping deceased SP Dharam Singh Uppal's son Rommy Uppal in getting no-objection certificate (NOC) from the police for getting parole in the Burundi national Yannick's death case. Rommy later jumped the parole and reportedly fled the country.
Yannik Nizhanga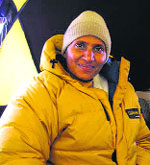 Mountaineer awaits promised job
Muktsar, July 17
Mountaineer Sukhwinder Kaur alias Sukhi, daughter of a carpenter, was bestowed with the state award for scaling the Mount Kamet (the third highest peak in the country).





Sukhwinder Kaur 'Sukhi

Varsity to hold special exam to fill BDS seats
Ferozepur, July 17
Under pressure of managements of dental colleges to fill the large number of vacant BDS seats, the government has issued a notification asking Baba Farid University of Health Sciences, Faridkot, to hold a special entrance test.
Man kills daughter, lover in Bathinda
Bathinda, July 17
Chamkaur Singh, 47, of Rajgarh Kubbe village in Bathinda today murdered his daughter Manjinder Kaur, 20, and her paramour Simarjit Singh, 25, and then surrendered before the police.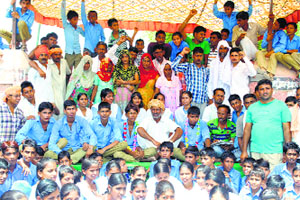 No staff, villagers lock school gate
Abohar, July 17
Protesting the shortage of teachers at Government Middle School, Manewala village in Sriganganagar district of Rajasthan, hundreds of residents, including students and their parents, today locked the main gate of the school and staged a dharna.

Parents and students outside Govt Middle School, Manewala, on Thursday. A Tribune Photo

Dalits burn effigy of Sangrur MP
Sangrur, July 17
Dalits of Baopur village near Moonak today burnt an effigy of the Aam Aadmi Party MP from Sangrur, Bhagwant Mann, amid sloganeering.
School mgmts wary of toll-free help desk
Bathinda, July 17
The announcement of a toll-free number (18001372215) by the Director-General School Education (DGSE) to address public queries and complaints is being viewed with skepticism as there is no clarity as to who will be responsible for providing timely information to the complainants.
Rain inundates posh areas of Sriganganagar
Abohar, July 17
The border town of Sriganganagar saw heavy rainfall this afternoon. The first monsoon showers, that lashed the town and neighbouring areas at 2.30 am, lasted about 90 minutes, disrupting power supply in several areas.



Sikh man in UK jailed for 5 years
London, July 17
A 50-year-old Sikh ringleader of a gang, who kidnapped a woman in Britain and fled to India, has been sentenced by a UK court to five years in jail after he was extradited.



SC breather for marriage palace owners
Patiala, July 17
Giving a breather to almost 1,800 marriage palaces and resorts operating in Punjab, the Supreme Court has allowed them to file a review petition within two weeks against the Punjab Government's "tough" policy regarding marriage palaces.
Cong ex-MLA acquitted in murder case
Amritsar, July 17
Jasbir Singh Dimpa, former Congress MLA from Beas, has been acquitted of murder charges.



Clerk booked for fraud
Fatehgarh Sahib, July 17
Baljinder Singh, a clerk posted at Government Senior Secondary School, Luhar Majra, has been booked for fraud. He allegedly withdrew staff salaries worth lakhs from the Treasury by affixing bogus signatures on documents. A case has been registered. — OC