Monumental revival?
Vandana Shukla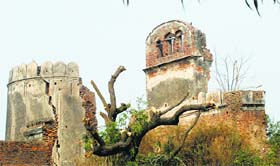 Ruins of Manauli Fort, Punjab
On a philosophical plane, Indian cultural heritage has a lot to offer to enrich the lives of modern citizenry. Its tangible immovable forms; historical sites, temples, tombs, monuments — evolved through assimilation of diverse culture streams through a long march of history — remain neglected though. The rich potential of our heritage, capable of turning around the economic narrative of India, has not been explored.
The first Prime Minister of India, Pt Jawaharlal Nehru showed his appreciation of India's history and the relevance of its cultural assimilation in a book The Discovery of India during his imprisonment (1942-46) in the Ahmednagar Fort. While writing this book, he wondered about the ruins of the fort; the mounds and collapsed walls around him and about the courageous Chaand Bibi, who had fought the mighty Mughal king Akbar to protect the fort. This was a strange confluence of history; the fort exemplified the struggle between a Hindu queen and a Mughal King, Aurangzeb died there and Nehru was a prisoner of the British colonial rulers in the fort, in his own land.

But when he became the Prime Minister of this land of ancient culture and philosophy, his engagement grew with the "temples of modernity." Modernity and culture were seen as forces that work against each other. For a country that had come out of 200-year-long slavery, its ambitions to be seen as first among equals overshadowed the relevance of its cultural heritage and the need to preserve it. Preference for modernity made us feel embarrassed of the antiquity we inherited as an old civilisation. Our newly found ideas of modernism made us shun the grandeur of our temple architecture, the jaw-dropping perfection of sculptures, such as found in the Ellora caves and the highly evolved concepts like ardhnarishwara espoused in our ancient literature and arts. Great cultural properties developed over centuries died, several knowledge streams dried up for lack of fresh insights and research.
The neglect of our tangible as well as intangible heritage has been as monumental as has been the glory of our heritage. A few efforts of restoration have remained mired in the ubiquitous red-tape and the inter-departmental blame games. Had it not been for UNESCO and a few endeavours initiated by private bodies, a lot of our precious heritage would have been lost.
A new chapter?
Against this backdrop, Finance Minister Arun Jaitley's announcement in the budget 2014-15, for allocation of Rs 100 crore to launch a national mission on Pilgrimage Rejuvenation and Spiritual Augmentation Drive (PRASAD) and a National Heritage City Development and Augmentation Yojna (HRIDAY) worth Rs 200 crore to conserve and preserve heritage character of a few cities like Mathura, Amritsar, Gaya, Kanchipuram, Vellankani and Ajmer has brought cheer to those concerned about the heritage. Another Rs 100 crore is provided for preservation of Archaeological sites. Viewed in conjunction with Rs. 500 crore, provided for developing five tourist circuits around specific themes and development of Sarnath-Gaya-Varanasi Buddhist circuit with world-class tourist amenities, it seems, finally heritage has got what it deserves. Another 100 crore is provided for Ghat development and beautification at Kedarnath, Haridwar, Kanpur, Varanasi, Allahabad, Patna and Delhi, and Rs 100 crore are provided to set up a National Centre for Himalayan Studies in Uttarakhand.
The moot question is, if funding was the only missing link that could turn around India's massive heritage burden into an advantage?
Historic blunders
The long-stretched neglect of our monuments has turned the conservation and preservation into a mammoth exercise. Scepticism stems from the fact that such schemes and funds allocation ares not unknown to heritage preservation. According to the survey conducted by National Mission on Monument and Antiquities created by the ASI (Archaeological Survey of India) to prepare a national database of monuments, there are about 33, 826 unprotected monuments in India. This includes several Raj Bhavans, central and state government office buildings, religious and residential buildings, along with several monuments presently occupied by the Ministry of Defence, Railways etc. It requires entangling legal and bureaucratic clearances to even get into these buildings.
Then, the 150-year-old ASI, assigned the responsibility of preserving our monuments does not have an enviable track record. In 2013, an audit of Preservation and Conservation of Monuments and Antiquities conducted by the Comptroller and Auditor-General, warned that even World Heritage sites are seriously neglected by the ASI. Of the 3, 476 protected monuments recognised by the central government, the auditor surveyed a sample of 1,655 monuments over the span of a year. The report also said that 92 monuments of the 1655 inspected were "not traceable."
The ASI disputed some of the findings of the report, for one, it said, the number of the missing monuments was only around 20 to 25, which, it claimed may have gone missing because of floods or when they come in between hydropower projects. Which, in return boomeranged on the ASI; proving, the department does not keep a regular check on the monuments it is supposed to conserve, and that clearances are not sought from Ministry of Culture for developmental projects, under whose jurisdiction the ASI works.
Work and resources
The same ASI that was applauded for its remarkable restoration work of the Angkor Wat temples in Cambodia is often at the receiving end of criticism for being caught on the wrong side of the developmental agenda in our country, growing population that is starved of space and the need to conserve heritage. Hundreds of instances of unlawful encroachments on the heritage sites keep its personnel on their toes in the never-ending legal battles. Added to it is the usual recruitment and promotion policy-related cases of the government department, contested in the courts. This, for a department which is already under-staffed, in Delhi circle alone, last year there were only 125 attendants to look after 174 monuments.
Private organisations like INTACH (Indian National Trust for Art and Cultural Heritage), associated with the preservation work of monuments think, the colonial legacy of ASI is responsible for its mismanagement, "the organisation and its purpose need to be re-looked afresh," says INTACH Chairman, Maj General (retd.)L.K. Gupta.
While the organisation can boast of some of the best technical experts on conservation work, lack of awareness and training among the cadres cause much of the damage. In one of the reports of the Working Group on Heritage set up by the government, it is stated that several museums under the ASI are headless and there is no technical staff in 44 existing Archaeological Site Museums.
Limited funds are often said to be the reason behind the problem, in 2013-14, the budget allocation for The Ministry of Culture was raised by close to Rs 500 crore. In 1996, the National Culture Fund was set up to encourage the participation of private agencies, corporate companies, nongovernmental organisations and individuals in helping to preserve the cultural heritage of India. In the words of Shikha Jain, Director, DRONAH (Devlopment and Research Organisation for Nature, Arts and Heritage) what compounds the problem of heritage is, "Too much heritage, lack of resources, lack of awareness and lack of experts."
Success stories
The conservation of Humayun's Tomb, a project carried out as a shining example of the public-private partnership (PPP), can be the torchbearer for the coming times. This example has certainly instilled hope for future projects of heritage conservation. "While we should try to learn from Humayun's Tomb AKTC Model in terms of the multiple processes and multiple agencies involved and a holistic development approach for conservation; we should be aware that India has diverse heritage and we need to know how such an approach can be locally customised, adapted and sustained in a specific situation, even without the massive funds AKTC provided," adds Jain.
Ticketing the historical sites for their upkeep is another option, which again requires quality infrastructure around the sites, which is presently lacking.
Culture, a dynamic force
Instead of making heritage "monument centric", the effort is needed to preserve the living culture, as has been suggested in the budget 2014-15, with the proposal of developing hundred heritage cities and developing five thematic tourist circuits. A majority of our historic cities like Jaipur, Varanasi, Lucknow, Mathura and Amritsar are examples of living heritage with their unique cuisine, craftsmanship and buildings. There is need to protect this living heritage too; music, dance, songs, theatre etc, which can be beautifully integrated with our monuments and historical sites. In developed countries, culture has been promoted for wealth generation, it does not depend on government doles. People willingly pay up to $50 to visit a museum or an art show. But, they need to be well organised and well integrated with the local population.
Cultural heritage streamlines development for the local communities by generating resources. For the first time the schemes are to be implemented through the Ministry of Urban Development, it is important for Urban Development sector to be sensitised for the need of conservation of our cultural heritage. With the growing recognition of the Indian culture and heritage abroad and economic confidence of the country regained, a realisation has dawned that development and culture do not work against each other. At this point in history, a harmonious growth of the two can initiate yet another discovery of India.
Utter neglect
The widespread instances of graffiti etched on the monuments or heritage buildings encroached upon and used as dwellings show we are disrespectful towards our heritage.
There are approximately 3,476 monuments and remains of archaeological sites under the protection of Archaeological Survey of India across the country.
Then, there are another 6,000 plus protected sites under State Archaeology and a large numbers of unprotected buildings, monuments, sites including the historic city cores like Shahjahanabad, Jaipur, Amritsar, Varanasi and 100 other historic cities across India.
Of the total 33,826 unprotected monuments, Rajasthan tops the list with 5,220 unprotected sites, followed by Uttar Pradesh with 3,653 sites and West Bengal with 3,627.
Future of the past
The ASI has finally adopted a National Policy earlier this year.
Punjab is formulating a State Culture Policy with support from UNESCO and a lot many other states are following suit.
Since 13th Finance Commission of India, a lot of funds are being channelised for heritage conservation. Punjab received Rs 150 crore, Madhya Pradesh Rs 300 crore. More states will be getting heritage funds in the 14th Finance Commission.
So far, on an average, if we distribute the annual funds of the ASI, each monument will get around Rs 2 lakh per monument, per annum.
Lack of cohesive working between ASI and states/UTs leads to tardiness in conservation work. Archaeologists need to engage with a wider discipline — urban planners, anthropologists, sociologists, NGOs, tourism experts etc.