Head constable caught taking bribe
Chandigarh, July 17
The CBI today arrested a head constable with the UT traffic police while taking a bribe of Rs 1,500 near the PGI. Head constable Dalbir Singh was taking the bribe from the president of a local auto-rickshaw union as part of his "monthly bribe" for not challaning members of the union, the CBI said. Dalbir Singh, the accused.

PU may not hold student poll this year
Chandigarh, July 17
Panjab University is not likely to hold the student council elections this year due to the precondition imposed by the authorities on student parties to form a committee to draft the pre and post-election code.

e-Sampark Centres
UT starts 16 new services
Chandigarh, July 17
Now, city residents can apply for passports, renewal of arms license and can book community centres from e-sampark centres, for the UT Administration today introduced delivery of 16 new citizen-centric services though the e-sampark centres across the city.
UT Adviser KK Sharma (right) at the launch of new services at the e-Sampark Centre in Sector 21, Chandigarh, on Thursday. Tribune photo: Parvesh Chauhan

Civic body's claims fall flat
Chandigarh, July 17
Callous attitude of the Municipal Corporation (MC), Chandigarh, towards resolving civic issues through the toll-free helpline can be gauged from the fact that a resident of Pipli Wala town, Mani Majra, who had complained about waterlogging in the area, received a message from the MC that the problem had been solved even when it still persisted.
A waterlogged street at Pipli Wala town in Mani Majra. Tribune photo: Manoj Mahajan


Paid parking lots
Contractors may lose work if found overcharging: MC
Chandigarh, July 17
Overcharging from commuters at the paid parking lots can land the parking contractors in trouble as the Municipal Corporation (MC) has decided to cancel the contract of contractors in case they are found overcharging.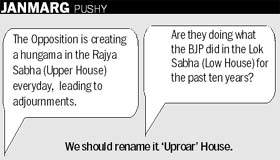 Stray dog menace: Admn told to launch drive from Sector16
Chandigarh, July 17
The Punjab and Haryana High Court today directed the Chandigarh Administration to launch a special drive from Sector 16 to control the stray dog population in the city. Directing the UT Administration to start it as a pilot project from Sector 16, the High Court also asked the Administration to launch a cleanliness drive in the area so that the vulnerable spots, where stray dogs were found assembled most of the time, could be identified and cleaned up.
Tribune Follow-Up
Five ultrasound machines underutilised at GMCH-32
Chandigarh, July 17
A day after Chandigarh Tribune highlighted the ordeal of patients at the GMCH-32, who are being forced to wait for over 100 days for diagnosis of pain at the ultrasound centre of the hospital, sources revealed that the institute had at least five additional machines, worth approximately Rs 90 lakh, which were lying underutilised.
White tigress dies at Chhat Bir Zoo
Chhat Bir, July 17
Conservation of wildlife suffered a major setback with the death of a white tigress, Dolly, at Chhat Bir zoo on Wednesday afternoon. Procured from Kanpur Zoo over four years ago, Dolly was a hot favourite among visitors here, and had given birth to a litter of three white cubs, last year.
Hired agency captures 250 violations during trial run
Mohali, July 17
As many as 250 photographs of bylaws violations and damage to the civic body's property have been captured by the new ward-and-watch agency hired by the Municipal Corporation during a trial run of the new facility.
PSEB seeks criminal case against its accountant
Mohali, July 17
After putting their senior accountant Tarun Kumar under suspension for embezzling of funds two days ago, the Punjab School Education Board authorities today asked the Mohali police to register a criminal case against him.

Sandeep takes over as Audit (Central) Principal-Director
Chandigarh, July 17
Sandeep Lall has taken over as the Principal-Director of Audit (Central) in the Office of the Principal- Director of Audit (Central), Chandigarh. The office conducts audit of all receipts and expenditure of the UT and all Central Government offices, including autonomous bodies, located in Punjab, Haryana, Himachal Pradesh and Jammu and Kashmir. — TNS
Pensioners hold protest
Mohali, July 17
Members of the Punjab Government Pensioners Association staged a protest on the border of Mohali-Chandigarh this afternoon. The elderly persons, who were stopped on the border by the police, were raising anti-Badal and anti-government slogans for not paying heed to their demands. The protestors were demanding release of DA installment from January 1, 2014; increase in allowances; free medical services; etc. — TNS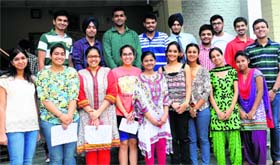 Students of Guru Gobind Singh Senior Secondary School in a jubilant mood after receiving scholarships in Chandigarh on Thursday. Tribune photo: Manoj Mahajan
Class XI Admissions
Administration Discretionary quota
250 more seats in general category
Chandigarh, July 17
The Education Department has created 250 more seats under the general category for students seeking admission to Class XI in government schools of the city. As per information, these seats were earlier reserved for Administration Discretionary Quota, but have now been added to the general category, to be availed under merit.
PU non-teaching staff to go on pen-down strike
Chandigarh, July 17
The Panjab University Non-Teaching Employees Association (PUSA), will be on a pen-down strike for an hour on July 21. The employees will stage a protest against the 'interference' of Senators in their day-to-day work.


ETT teachers climb water tank
Mohali, July 17
The local administration and police officials were on their toes when several members of the ETT (Tech 1) Pass Unemployed Teachers Union climbed on a water tank at Sohana village and threatened to jump off it this morning.

Teachers stand atop a water tank during their protest at Sohana village in Mohali on Thursday. Tribune photo: Vicky Gharu
Plantation drive held in school
Chandigarh, July 17
Government High School (Smart School), Sector 50 B, conducted a tree plantation drive on its campus today. The drive was organised by the Education Department in collaboration with the CII Northern Region and the Nanhi Chhaan Foundation.


Students campaign for greener planet
Chandigarh, July 17
The students of St. Vivekanand Millennium School today campaigned for a greener planet along with Chandigarh Traffic Police officials as part of the Vanamahotsava month celebrations.

Students of St. Vivekanand Millennium School plant saplings along with traffic police personnel at the Sector 17/18 light point in Chandigarh on Thursday. Tribune photo: Manoj Mahajan
Inter-school business quiz held
Chandigarh, July 17
St John's High School organised an inter-school business quiz 'Coalesce 14' on its campus. The students were tested on their knowledge about business personalities, logos, acquisitions, mergers and the banking sector.
FROM SCHOOLS
Learning activity
Chandigarh: UKG students of DAVPS, Sector 8-C, were educated on the water cycle and formation of clouds by experimentation today. They formed clouds in a jar with the help of warm water and ice cubes. The concepts of evaporation, condensation and precipitation were explained to them.