It is unfair to point finger at Majithia: Capt
New Delhi, July 16
With Punjab's multi-crore synthetic drug racket in advanced stages of investigation, senior Congress leader and Amritsar MP Capt Amarinder Singh today said people should desist from political witch-hunting and finger-pointing in the matter and avoid making sweeping statements about the role of politicians in the racket until a probe report had been completed.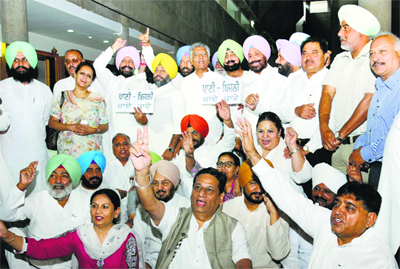 Congress MLAs protest during the Vidhan Sabha budget session in Chandigarh on Wednesday. Tribune photo: Manoj Mahajan
| | |
| --- | --- |
| Congress MLA Charanjit Channi flashes a torch of a mobile phone during a brief power outage in the Vidhan Sabha. Tribune Photo | Deputy Chief Minister Sukhbir Badal is all smiles during the Punjab Vidhan Sabha budget session. Tribune Photo |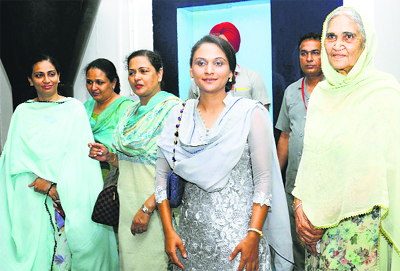 The family members (mother, wife and sister) of Finance Minister Parminder Singh Dhindsa at the Vidhan Sabha. Tribune photo: Manoj Mahajan

It's growth-oriented: CM
"The special allocation of funds to combat drug abuse and cancer, budgetary provisions for the safety of women and eradication of unemployment and steps to check fiscal stress speaks volumes of the government's commitment to take on these issues on a war footing. The 'zero tax' Budget, that has taken care of the core sectors of health, education, power, infrastructure and social security, will further propel the tempo of overall growth and development." —Parkash Singh Badal, Chief Minister
'All sections taken care of'
"The Finance Minister, Parminder Singh Dhindsa, has done a good job. He has succeeded in presenting a Budget which gives due weightage to all sections of society. The Budget also provides the much-needed relief to the underprivileged classes. It is bound to yield good results." —Kamal Sharma,

bjp

State President
'Grant for GADVASU insufficient'
"The amount announced for the university is insufficient. Sometimes we do not even receive the entire amount of grant announced. Large dairy farms are coming up in the region and the need of the hour is the work on technology for making these farms modern requiring less manpower." —VK Taneja, Vice Chancellor,

gadvasu
Fiscal consolidation main focus: Finance Minister
Chandigarh, July 16
Finance Minister Parminder Singh Dhindsa says that his main focus has been fiscal consolidation. And that is why he has not announced any new sops. He says that higher taxes do not yield higher revenue and his aim is to increase revenue via better tax compliance. Here are excerpts of his interview:
Worrying signs: Share of primary sector in GSDP on the decline
Chandigarh, July 16
The share of the primary sector, on which about half of the state's population is directly dependent, in the Gross State Domestic Product (GSDP) has been on a steady decline. This sector includes agriculture and livestock. Even the share of the manufacturing sector has been on falling since 2009-2010. But the share of the service sector has been going up constantly.
Figures reveal the stark reality
Brazilian lyricist Paulo Coelho has written that when you want something desperately, the entire universe conspires to help you achieve it. I have always felt that there is an obverse to this observation, that the universe frequently conspires to cruelly show us our reality and weaknesses. The load-shedding during the Finance Minister's speech is a cruel instance of the latter. The government has been claiming that the power-surplus state will turn into an electricity exporter. But the brief power failure is a sign of the actual situation.
Akal Takht move draws flak from various quarters
Amritsar, July 16
The Akal Takht move to ex-communicate Haryana Finance Minister Harmohinder Singh Chattha, HSGPC leaders Jagdish Singh Jhinda and Deedar Singh Nalvi for "conspiring to divide the SGPC" has drawn flak from various Sikh leaders and intellectuals.
Rs 310 cr for PAU
Ludhiana, July 16
The state government today sanctioned a grant of Rs 310 crore for Punjab Agricultural University (PAU) for research in its Budget announced today. The university aims to focus on sustainable development of agriculture. Finance Minister Parminder Singh Dhindsa allocated Rs 64 crore for Guru Angad Dev Veterinary and Animal Sciences University (GADVASU).
Rs 18-crore paddy scam unearthed in Moga
Moga, July 16
Embezzlement of paddy worth over Rs 18 crore has come to light at two rice mills in Ajitwal town of Moga district. The economic offences wing of the police has registered two separate cases under Sections 406, 420 and 120-B of the IPC. The first case was registered against Manoj Jain, Kunal and Ashish Bansal, partners in Mahadev Rice Mill, and the second one against Manoj Jain, owner of Mahaveer Rice Mill.
Rehabilitate Iraq evacuees: NRI Sabha
Jalandhar, July 16
The NRI Sabha has demanded a rehabilitation programme for the youths rescued from Iraq. It also wants illegal travel agents booked by the police.
Amogh division celebrates 43rd Raising Day
Abohar, July 16
Amogh division celebrated its 43rd Raising Day today. The General Officer Commanding (GOC) was joined by other officers in paying homage to the martyrs. He laid a wreath at "Shaurya Sthal" at the military station, near Sriganganagar. All ranks pledged to rededicate themselves to the honour and glory of the country.
Probe wheat distribution: BJP ex-minister
Phagwara, July 16
Former Cabinet Minister and senior BJP leader Swarana Ram has demanded a Vigilance inquiry to check irregularities being done at ration depots allegedly in connivance with some government officers.
Bajwa wants better deal for paramilitary
Chandigarh, July 16
The Punjab Congress president, Partap Singh Bajwa, has demanded that the "one rank, one pension" scheme should also include those retiring from the para-military forces.
Lambi projects flawed, allege residents; demand probe
Lambi, July 16
Several government projects in Lambi that were completed in the past few years have developed defects. In June 2012, the much-hyped Sulabh toilet project in Lambi assembly segment came under the scanner, when some beneficiaries complained. The then Deputy Commissioner found that some toilets were built using sub-standard construction material.
75% posts of teacher vacant in 3 Sangrur govt colleges
Sangrur, July 16
It has come to light that 122 of the total 162 sanctioned posts of teacher in the three government colleges in Sangrur, Sunam and Malerkotla in the district have been lying vacant. Therefore, the students are being taught by part-time lecturers and guest lecturers for the past several years. The total number of students in each college is around 3,500 students.
Dowry case: Suicide bid by victim's brother
Abohar, July 16
Balwinder Singh of Dhaani Dandewali allegedly consumed some poisonous substance yesterday evening, protesting police inaction. He was immediately taken to the civil hospital and saved. The police have booked him for attempting to commit suicide.
Rs 2-crore cotton gutted in Sriganganagar
Abohar, July 16
A leading cotton factory in the Suratgarh segment of Sriganganagar district in Rajasthan was gutted in a fire today afternoon. The roofs of the godowns have collapsed and cotton worth Rs 2 crore was reportedly damaged.
Govt pensioners to hold protest today
Sangrur, July 16
State government pensioners will take out a protest march towards the Punjab Vidhan Sabha tomorrow. Thousands of pensioners will gather at Mohali under the banner of Punjab Government Pensioners Joint Front to participate in the march to press for the acceptance of their demands.
5 get life term in kidnapping case
Bathinda, July 16
The court of Additional Sessions Judge, Rajwinder Kaur, today sentenced five persons to life imprisonment in a kidnapping case. The accused had demanded Rs 3 crore as ransom from the family of the kidnapped youth in June 2010. Nandan Nagpal, then a student of DAV College, Chandigarh, alleged the five accused kidnapped him from near Guru Nanak Dev Thermal Plant.
Two held with 5 kg heroin
Amritsar, July 16
The State Special Operation Cell, a counter Intelligence wing of the Punjab Police, has arrested two smugglers allegedly having links with Pakistan-based intelligence agencies.
4 held for helping proclaimed offender
Fatehgarh Sahib, July 16
Four persons, including a woman, were arrested by the Fatehgarh Sahib police on the charge of giving shelter to a proclaimed offender accused of burning alive a woman in Bhadson village, near Patiala, four years ago. The proclaimed offender, however, managed to give the slip to the police.