Medals, mentoring on masters' mind
Sonepat, July 16
Olympic medallists Sushil Kumar and Yogeshwar Dutt have been the poster boys of Indian wrestling since the 2008 Beijing Games, when the former won a bronze medal. They carry the burden of a billion hopes on their sturdy shoulders whenever they step on the mat in international competitions.

Yogeshwar (right) with a few other members of the squad. Photo: Mukesh Aggarwal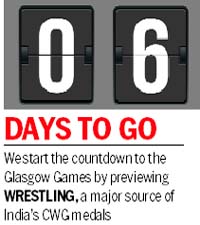 The young and the fearless
Sonepat, July 16
They are young, they are fearless and, above all, they are the understudies of their ustads, Sushil Kumar and Yogeshwar Dutt, who have passed on their technical and tactical knowledge to them.
Row shadows second Test
London, July 16
MS Dhoni is a cool guy, not an excitable celebrator. He prefers to stay away from the spotlight but there are rare occasions when he feels the need to express his opinion. As the James Anderson-Ravindra Jadeja controversy became the focus of discussion before the second Test here at Lords, Dhoni decided to voice his opinions.


England's James Anderson catches a ball during a training session; and India's Ravindra Jadeja holds his face as he waits for a team photograph to be taken at Lord's in London on Wednesday.
— Reuters
A lively wicket expected
London, July 16
India and England gear up for the second Test at Lord's where a lively wicket is expected to welcome the two teams here tomorrow. Two days ahead of the match, the centre-wicket at Lord's bore a distinctive green tinge.
Gallopin claims 11th stage
Oyonnax, July 16
Two days after wearing the yellow jersey, France's Tony Gallopin claimed the 11th stage of the Tour de France thanks to late attacks in a nervous finale on Wednesday.


british open
Lahiri ready for the Open challenge
Hoylake (England), July 16
Buoyed by the experience of playing his final practice round with two-time Major champion, Germany's Martin Kaymer, Anirban Lahiri is all ready to fight it out at the British Open Championship, starting at the Royal Liverpool here tomorrow.
Anirban Lahiri hits out of a bunker during a practice round at the Royal Liverpool Golf Club in Hoylake on Wednesday. Reuters