House adjourned after obituary references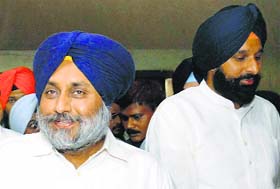 Chandigarh, July 15
The Legislative Assembly today mourned the demise of 25 eminent personalities and 24 engineering students of Hyderabad and a tour operator who drowned in the Beas last month.



Deputy CM Sukhbir Badal and Revenue Minister Bikram Singh Majithia outside the Vidhan Sabha on Tuesday. Tribune photo: Pradeep Tewari

HSGPC move 'interference' in Sikh affairs, says SAD
Chandigarh, July 15
Terming the move of the Haryana Government to constitute a separate committee for managing affairs of gurdwaras in the state as a "direct interference in the affairs of the Sikhs", the legislature party of the Shiromani Akali Dal (SAD) today said it was a direct assault on Sikh psyche.
CM to pressure Centre; will meet Rajnath today
Chandigarh, July 15
The Shiromani Akali Dal (SAD) will now be exerting pressure on the BJP-led NDA government, of which it is a constituent, to stall the creation of a separate Haryana Sikh Gurdwara Parbandhak Committee (HSGPC).
Chief Justice Kaul's transfer leaves Bar astounded
Chandigarh, July 15
Chief Justice Sanjay Kishan Kaul's "mid-term" transfer from the Punjab and Haryana High Court has not only left many questions unanswered, but has also left a section of advocates astounded.
Officer files affidavit in forgery case
Chandigarh, July 15
Two months after a former Additional Consolidation Officer created a flutter in the Punjab and Haryana High Court by alleging that her signatures had been forged, she today submitted an affidavit in support of her contentions.


No move to replace Bajwa, Jakhar: AICC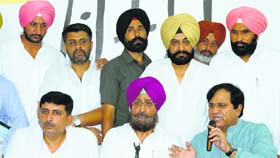 Chandigarh, July 15
The Congress high command feels that "all is well" in the Punjab Congress and has asserted that there was no move to change either Punjab Pradesh Congress Committee (PPCC) chief Partap Singh Bajwa or Congress Legislature Party (CLP) Leader Sunil Jakhar.

(From right below) Shakeel Ahmed, AICC general secretary, PPCC president Partap Singh Bajwa and Harish Chaudhary, AICC secretary, address the media at Punjab Congress Bhawan in Chandigarh on Tuesday. Tribune Photo: S.Chandan

Police extorting money in drug cases: Jakhar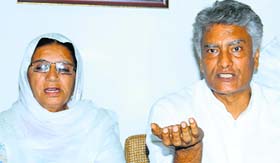 Chandigarh, July 15
Ahead of the presentation of the state's Budget tomorrow, where the Congress is seeking a special discussion on the drug menace in the state, Congress Legislature Party Leader Sunil Jakhar today alleged that some police officials were running an extortion racket in the garb of the anti-drug drive.

Kuldeep Kaur, mother of an alleged drug smuggler, with CLP Leader Sunil Jakhar in Chandigarh on Tuesday. Tribune Photo: Pradeep Tewari

Iraq imbroglio
Let down by state, kin to approach PM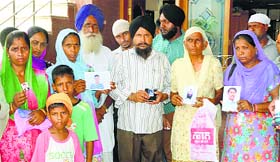 Jalandhar, July 15
Having lost faith in the state government, the families of the Punjabi youths abducted in Iraq, have decided to seek assistance from Prime Minister Narendra Modi.


Relatives of the youth, who were abducted in Iraq, at Gurdwara Guru Nanak Mission in Jalandhar on Tuesday. Photo: Sarabjit Singh

Four-laning of Amritsar-Pathankot highway misses another deadline
Pathankot, July 15
The four-laning project of the Pathankot-Amritsar highway via Gurdaspur and Batala is going to miss its July 31 deadline and will now be completed before September 30.
No land to cremate Ajnala martyrs!
Amritsar, July 15
Researcher Surinder Kochhar, who played a key role in digging out the mortal remains of 282 martyrs from historic Kalianwala Khu in Ajnala, today hit out at the state government for not facilitating a piece of land for performing the last rites of the martyrs.
NEw Judicial complex
Land acquisition hangs fire
Moga, July 15
The land acquisition for the construction of an ultra-modern judicial complex and a residential colony for judicial officers on the Moga-Ferozepur national highway here is hanging fire for the past many years.
ETO dismissed on graft charge
Chandigarh, July 15
An excise and taxation officer (ETO) has been dismissed on corruption charges. Besides, an assistant excise and taxation commissioner and three ETOs have been subjected to compulsory retirement due to non-performance. The action has been taken on the orders of Deputy Chief Minister Sukhbir Badal.
Indian drummer takes on Pak 'dholi' at Wagah

Jalandhar, July 15
The already electrified environment involving stomping and aggressive posturing by BSF and Pakistani rangers during Beating the Retreat ceremony at Wagah border has been further charged up by adding a special Indian drummer, hence making the tourists dance to patriotic tunes enthusiastically.

Indian drummer in action at Wagah border in Amritsar. A Tribune photograph

Jilted lover throws acid on teacher
Jalandhar, July 15
A resident of Sultanpur Lodhi here allegedly threw acid on a government teacher after the latter turned down his marriage proposal.
19 PCS officers shifted
Chandigarh, July 15
The Punjab Government has transferred 19 PCS officers. Hari Krishan Nagpal has been posted Special Secretary, Welfare of SCs and BCs; Baldev Singh will be the ADC (Amritsar) while Tej Kumar Goyal has been made Project Director, Rashtriya Uchttar Shiksha Abhiyan.
Zira man alleges frame-up at Akali leader's behest
Zira (Ferozepur), July 15
Fearing police harassment, the family of a resident of Amargarh Bandia village in Zira sub-division was allegedly forced to leave the village. Gurmukh Singh Sandhu was booked on murder charges in an incident which his family claims was a road accident. The sarpanch of a nearby Mallu Wala village, Sukhdev Singh, had died after being hit by an unidentified vehicle on April 17.
Muktsar farmer wins Rs 2 crore in lottery
Muktsar, July 15
A marginal farmer of Wangal village in Muktsar district won the highest prize money in the Playwin Saturday Super Lotto lottery. Harjinder Singh (33), who owns 10 acres of agricultural land, won Rs 2 crore. The results of the lottery were announced on Saturday.
US Congressman hailed for proposing anti-bullying law
Sacramento (California), July 15
The American Gurdwara Parbandhak Committee (AGPC) today hailed Congressman Mike Honda for proposing an anti-bullying law to check harassment of minorities, especially Sikh students in US schools. The AGPC said such a law would protect students and check bullying.
Farmers protest at Badal village, demand minimum 8-hour power
Muktsar, July 15
The farmers of Chief Minister Parkash Singh Badal's own Lambi Assembly segment today lodged a protest outside the power grid at Badal village seeking minimum eight-hour power supply, as assured to the community by the state government.
Craters appear in Ropar villages as earth caves in
Ropar, July 15
The residents of Baadian and Pachranda villages near here are facing a peculiar difficulty. Some parts of the fields in these two villages have started sinking, leaving big craters at numerous places. Now, the land owners have sought assistance from the district administration in this regard.


ASI arrested for taking Rs 35,000 bribe
Batala (Gurdaspur), July 15
An Assistant Sub Inspector (ASI) was arrested for allegedly accepting a bribe of Rs 35,000 from a woman for settling a land dispute case.