Drug issue rocks House, Cong stages walk out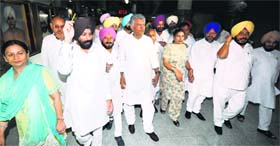 Chandigarh, July 18
The Punjab Congress made an all-out effort to corner the ruling SAD-BJP Government on the issue of drug menace by staging a walk out from the Vidhan Sabha.


Congress legislators led by CLP Leader Sunil Jakhar walk out of the Assembly on Friday. Tribune photo: Pradeep Tewari

Cong trashes Budget, alleges figures fudged
Chandigarh, July 18
Accusing the Akali-BJP government of fudging figures and failing to present a true picture of the state's economy in the House, the Opposition Congress today took on the government over the rapid decline in Punjab's economy and the fiscal stress being faced by the state.
Waive fee of SC students: Panel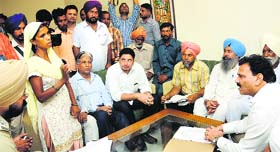 Chandigarh, July 18
The National Commission for Scheduled Castes (NCSC) today directed the state government not to charge fee from Scheduled Caste students studying in government colleges and to find means to pay fee of those studying in private colleges.

Vice-Chairman of the National Commission for Scheduled Castes Raj Kumar Verka (R) listens to the woes of a Dalit woman in Chandigarh on Friday. Tribune photo: Manoj Mahajan

Punjabi University changes course at 'eleventh hour'
Patiala, July 18
Punjabi University has changed the structure of its much-hyped four-year BTech in TV, Film Production and Media Technology course, citing technical reasons. The course will now be a three-year BA (Honours) in TV and Film Production.


Hoax calls fan fear among Punjabis stuck in Iraq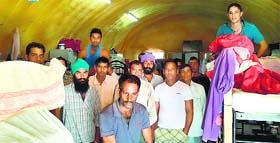 Jalandhar, July 18
Around 100 Punjabi men working with AKG Engineering Company at Paralympics city in Baghdad have alleged that the Indian Embassy officials, who visited their company last week, have expressed their helplessness in sending them back to India.

Punjabi youths at their makeshift accomodation in Baghdad on Friday. Tribune photo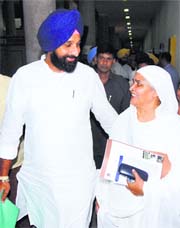 Revenue Minister Bikram Majithia and Bholath MLA Bibi Jagir Kaur come out from the Vidhan Sabha on Friday. Tribune Photo: Pradeep Tewari
Irregularities galore at PTU: Cong MLAs
Jalandhar, July 18
The raising of a question in the state Vidhan Sabha yesterday by Congress leaders over the alleged financial irregularities in Punjab Technical University, favouritism in the allotment of contracts worth Rs 40 crore and closing down of as many as 450 distance education centres owing to lack of approval to run courses have suggested that all is not well in the university.
Brigadier foils bid to 'grab' his plot
Chandigarh, July 18
At 5 am on July 5 in Canada, Brig Nawab Singh Heer (retd) was awoken by a call from his friend in India, asking him whether he had sold off his plot in Mohali. Shocked, he questioned his friend as to why he was asking such a question. To his disbelief, he was told by his friend Jagdeep Singh that someone was trying to sell his plot.
Parents bury their comatose child
Jalandhar, July 18
In a tragic incident, a couple from Gandhi camp area, today buried their 7-month-old comatose child Preet, without clinically confirming his death. Preet had been struggling for his life since June 10. He had got diarrhoea. "The child was not clinically dead, but was in near coma. Although his brain was not working, we had managed to revive his heart and other body functions in the last two days.
Rein in colleges on fee, says MP
Mastuana Sahib (Sangrur), July 18
AAP MP from Sangrur Bhagwant Mann today said he would meet Vice Chancellor of Punjabi University, Patiala, to seek uniform fee structure, on the pattern of Panjab University, Chandigarh, in all privately managed government-aided colleges, affiliated to Punjabi University. He said he would also ask the VC to reduce the charges.
Water-borne diseases on the rise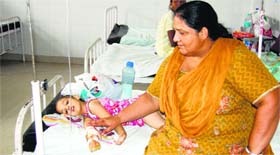 Hoshiarpur, July 18
Four children from the local Sunder Nagar And Gobind Nagar localities were diagnosed with diarrhoea today. They have been admitted to the Civil Hospital.



A three-year-old girl suffering from diarrhoea under treatment at Hoshiarpur Civil Hospital on Friday. A Tribune photograph

Restoration of gold work begins at Golden Temple; to take 2 months
Amritsar, July 18
Restoration work on the interiors of the first floor of the sanctum sanctorum at the Golden Temple has entered a crucial phase with experts starting work on the damaged gold work. In the previous phase of restoration, the conservation experts had restored the precious art work on the walls of the first floor.
BKU plans stir against Bill to protect property
Moga, July 18
The Bhartiya Kisan Union (Ekta) has decided to launch a state-wide agitation against the Punjab (Prevention of Damage to Public and Private Property) Bill, 2014, alleging that it was against the fundamental rights of the people in a democratic society like India.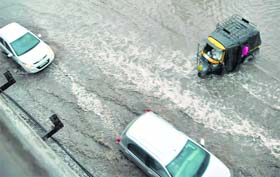 a messy affair:

Vehicles stuck on a waterlogged road in Patiala on Friday. Tribune photo: Rajesh Sachar
Injured Akali leader dead
Moga, July 18
Ten days after he was injured in an attack, veteran Congress leader Gurdeep Singh Gill (72), who joined the Akali Dal last year, died at Dayanand Medical College and Hospital in Ludhiana today.
Hemkunt Sahib yatra on despite bad weather
Amritsar, July 18
Although the Uttarakhand Government has suspended the Chaar Dham Yatra as well as pilgrimage to Sri Hemkunt Sahib in view of bad weather conditions, pilgrims continue to head towards Hemkunt Sahib. The Meteorological Department has forecast heavy rainfall today and tomorrow.
Top cops plying vehicles without insurance cover
Jalandhar, July 18
The Punjab Police that issue challans to the common man for flouting traffic norms seem to look the other way when it comes to challaning the official vehicles of their senior officers that are being plied without mandatory insurance cover.


US-Sikhs seek official docs on use of ethnic slurs
Washington, July 18
A Sikh advocacy group has asked the US authorities, including the FBI, to disclose their use of ethnic slurs in surveillance programmes amid reports that intelligence agencies used an anti-Muslim epithet.


High Court sends notice to Harsimrat on poll petition
Chandigarh, July 18
Just over a month after the declaration of parliamentary poll results, the Punjab and Haryana High Court today issued a notice for August 29 to Union Cabinet Minister of Food Processing Harsimrat Kaur Badal on a petition challenging her election as a SAD candidate from the Bathinda parliamentary constituency.
Recruitment of PSHRC staff
Frame rules, or be present; HC to secy
Chandigarh, July 18
The Punjab and Haryana High Court today directed the personal appearance of Punjab Principal Secretary, Department of Home Affairs, in case of Punjab Government's failure to finalise the recruitment rules for Punjab State Human Rights Commission employees within next two months.


PCS officer among 3 get 5-year jail
Faridkot, July 18
A local court in Faridkot sentenced three persons, including a Sub-Division Magistrate (SDM), to five-year imprisonment in a criminal case today. The three had burnt down 13 houses of poor Dalit families in Tehna village of Faridkot in 2004.