| | | |
| --- | --- | --- |
| | ARTICLE | |
A growth-oriented budget
It will usher in change in policy-making and business thinking
Charan Singh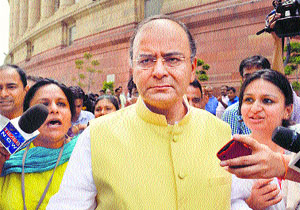 The Union Budget deftly crafted in about six weeks by a strategic thinker and seasoned parliamentarian has followed a very pragmatic approach of maximum cooperation and minimum resistance. And that probably is a correct strategy in a difficult economic situation, both internationally and domestically. A day before, the Economic Survey had set the tone by an honest assessment of the economy after detailed technical diagnostics and a number of corrective propositions.
The Union Budget of the new NDA government may seem to be a continuity of the UPA government but has much to offer when analytically examined. If implemented, it would usher in a change in the very fabric of Indian policy-making and business thinking in a very short time because it proposes widespread changes in different segments of the economy. To analyse the impact, consider the key economic issues that plague the economy and were widely debated during the electioneering period — economic growth, employment and inflation. The budget addresses these three issues rather seriously.
The growth in the country would get an impetus because of encouragement to the housing and construction sector through various schemes like real estate and infrastructure investment trusts, tax incentives for housing, a higher allocation for affordable housing through the National Housing Bank, allocation for 100 smart cities, and new airports in tier 1 and tier 2 cities. As housing has inter-linkages with 269 industries, industrial production would contribute to increasing growth. These growth-enhancing measures would positively impact the employment situation in the country. In addition, measures to encourage tourism would directly add to employment in the hotel, entertainment, transport and aviation industries, besides other commercial activities.
The Financial Inclusion Mission to be launched on August 15, 2014, for empowering weaker sections of society, especially in the rural sector, would help in expanding financial services to the poor. The use of technology at the back-end of the operations implies a trigger in employment generation in the banking sector in terms of opening of accounts, spreading financial literacy and increasingly providing financial services across the countryside. However, in the absence of a unique identity number of every Indian, special care would have to be exercised so that there are no leakages in the credit proposed to be extended to unbanked households.
In addition there are two more measures which are welfare-oriented proposals and will contribute to increasing employment like the increase in foreign direct investment in insurance. Insurance penetration, measured in terms of insurance premium to the GDP, is less than 4 per cent in India despite numerous efforts by the government in the last decade, including permitting private insurance companies to operate in India. In contrast, in advanced countries like the UK, the USA and Japan, insurance penetration ranges between 8 and 12 per cent. The potential to extend insurance from less than 25 per cent of the population currently covered under life insurance implies more employment opportunities in a young demographic country like India.
The expenditure incurred on corporate social responsibility (CSR) activities could be tapped effectively for purposes of growth and employment, though it is a philanthropic activity for community development. According to the Companies Act 2013, specified companies are required to utilize 2 per cent of their profits for CSR activities. CSR norms are applicable to companies having a minimum net worth of Rs 500 crore or turnover of Rs.1,000 crore or a net profit of Rs.5 crore in a financial year. The activities eligible for CSR are wide ranging and CSR activities by companies can be implemented through various methods on their own or by outsourcing to non-profit organisations.
According to industry sources, about 6,000 companies in India will be required to undertake CSR activities as well as many small and medium enterprises earning a net profit of more than Rs 5 crore. The estimated amount under CSR ranges from a conservative Rs.20,000 crore to nearly Rs 1 lakh crore. Therefore, for the effective utilization of CSR in nation building, the government may like to consider an accounting or regulatory authority to regulate resources in specified areas.
The country with a very young and dynamic population has found simple decisions like having a war memorial or statue of unity very nationalistic. These could be developed as national monuments and places of tourism to encourage commerce and employment. The immediate setting up of a few IITs, IIMs, AIIMS, agriculture and horticulture universities with a laudable long-term objective of having a premier educational institute in every state will give boost to youth employability in India and abroad. The next logical step for the benefit of youth should be to permit foreign universities to operate in India.
In the last few months, it has increasingly become apparent that inflation in India, especially food inflation, is a supply-side phenomenon and not caused by a loose monetary policy. To address the supply-side concerns, agriculture and rural sector activities like warehousing have been encouraged. The announcement to reform the Food Corporation of India and the working of the public distribution system, to plug leakages, will help in containing agricultural prices, responsible repeatedly for inflation in India.
The Finance Minister has correctly adopted an approach to demystify the Union Budget, much in keeping with the international practice followed by other countries where the budget day is a non-event and fiscal policy-making is a regular feature, not identified with a statement of government accounts. The announcement that monetary policy measures and other welfare-oriented issues like malnutrition would be addressed separately as well as gradual rationalizing of the government expenditure like subsidies through a commission indicates a focused approach towards fiscal issues, given the limited time-frame within which the budget was prepared. The resistance to additional borrowings and incurring a higher debt obligation, despite the available fiscal space, demonstrates the commitment to fiscal consolidation. A sober and mature approach has been used in formulating the budgetary policy despite a mandate which would have helped rationalise, if not justify, fiscal profligacy. The budget, in that sense, is truly laudable and path breaking and sets a way for more reforms through consensus building.
— The writer is the RBI Chair Professor of Economics, IIM, Bangalore. The views are personal.