ENTERTAINMENT

MUSIC ZONE

FOOD TALK

CONSUMERS BEWARE!

GOOD MOTORING

WEBSIDE HUMOUR

CROSSWORD

WEEKLY HOROSCOPE
EARLIER FEATURE

LIFE'S LESSONS

FRUIT FACTS

CHANNEL SURFER

ULTA-PULTA

TELEVISION

GLOBOSCOPE

GARDEN LIFE

NATURE

FASHION

BRIDGE
Are marks the only mark of a child?
Welcome to the testing times of college admissions. After the sweat and toil of examinations, it is that time of the year when parents go ballistic and children bite their nails as stress levels of both go through the roof. In the quest to zero in on marks, and only marks, are we making an entire generation unhappy, unhealthy and maladjusted?
Vidhu Mohan
"True happiness is living in ease and freedom, fully experiencing the wonders of life." This however does not apply to our children. This is sad, considering the fact that a child is our tomorrow, our hope for the future. A well-adjusted, happy and healthy childhood is the right of each child. But is it happening? We find children suffering from depression, deviant behaviour and psychosomatic disorders since they are under constant stress.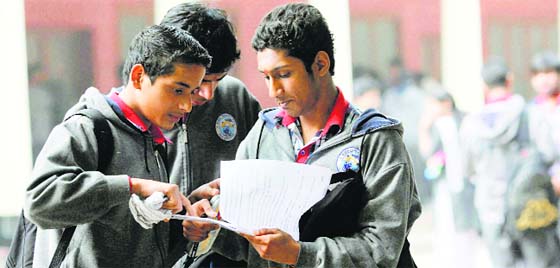 Students are caught in the grind of learning by rote
---
'Art & Soul
From medicine to beverage
A recent book on tea establishes for the reader what tea means to Indians, and how it is served everywhere, besides providing a peep into its history
B. N. Goswamy
IN life one might think of tea all the time, but if you think of a book on tea, what comes instantly to mind is the classic work from which the above passage is taken. For even as it speaks of tea and the role it plays in the life of millions of people, it sings and soars, touching now upon its history, now upon philosophy, now on politics — to be exact, the politics of culture and the culture of politics — above all, upon the beauty of the Japanese tea ceremony and the lessons that are embedded in it. Tea and Okakura become one in the reader's mind.
---
FITNESS
good health
For health, keep your calm
Unchecked and uncontrolled, anxiety can drive a person to depression and hamper day-to-day activities. A healthy lifestyle and a serene attitude can help beat the blues
Dr Anjali Mukerjee
'Don't worry be happy' is easier said than done, for anxiety spares no person. Every one of us has, at some point or the other, experienced worry and anxiety — a gnawing feeling in the pit of the stomach that crops up for a brief period or hovers like a cloud over your mind. Unchecked and uncontrolled, anxiety can even drive a person to the brink of depression. It can hamper day-to-day activities.
Ugly truth behind beauty treatments
One can end up getting serious bacterial, fungal and viral infections at salons and spas if basic hygiene is not taken care of
Dr Vikas Sharma
With a variety of head-to-toe beauty treatments available and getting popular now-a-days, one needs to be aware of health and safety concerns at the beauty salons and spas. No matter, how posh or pricey a salon or spa is, if it isn't keeping up with health and safety standards, it can easily be a breeding ground for harmful bacteria and germs. Be sure that all non-disposable instruments used are sterilised in an autoclave, a medical-grade device that uses superheated steam to sterilise. It's the only way to be sure that infectious organisms have been destroyed.
---
society
Web of addiction
With the Internet becoming a drug of choice, it is not a surprise that India's first technology de-addiction clinic was launched by National Institute of Mental Health and Neuro Sciences (NIMHANS), Bengaluru
Mehak Uppal
"Hi! I'm Sameera (name changed). Every morning, the first thing I do is to check my smart phone kept right next to my bed. It's a bit difficult to get up and drag myself for a bath, as I never seem to get enough of sleep. I am so tempted to miss my school or, at least, go a little late though I am not sure if my Mom will permit as my grades have been falling lately. Oh! I hope she agrees as my head feels so heavy. Now, that I am home, I might as well check Facebook for updates. There aren't many, since my last login was clocked at three in the morning."
Video games the big culprit
Shubhadeep Choudhury
Since its inception in April this year, the Technology De-addiction Centre at NIMHANS (National Institute of Mental Health and Neurosciences) in Bangalore has managed to evoke a good response. "We are open only on Saturday afternoons.
---
Travel
An ode to Sun god
The Sun Temple at Modhera in Gujarat is worth a visit if you enjoy exploring mythology and old architecture
Aakash Mehrotra
A drive of over 100 km from Ahmedabad leads you into the quaint town of Mehsana, famous for the magnificent Sun Temple built by the great Solanki rulers. This temple, much like the sun temples at Konark, Orissa and Martand, Kashmir; seems undiminished by the ravages of history. It is situated on the banks of the river Pushpavati, amid verdant fields.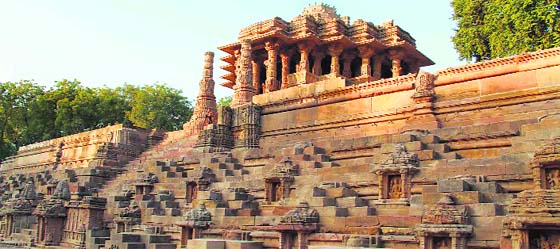 The exteriors of the temple are beautifully carved, with the base of the temple designed in the shape of an inverted lotus
---
Entertainment
Take II
The lure of the big screen has seen many stars from yesteryear trying to return to cinema, some were successful while others had to taste failure
Shoma A. Chatterji
Comebacks are the flavour of the season. "Comeback" in cinema terms means, "a return by a well-known person, especially an entertainer or sports player, to the activity in which they have formerly been successful" which suggests that in the tinsel town, a given star was not seen on screen for a considerable gap that could range anywhere between five and 15 years or more.

All for the perfect score
As music composer, Raju Singh's 100th film Ek Villain crosses the Rs 100-crore mark, the man behind many a background score steps out to share notes from his journey that began as a guitarist with Pancham da
Nonika Singh
AS a kid, he would stand in front of the mirror with a guitar in hand, and hoped to conquer the world one day. Today talented and prolific music composer Raju Singh may not be a household name but beams, "Life is a party."
---