Ideology takes a backseat as BJP, PDP open doors for all
Jammu, July 27
Ideology has taken a backseat as two "ideologically committed" parties —- the Peoples Democratic Party (PDP) and the Bhartiya Janta Party (BJP) —- have opened their doors for all while trying to woo more and more people before the Assembly elections. During the past two months, a large number of people, irrespective of their ideology, have joined these parties.
Cong likely to release list of candidates at eleventh hour
Jammu, July 27
To ensure selection of winnable candidates in the Assembly elections later this year, the Congress has decided to release the list of nominees at the eleventh hour in order to "accommodate" deserving leaders of other parties.
Scab damages apple crop, growers allege official apathy
Baramulla, July 27
Apple industry, which serves as the backbone for majority of fruit growers in Kashmir and remains an important component to Valley's economy, is suffering immensely due to "official apathy".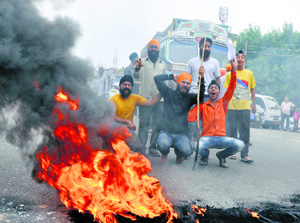 Sikh bodies protest Saharanpur riots
Jammu, July 27
Various Sikh organisations in Jammu protested against the Uttar Pradesh Government on Sunday for the Saharanpur riots. The organisations blocked the national highway for about an hour and demanded the resignation of the Chief Minister.

Sikh activists protest against communal clashes in Saharanpur outside the Ashram Gurdwara in Jammu on Sunday. Tribune photo: Anand Sharma

Srinagar warmer than Jammu
Srinagar, July 27
Srinagar city is in grip of a continuous heat wave as the maximum temperature here remained about a notch higher than the maximum recorded in Jammu city, the state's winter capital.
City residents on shopping spree ahead of Eid
Srinagar, July 27
Markets across the Valley, including summer capital Srinagar, witnessed a huge rush with people buying eatable two days before Eid-ul-Fitr, which is likely to be celebrated on July 29.

SMC reviews arrangements for Eid prayers
Srinagar, July 27
Srinagar Municipal Corporation (SMC) commissioner GN Qasba today conducted an extensive tour of the city to review arrangements being made for congregational prayers being held for Eid.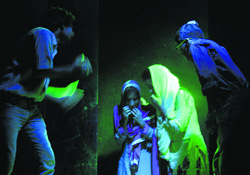 Story of revenge comes alive on stage
Jammu, July 27
Natrang staged a Hindi play, 'Badla', in its weekly theatre series at Natrang studio theatre today. The play was directed by Neeraj Kant and was based on a Russian story written by Anton Chekhov.

All the World's a stage: Artistes in a scene from the Hindi play 'Badla' as part of Natrang theatre series on Sunday. Tribune Photo: Anand Sharma

Include Jammu in 100 smart cities: NMC
Jammu, July 27
National Mazdoor Conference (NMC) today urged the Prime Minister, Finance Minister and Minister of State (PMO) office to include Jammu city in the proposed 100 smart cities, which was announced by the NDA recently.
A decade on, Sopore bypass project in a limbo
Sopore, July 27
With the increasing number of vehicles, the "apple town", Sopore — one of the most important commercial business centres in north Kashmir — is facing massive traffic jams. A crucial project — bypass bridge — aimed at keeping away a major chunk of traffic, remains incomplete despite a gap of over a decade.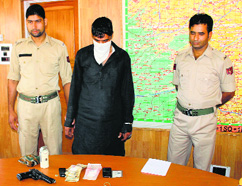 Impersonator held for extortion
Pulwama, July 27
The police have apprehended a person, who allegedly disguised himself as a militant and extorted money from civilians, particularly village representatives, in the Littar area of Pulwama district. Aijaz Ahmad Shah, alias Molvi, Bilal and Suhail, from the Tral area of Pulwama district was arrested when the police laid a trap in the Littar area on a tip-off on Saturday evening.

Police officers with the accused and seized articles in Pulwama on Sunday. Tribune photo: Amin War

5 forest officials injured in attack by timber smugglers
Handwara July 27
Five forest officials were injured, two of them critically, in an attack by timber smugglers at Panzla Rafiabad, in the Handwara Forest Division of Kupwara district. Forest guards Farooq Ahmad and Mohammad Jamal, who received head injuries in the brutal attack, were referred to Sher-i-Kashmir Institute of Medical Sciences (SKIMS), Soura, Srinagar.
Restrictions lifted in Tulmulla
Srinagar, July 27
Restrictions imposed to prevent violent protests have been lifted from the Tulmulla area of central Kashmir's Ganderbal district, the police today said. The restrictions were imposed on Saturday after clashes broke out in the area on the preceding night. Locals had accused the police of being lax in a case involving a government employee who was spotted with a girl inside a government office on a holiday.
Demand for Rajpori 'sheermal' up
Pulwama, July 27 Ghulam Mohammad is standing near his tandoor, fanning the fire in it to bake "sheermal" — a traditional saffron-flavoured flatbread — to meet the demand of his customers who throng his shop to buy the bread, prepared by him and a few bakers in Rajpora village of Pulwama district.
DSA dharna enters 27th day
Jammu, July 27
The dharna of Dental Surgeons Association (DSA), J&K, continued for the 27th consecutive day today. The hunger strike by women surgeons entered the 15th day.
City passenger sheds haven for beggars, drug addicts
Jammu, July 27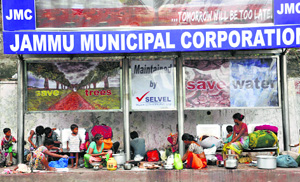 The passenger sheds in the city have become a resting place for beggars and drug addicts. In the absence of any action by Jammu Municipal Corporation (JMC) and the police, sheds at Gole Market, the one near women's college, Gandhi Nagar, Jewel Chowk, Amphalla, Main Stop, and at Parade Ground have been encroached upon by beggars and drug addicts.

A passenger shed taken over by a migrant family in Jammu. Tribune photo: Anand Sharma

Hideout busted in Rajouri, arms seized
Rajouri, July 27
The Rashtriya Rifles has busted an "old militant hideout" in the Manjakot area of Rajouri and recovered rusted consignment of arms and ammunition. The recovery included a pistol and a magazine, besides a wireless set, three grenades, two IED switches and a bundle of wires, the police said.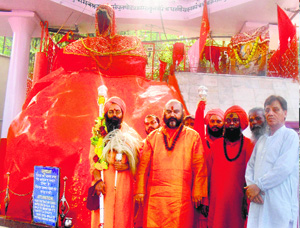 'Chhari Mubarak' puja at Sharika-Bhawani temple
Srinagar, July 27
Continuing the tradition, 'Chhari Mubarak' (holy mace of Lord Shiva) was taken for puja to the ancient Sharika-Bhawani temple, Hari Parvat, on Sunday. 'Chhari Mubarak' was carried to the temple in a procession led by Mahant Deependra Giri to pay obeisance to Goddess Sharika-Bhawani on the occasion of 'Shravan Shukla Paksha Pradipada'.

Mahant Deependra Giri and sadhus perform puja at Sharika-Bhawani temple in Srinagar on Sunday. Tribune photo: Amin War

Labourer killed in Handwara
Srinagar, July 27
A labourer was killed while three others were rescued from a well in a village near north Kashmir's Handwara town, the police said. The joint team of the police and Fire and Emergency Services personnel rescued four labourers from a well, which they were hired to clean, a police spokesperson said.
Hurriyat, JKLF condole Pak scribe's death
Srinagar, July 27
Kashmiri separatist leaders have condoled the death of veteran Pakistani journalist Majid Nizami, Editor-in-Chief of Nawai Waqt Group, who died at a Lahore hospital on Saturday.
Govt will provide relief to flood-hit areas: Sadhotra
Jammu, July 27
Ajay Sadhotra, Minister for Planning and Development, visited flood-affected areas of Marh today to assess the damage caused by recent rains and flash floods. The minister was accompanied by H C Jerath, chief engineer, flood control, SE, flood control, XEN, flood control, and officers from the Revenue, Rural Development and other departments concerned. He visited Mehra Mandlik, Dhateryal, Marh Bagh, Qazitokrian, Chak Jaffar, Ghai, Channochak, and other villages. He interacted with the affected families and assured them that the government was committed to provide them adequate compensation. He asked the team of officers to record full details of the losses suffered by each family so that their cases were processed for compensation. TNS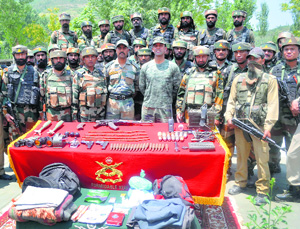 The seizure: Army soldiers display arms and ammunition recovered during a joint search operation with the police in Baramulla district on Sunday. Tribune Photo: Amin War

8 injured in accidents
Srinagar, July 27
Eight persons have been injured in separate road accidents across the Valley, the police said on Sunday. A 10-year-old boy, identified as Hafiz Fayaz of Quloosa village in Bandipora district, was injured when a vehicle hit him near his house. He was taken to the SKIMS for treatment while the police registered a case. In the second incident, a car hit a stationary truck at Pahroo Chowk near Nowgam in Srinagar, resulting in injuries to six persons who were travelling in the car. The injured were taken to a hospital for treatment. In the third incident, a passenger cab hit a pedestrian at Regipora in Kupwara district of north Kashmir. The injured was taken to the Bone and Joint Hospital in Srinagar. TNS
State climbers conquer Mt Menthosa
Jammu, July 27
Stanzin Youthog and Rinchen Dolma of J&K have brought laurels after they successfully scaled the 6,443-mt-high Mount Menthosa in Lahaul Spiti, Himachal Pradesh. Stanzin and Rinchen were part of an 11-member All-India Women Mountaineering Expedition, organised by the Indian Mountaineering Foundation, New Delhi. Led by Tine Mina of Arunachal Pradesh, the first woman from North East to scale Mount Everest, the team comprised climbers from seven states, including Shanti Rai of Sikkim (deputy leader), Indu Bala of Haryana, Gun Bala of Karnataka, Muri Linggi of Arunachal Pradesh, G R Radhika of Telangana, Anushree of Delhi, Puja Jangam of Maharashtra, Amla Rawat of Uttrakhand, besides the two J&K climbers. — TNS
Omar applauds shooter Bindra
Srinagar, July 27
Chief Minister Omar Abdullah has congratulated Abhinav Bindra for the "absolutely superlative effort" during the 20th Commonwealth Games where the ace shooter won gold. "Heartiest congratulations Abhinav Bindra, absolutely superlative effort. Will look forward to seeing the medal in person like last time," Omar wrote on Twitter. Bindra, who is the first Indian Olympic individual gold medal winner, bagged the 10m Air Rifle gold at the Commonwealth Games being held at Glasgow on Friday. TNS
Foundation distributes ration kits to widows
Srinagar, July 27
Under its Widow Welfare Programme (WWP), the J&K Yateem Foundation (JKYF) in collaboration with the Mercy Universal today distributed 100 Eid ration-cum-grocery kits among the needy widows. A J&K Yateem Foundation statement said 100 kits were distributed at Baitul Hilal, Jawahar Nagar, here and other 13 district units of the foundation. "Every year such kits are distributed among them to have adequate grocery items before Eid. Each kit consisted of items like wheat flour, tea, edible oil, spices, salt, sugar, cereals, bath and detergent soap, etc. The cost of each grocery kit is Rs 2,000," the statement added. TNS
Girl dies of food poisoning
Rajouri, July 27
A nine-year-old girl died of "food poisoning" in a remote village in the Dhral area of Rajouri today, while two of her relatives took ill after consuming "wild mushrooms". Shazia Akhter was declared brought dead, while five-year-old Irfana Mohammad Qayoom and Taseem Akhter were referred to Government Medical College and Hospital, Jammu, after being provided preliminary treatment at District Hospital, Rajouri. The doctors at the district hospital said it was a case of food poisoning, said the Block Medical Officer. — OC
Poultry body hails contract farming order
Jammu, July 27
The J&K Poultry Association expressed satisfaction over the recent announcement of state government to keep contract farming in poultry sector. The association has expressed gratitude towards Chief Minister Omar Abdullah and Nazir Ahmed Khan Gurezi, Minister of Animal and Sheep Husbandry, for taking the initiative. The association claimed that the government had assured to frame a comprehensive policy for the poor and needy poultry farmers of J&K. TNS