M A I N N E W S
Jolt to Hooda as Minister quits
Six-time Cong MLA from Rewari, Ajay Yadav blasts CM, alleges development, job bias
Naveen S Garewal & Pradeep Sharma
Tribune News Service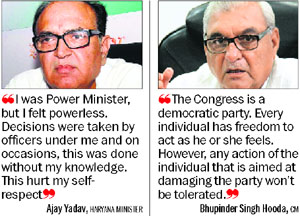 Chandigarh, July 29
In signs of a revolt against Chief Minister Bhupinder Singh Hooda ahead of the Assembly elections, Haryana Power Minister Ajay Yadav resigned on Tuesday, accusing the CM of favouring his home district and neglecting other areas of the state.
The 55-year-old six-time Congress MLA from Rewari alleged bias in matters of development and recruitment and flayed the controversial induction of members of various commissions and statutory bodies.


Birender meets Shah, may be next to go
Haryana Congress leader Choudhry Birender Singh met BJP president Amit Shah on Tuesday evening indicating his imminent exit from the party. Sources said the meeting between the two leaders took place at a five star hotel in New Delhi. Birender, sources said, is exploring the option of resigning from the Congress. He is a Rajya Sabha MP from Haryana and is the only Congress leader from the state to be a member of the Congress Working Committee. Birender has been openly speaking about his possible exit from the Congress. Party leaders said the signs were "ominous" with several other Haryana leaders, including Kiran Choudhry, having expressed their desire to quit following Power Minister Ajay Yadav's resignation. Aditi Tandon, TNS
"I was left with no option. Apart from three districts —Rohtak, Sonepat and Jhajjar — representated in the Lok Sabha by his son Deepender Hooda, the CM has failed to initiate development in other areas of the state. People in our areas question us about development and jobs, but we were helpless," said Yadav, who also holds Forest and Environment portfolios.
Yadav said he had submitted his resignation to Hooda. "The Chief Minister asked me to reconsider the resignation, but I declined," he said.
Yadav said he was a loyalist of the Congress high command and rubbished reports that he would go with the BJP. He said he had problems with Hooda's style of functioning and had no issues with the Congress top leadership. "I am Sonia Gandhi's loyalist and will abide by her orders. I have old relations with the Gandhi family," he said. He, however, lambasted the state unit for "not having learnt its lessons" after the Lok Sabha poll debacle.
Yadav said his relations with Hooda started deteriorating during his second term. "When the Congress leadership chose him (Hooda) over Bhajan Lal in 2005, I went all out to win over MLAs (from Bhajan Lal's camp) to support Hooda," said Yadav.
"I had no problem with Hooda until 2009. Things, however, started taking a different shape in his second term," he said. "As a Finance Minister (during the second term), when I opposed the Chief Minister for ignoring my region, my portfolio was changed," said Yadav.
"I was Power Minister, but I felt powerless. Decisions were taken by officers under me and on occasions, this was done without my knowledge. This hurt my self-respect," he said.
Criticising Hooda for setting up AIIMS-2 within 50-km radius of PGIMS in Rohtak, Yadav said there was no justification for establishing such a facility near a top health facility in the state.
Yadav claimed he had on several occasions called on Hooda and urged him to provide jobs to the educated youth of Rewari as per their qualification but to no avail.
Joining the attack, Congress leader Birender Singh, a known Hooda detractor, today warned that things could "deteriorate" and other ministers may follow suit if Hooda is not replaced.
"What Ajay Yadav is saying today, I have been saying for the past five years now. I have been saying there is regional bias in development," he said. "I have information that like Yadav, others will also follow suit," he said and claimed that another minister, "is contemplating to resign".
(With inputs from Ravinder Saini in Jhajjar)