OPED —

women
Breaking the cycle of silence & shame
Talking about menstruation has been a taboo even among planners. It received the attention of the Ministry of Health only in 2011. Close to 70 per cent of Indian women risk getting severe infection, at times causing death, due to poverty, ignorance and shame attached to their menstruation cycle
Swapna Majumdar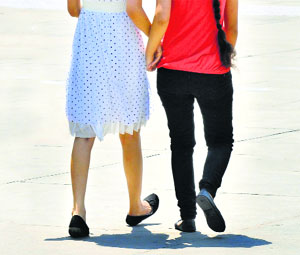 Darkness was just falling in her village when Sarla came out of her house. After making sure no one was around, she hung a wet piece of cloth to dry on the bush nearby. Early next morning before anyone awoke, Sarla removed the cloth although it was still damp. She didn't want anyone to know she was in the middle of "those days". In her hurry she didn't notice the tiny insect atop the cloth. This was to prove fatal. A few days later the infection caused by the insect moving up the bloodstream through her vaginal tract led to her death.
Had she not considered menstruation something to hide or be ashamed of, she would have been alive. "It is the culture of silence and ignorance around the issue of menstruation that is behind unsafe menstrual hygiene practices," says Anshu Gupta, founder of Goonj, the Delhi-based social enterprise addressing menstrual hygiene.


Why do they lag behind?


Only 12 per cent of India's 355 million menstruating women use sanitary napkins (SN).


Hundred per cent women in Singapore and Japan, 88 per cent in Indonesia and 64 per cent in China use SN.


In North India, over 30 per cent of girls drop out of school after they start menstruating.


Reproductive tract infections (RTI) are 70 per cent more common among women who are unable to maintain hygiene during their menstrual cycle.


Girls between the age group of 12 and 18, who continue education, miss five days of school every month during their menstrual cycle because schools don't have separate toilets for girls.
I identified with the cause since I, too, was shy of talking about the issue.
Ashwini Ponnappa, badminton player, ambassador Bejhijhak, an initiative for collective action on breaking myths, recognising the importance of menstrual education, and improving management and hygiene
Women often use the dirtiest cloth in the house during their menstrual cycle. This cloth is reused many times without proper washing. Sometimes, two or three women in a household use the same piece of cloth. The cloth is rarely dried in sunlight after washing for reuse due to cultural taboos. The resultant moisture and dirt causes various diseases and infections, many times deadly.
Ignorance is not bliss
In fact, it was the needless death of a woman from tetanus caused by a rusty hook on the blouse she used during her periods that impacted Gupta deeply and strengthened his resolve to work on the issue of menstrual hygiene. The diseased woman's sister informed Gupta that the entire village knew the rusty hook was the cause of death but no one was willing to talk about it because of the shame in discussing menstruation openly. In many villages, it was found, women lose their uterus because the local health providers advise them to remove it to prevent cervical cancer, which could result from infection acquired during menstruation. So a woman of child-bearing age could lose her uterus, in all probability, due to lack of menstrual hygiene.
In India, 350 million women and girls menstruate on any given day. Reproductive tract infections (RTI) are 70 per cent more common among women who are unable to maintain hygiene during their menstrual cycle, according to a national survey. Further, the Indian Council of Medical Research survey on risk factors associated with cervical cancer revealed that the risk associated with the use of unclean cloth was 2.5- fold higher as compared to the use of clean cloth or use of sanitary napkins.
Yet, 75 per cent of rural women remain ignorant about menstrual hygiene, according to a 2011 study conducted by A C Nielson, the global information and measurement firm and NGO Plan India. Contrary to the popular adage, ignorance is not bliss. Poor menstrual hygiene can kill and yet talking about menstruation still remains taboo. The misconception that menstrual blood is impure cuts across class, caste and religion. So, women and girls are forced to hide all signs of menstruation. Sinu Joseph, creator of Mythri, an innovative animated video to spread awareness on menstrual hygiene for adolescent girls says, "Pretending it never happened, doesn't make it go away. When we don't talk about it, we miss the signs that need attention. What is perfectly normal becomes a big deal and women quietly acquire low self- esteem for what is natural."
Social outcasts
In the absence of accurate information, secrecy, superstition and stigma associated with menstruation continue to shackle women and girls. Women are barred from worshipping and entering temples. They are not allowed to enter kitchens or cook at such times. It is believed that if a woman touches milk or pickle while she is menstruating, it will become contaminated.
"These misconceptions are passed on from mothers to daughters, causing an inter-generational cycle of poor hygiene practices. Fear and shame, coupled with inappropriate facilities for changing, washing, drying and disposal make it worse, leading to absence from school. There are 113 million Indian adolescents menstruating on any given day," says Dhirendra Pratap Singh, co-founder of Azadi, a Lucknow-based NGO working on demystifying menstruation.
Girls between the age group of 12 and 18 miss five days of school every month during their menstrual cycle because schools don't have separate toilets, according to the 2011 Annual Status of Education Report (ASER), by Pratham, a NGO working on education.
Girl-friendly schools
Under the government's School Sanitation and Hygiene Education programme, each school should have one toilet and three urinals for 40 girls and one lady teacher. Design guidelines for school toilets mandate space be kept for girls to keep sanitary napkins and ensure sunlight enters the room. There is a strong need to have menstruation- friendly schools that ensure girls safety and dignity to manage their periods and stop dropping out of school.
Puberty and education
Only one in six of India's 700,000 rural schools have toilets deterring children, especially girls from going to school, and if enrolled, in remaining there according to UNICEF. While the percentage of usable toilets for girls increased from 32.9 per cent in 2010 to 53.3 per cent in 2013, 47 per cent schools in the country still do not have separate toilets for girls, increasing their chances of dropping out or facing regular difficulties, found Pratham (ASER 2013).
In August 2013, Heeals, a non-profit organisation based in Haryana, evaluated its Water Sanitation Hygiene and Girl Education project in three schools in the state. It found that although toilets were dirty, had no locks and there was no place for the girls to dispose sanitary napkins, there was no absenteeism. Good knowledge of menstrual hygiene and the advantage of being able to go home when they needed to change helped retain girls in schools. However, Heeals found that in schools where girls are unable to go home, they are more likely to lose out on education. So, it put together these findings in a documentary film to advocate for better facilities in all schools.
Productivity levels of working women drop during their periods, with 31 per cent women missing 2.2 days of work on an average, revealed the AC Neilsen survey. Improved knowledge could reduce the economic and social impact of poor menstrual hygiene. Azadi saw the need to create a collective platform to push for a greater synergy to give women and girls safe spaces to learn about and manage menstruation. Thus was born Bejhijhak (no hesitation), a national initiative on menstruation to break the silence on this issue. Initiated by NGOs Azadi, WASH United, WaterAid and Path, Bejhijhak was launched on the first World Menstruation Day (May 28). It aims to initiate collective action on breaking myths, recognising the importance of menstrual education, and improving menstrual management and hygiene. Bejhijhak will identify experience, gaps and needs, and present a strong unified voice to break the wall of silence around menstruation. Getting Ashwini Ponnappa, the national badminton star, as their ambassador, has given the Bejhijhak campaign a big boost. As a role model, the Commonwealth Gold Medal winner in doubles understands her efforts could go a long way in reducing the stigma around menstruation. "I identified with the cause since I, too, was shy of talking about the issue. Even while practising, I never asked for any quarter on those days because I was embarrassed to speak to my male coaches about it. But now I hope to reach out to all shy girls like me," she says.
Delayed response
The government took its time in realising the importance of menstrual hygiene management. It began distribution of sanitary napkins through ASHAs under the National Rural Health Mission (NRHM) in 2010. According to Dr Sushma Dureja, Ministry of Health and Family Welfare, by the end of 2012, a pack of six sanitary pads known as "Freedays" was sold for Rs 6 to 1.5 crore girls between the age group 10-19 in 115 districts across 17 states, including Himachal Pradesh, and Punjab.
Although ASHAs receive Rs 1 for each pack sold, many of them are also ignorant of the importance of menstrual hygiene and are not active participants. The NRHM in Karnataka found an enterprising way to motivate and educate 30,000 ASHAs in the state by screening Mythri as part of their training programme in October 2013.
More recently, the Ministry of Drinking Water and Sanitation incorporated suggestions from the Geneva-based Water Supply and Sanitation Collaborative Council to change the guidelines in the Nirmal Bharat Abhiyan to recognise the importance of menstrual hygiene management (MHM). The new guidelines will help to increase budgets for raising MHM awareness.
Awareness programmes
Innovative use of information technology is making an impact in menstrual hygiene awareness, especially among the urban women. Menstrupedia, launched in 2012, is a novel online portal that focuses on busting menstruation myths and providing accurate information. Co-founder Aditi Gupta, 29, who experienced stigma related to menstruation when she was growing up, has used her personal experiences to script a comic book to guide girls about their changing bodies and menstruation. "We want the learning to be fun. We also have a gynaecologist on board to ensure content accuracy. Now in English, it will be translated into Hindi and other regional languages," says Gupta.
With mobile phones in every home, Maya's 7 Day Challenge, a mobile game to promote good menstrual hygiene could be a game changer. Creators Decode Global, a Canadian mobile game for social change company and the Delhi-based Boond, are hoping Maya, the game's young protagonist, will get players involved in understanding the need for girls continuing school even after they start menstruating. Social media is proving another popular platform for information sharing. Facebook, YouTube and Twitter have been abuzz with campaigns like #MENSTRAVEGANZA by WASH United and documentaries like The Beauty of Red by Menstrupedia. In a country where many women and girls are forced to use old rags, husks, dried leaves, grass, ash, sand or newspapers every month, it remains to be seen whether menstruation continues to be seen as "the curse" or whether girls and women are able to 'touch the pickle' without fear or shame.
The writer is an independent journalist who writes on development and gender