15 years on
Defences stronger, but concerns persist
Many urgent lessons were learnt from the war, but some were forgotten just as quickly. The enthusiastic start to revamp the security and defence apparatus has not been able to keep pace.
by Dinesh Kumar
The last 15 years since the Kargil War ended have been eventful and rapid paced. Barely a year-and-a-half after the intrusions in Kargil were vacated, terrorists conducted a gruesome broad daylight attack on Parliament in December 2001. With evidence pointing to Pakistan, India mobilised its armed forces on the border with its western neighbour. This was the country's largest military mobilisation since the 1971 Indo-Pak war. On two occasions during the 10-month mobilisation named Operation Parakram, India came close to attacking Pakistan twice. Eventually, in October 2002, India withdrew its forces from the border without it serving much purpose. Pakistan had called India's bluff. But the mobilisation once again exposed the Army's lack of preparedness and other deficiencies to fight a war and led to it subsequently adopting the Cold Start Doctrine, a posture once employed by NATO forces during the Cold War.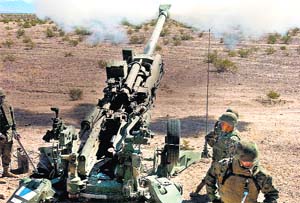 The purchase of US gun M777 (above) was missed because BAE Systems stopped its production even as never-ending Indian negotiations with the US government went on. India has not bought an artillery gun for the last 30 years.
Terror attacks
Yet two years later, in November 2003, India and Pakistan reached an agreement to cease fire along the J&K border. But 'peace' on the LoC did not translate into peace within the country. A series of bomb blasts, some of them suspected to be sponsored by Pakistan's ISI, rocked several Indian cities over the years that followed. The most horrific of course was the terror attack carried out by Pakistani terrorists in Mumbai in November 2008. Once again India was under pressure to teach Pakistan a lesson. Quite characteristically Pakistan has been economical in cooperating with India in bringing the Pakistan-based master planners to justice.
While terror attacks have been fewer since, over the last year-and-a-half not only has the Pakistan Army been randomly violating the cease fire agreement along the LoC and the international border in J&K, but it has also been engaging in barbaric acts such as beheading Indian soldiers.
China, which for many years maintained a quiet profile along the disputed Line of Actual Control (LAC) that divides J&K and Chinese-occupied Aksai Chin, has meantime been engaging in infiltration and aggressive patrolling across the LAC. On occasions, deft diplomacy has helped defuse difficult situations but has not put a halt to China's ground and aerial intrusions. All in all, India's internal and external security situation remains far from satisfactory. At the best of times what has been prevailing is negative peace.
LoC environment
An immediate and predictable decision taken by the Army soon after the Kargil War was the permanent deployment of troops along the 160-km stretch of the Line of Control (LoC) which, until that year, was routinely vacated by both sides each winter. A Mountain Division comprising about 20,000 soldiers has since been on permanent guard duty in this region to prevent a recurrence. The 8 Mountain Division forms part of a post-Kargil War raised 14 Corps. With this, a Corps each has been deployed in each of the three regions of J&K — the Leh-based 14 Corps for Ladakh, the Srinagar-based 15 Corps for the Kashmir valley and the Nagrota-based 16 Corps for the Jammu-Poonch area. All three Corps form part of the Army's Udhampur-based Northern Command.
For added surveillance, the Army has since acquired Israeli-made Heron and Searcher unmanned aerial vehicles (UAVs). In October 2001, a little over two years after the war ended, India launched its first military intelligence satellite. Known as the Technical Experiment Satellite (TES) and equipped with a space-borne synthetic aperture radar capability, the TES provides for an all-weather round-the-clock coverage with about one metre resolution pictures which are far better than the 5.2 metre resolution capability that was available from Indian satellites prior to and during the Kargil War.
On ground, Israel-supplied sensors have been installed along portions of the LoC to detect infiltration. But most of these sensors have been installed along the Kashmir valley and the Rajouri-Poonch stretch of the LoC from where Pakistan-supported terrorists have been infiltrating on a regular basis. The infiltration has since reduced but not ceased. J&K continues to be afflicted by Pakistan-sponsored insurgency and secessionism.
A sore point that still remains along the LoC in the Kargil region is that Point 5353 continues to be occupied by the Pakistan Army. Located on the LoC, this mountain feature provides a commanding view of Tiger Hill and the National Highway 1A which connects the Kashmir valley to Kargil, Leh and beyond via Zoji La and Dras. The Pakistan Army has fortified its positions on Point 5353 with reinforced concrete bunkers and built a track to carry supplies from a supply base located on its side of the LoC. Pakistan artillery observers can easily direct fire on a 25-km stretch of the national highway visible to them.
There has been little headway in creating an alternative all-weather route via Manali (Himachal Pradesh) to Leh and thence onwards to Kargil (located to its west) and the Siachen glacier (located to its northwest). One of the biggest challenges in making this route a reality is building a tunnel under the Rohtang Pass (13,000 feet), which gets blocked due to heavy snowfall during winter. In contrast, Zoji La (11,500 feet) opens earlier than the Rohtang Pass. On the borders with China, India has woken somewhat late to realise the need to build roads and other infrastructure in those areas. The Chinese are far more advanced. The Indian Army is currently in the process of raising its first-ever Mountain Strike Corps keeping in view Chinese posturing along the disputed Sino-Indian border.
Whether it is a case of too little too slow will be known with time.
Restructuring, but not enough
On July 29, 1999, three days after the Kargil War ended, the government instituted a Kargil Review Committee (KRC) headed by the late K Subrahmanyam, a retired civil servant and eminent defence analyst, to review the events leading to the Pakistani aggression in Kargil district of Ladakh and to recommend measures to safeguard national security against armed intrusions. The report, which was submitted in December 1999 and later made public, led to the constitution of a Group of Ministers (GoM) Committee headed by LK Advani in April 2000 to examine the entire gamut of the national defence structure and formulate specific proposals for implementation of the report prepared by the KRC. The GoM, which held 27 meetings, set up four task forces, one each to specifically examine the Intelligence Apparatus, Internal Security, Border Management and Management of Defence. The GoM submitted its report on February 26, 2001, and on May 11, 2001, the Cabinet Committee on Security assembled to discuss the report. What followed was some high-level restructuring. Among the recommendations accepted was the establishment of an Intelligence Coordination Group and a Technology Coordination Group (tasked to oversee all technical intelligence or TECHINT) to work in close tandem with the National Technical Facility Organisation, which in turn was tasked to operate new strategic TECHINT equipment and facilities.
The government created a Strategic Forces Command, a tri-service Defence Intelligence Agency, a Defence Procurement Board and a holistic 15-year perspective plan. But it stopped short of creating the post of a Chief of Defence Staff (CDS) as the government's principal military adviser. Neither did it integrate the armed forces with the decision making apparatus of the Ministry of Defence. These two points remain a subject of much debate. Then again, although border management has been fashioned on a one-border one-force principle, there are too many different forces manning India's international border with various countries. In the case of the Sino-Indian border in Ladakh, for example, there is also the Indo-Tibetan Border Police which reports to its own setup, thus creating coordination issues with the Army.
All in all, India engaged in incremental and reactive changes with questionable success. For example, Indian intelligence agencies, the Navy and the Coast Guard combined still failed to prevent the 26/11 terror attacks in Mumbai, a major blot on India's national security environment. Notwithstanding the constituting of a Defence Procurement Board, India's process of acquiring weapons and weapon platforms from foreign vendors has been far from satisfactory. India continues to be afflicted by allegations of kickbacks, which has been continuing in earnest ever since the Swedish Bofors Howitzer gun and German HDW submarine kickback scams of the mid-1980s. In fact, a cautious UPA government with AK Antony as Defence Minister ended up blacklisting many foreign vendors, making it impossible, for example, to procure an artillery gun, thus making the Regiment of Artillery the most antiquated arm of the Army.
Since India's strategic culture involves forming committees on every occasion and excuse, the government in June 2011 formed yet another high-powered committee, this time headed by Naresh Chandra, a retired civil servant, to review the country's defence management and make suggestions for recommendation of major defence projects. The committee submitted its report in May 2012 with many of the recommendations already been made in the past. This is not surprising since some of the issues and likely solutions are just so obvious.
The list of such review committees on defence management appointed and reports prepared is endless in India's post-Independent history. There is no shortage of experts to assist on the matter. But the political will to first accept and then, more importantly, implement and operationalise these recommendations is where the problem lies.
Can't let vigil down
Meanwhile, India's security concerns have only increased, not reduced. Pakistan will forever need to be monitored very carefully. Democracy is still fragile in that country and the military still dominant. Over the years a myriad of terror groups have established themselves, some 'friendly' to the Pakistan state and some in parallel to that state. All this has a bearing on India. China remains India's long-term concern — it is Pakistan's closest ally, is closely engaged with most of India's land and maritime neighbours, is India's largest trading partner and at the same time displayed aggressive posturing on the borders with India.
Relations with Bangladesh, Nepal and Sri Lanka remain delicate and are easily prone to friction. India's internal security remains fragile with homegrown and Pakistan-sponsored terror groups at play. India has an import-dependent military force with very little self reliance capability. The Kargil War may be long over, but the security environment has not improved. It is only getting more complicated.
The challenges
* Cease fire violation by Pakistan
* Infiltration, aggressive patrolling by China across the LAC
* Ties with Bangladesh, Nepal and Sri Lanka remain delicate
* Internal security fragile
* Import-dependent military force.