Rain brings respite from humidity but city comes to standstill
Sukhmeet Bhasin
Tribune News Service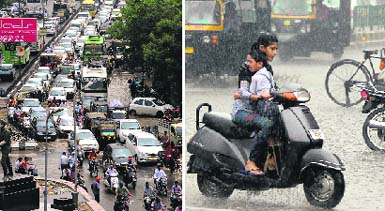 Traffic came to standstill at the GT road; (and right) a woman scooterist along with a child gets caught in the rain in Bathinda on Saturday. Tribune photos: Pawan Sharma
Bathinda, August 2
The first major spell of monsoon showers may have brought respite to residents who were reeling under humidity, but commuters and motorists had a tough time as the city roads got waterlogged.
Residents of the city and its adjoining areas heaved a sigh of relief after a brief spell of rain in the afternoon as it brought down the mercury and washed away the hot and humid conditions prevailing since morning.
The maximum temperature was recorded at 32.4°C early during the day.
As per the record maintained by the Agricultural-Meteorological Department of the Punjab Agricultural University, Regional Centre, Bathinda, the city and its adjoining areas received 4.4 mm of rainfall today.
As per the forecast, the region may have reason to cheer on Sunday as well with a fresh spell of rainfall expected.
Waterlogging adds to woes
Areas which got waterlogged were Mall road, Amrik Singh road, Power House road, Parasram Nagar, Balla Ram Nagar, Kamla Nehru Colony, Namdev Marg, Prajapat Colony, Green Avenue, Nai Basti, Kothe Amarpura, Sirki Bazar and Dhobi Bazar.
Besides the main roads, even lanes of several localities were seen getting converting into mini canals creating problems for the people to move. In some low-lying areas, the rain water even entered the houses.
Municipal Commissioner Dalwinderjit Singh said, "We have identified 10 critical points in the city where pumps have been installed to drain out rainwater to avoid water-logging. But in some areas of the city like Sirki Bazar, the topography is to be blamed for waterlogging. Even if it rains for a short while, the low-lying areas experience waterlogging.
Rain brings relief to farmers
The rain has also brought relief to the farmers as with the delayed monsoon and hovering mercury, farmers were disappointed as both the crops, paddy and cotton, had started getting damaging due to the intense heat conditions. But with the rain today, it will help farmers to save their crops, as it also reduces the requirement for irrigation in the fields.