Mixing memories & desire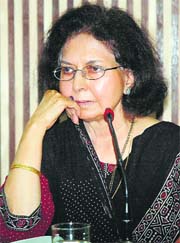 Chandigarh, from its inception to evolution, symbolised the dreams of modern India. Against the backdrop of the city-in-the-making, the writer etches the ebb and flow of Nayantara Sahgal's life as well as tumultuous relationships
Ritu Menon
ChandigarH was India's first post-independence city, not only because it was planned but because its very existence was a consequence of independence — and of Partition. Having lost Lahore to West Punjab and Pakistan, East Punjab was left without a capital, and the problem was compounded by the fact that much of what was now Punjab was actually part of Patiala state.
---
ArtS
From sattras to world stage
No longer restricted to monasteries of faith, sattriya, the living tradition of Assam, is emerging as a secular dance form
Parbina Rashid
The composition Hai Prananatho, Nakara Banchito, which was written by Madhavdev centuries ago, had never sounded so alluring as it did during a recent dance recital in Guwahati. But, then, the occasion was special. It was a tribute to noted educationist and sattriya exponent Dr Jagannath Mahanta, who had passed away recently.
---
FITNESS
Gut reaction
Over consumption of junk or refined food can seriously affect our digestive system and cause many stomach disorders
While gorging on savoury snacks and business lunches and party dinners almost everyday, we may forget how food at home tastes. Today, we equalise everything to the flavour and the taste. Our tongue governs us and as honest slaves we ensure we fulfil our tongue's demands! Funnily enough, this is indeed a fact that none of us realise.
Brushing away tooth troubles
The right-type and the right-size brush and a proper cleaning technique can keep a host of dental problems at bay
Dr Simrat Nikhil Bansal
As soon as we know it's a tooth hurting; we start brushing a little more religiously and diligently to cure the ailment. Little do we realise that although, one of the best preventive techniques, brushing can do a little to treat the already existing dental disease. Any dental ailment — be it dental caries or periodontal disease; becomes an ecological niche in itself that provides an ideal environment for bacteria to perpetuate and flourish until intervened by a health professional. So while prevention is better than cure, effective prevention requires effective brushing.
---
society
Unlock your potential
Make passion your work or make work your passion. Therein lies the key to a happy you
Nishit Lal
Research reveals that in the US a majority of heart attacks occur on a Monday morning between 8 and 9 am, and it starts with a sinking feeling which engulfs a person on a Sunday afternoon. The biggest reason for this could be that people have to go to jobs they hate. People are not doing what they were made to do, they are not playing the roles they are made to play, and they are not incubating the ideas that have been given to them.
---
Travel
Road to retro fitness
A wellness centre in Kerala's Palakkad district provides a distinctive experience
Hugh & Colleen Gantzer
Once upon a time people glowed with good health for five score years and ten; or even more. In Kerala, we fled back to such a time. At the foot of herbal-rich mountains we stepped through massive gates set in high walls. They shut behind us. We were in the manicured grounds of an ancient palace built for a dynasty of matriarchs. It had been carefully retro-fitted to welcome people stressed and fatigued by the pressures of a hyper-speeding world, treat them, and send them back refreshed, renewed and revitalised. For a fortnight, we would be cut off from the frenetic civilisation outside, cocooned in a traditional lifestyle clocked by the rising and setting of the sun, immersed in .the wellness techniques of ayurveda, yoga, and meditation.
---
Entertainment
The many hues of India
A recent film series hosted by TIFF Cinematheque in Toronto explored western filmmakers' infatuation with the subcontinent
Saibal Chatterjee
The continuing engagement of European and American directors with India, both as physical location and metaphorical conceit, was the theme of a three-week-long film series hosted by TIFF Cinematheque in Toronto's Bell Lightbox.
Diljit on a role
Actor singer Diljit Dosanjh has been getting much critical acclaim for his performance in Punjab 1984
Jasmine Singh
He is not swept by glamour. No amount of appreciation can give him wings, even though the audience has given him a thumbs up for his performance in Punjab 1984. Actor singer Diljit Dosanjh likes to call himself a non-actor. "I didn't learn acting. I still feel I can't act much," he modestly puts across.
---