Mediclaim amount

Two firms penalised
Chandigarh, August 4
United India Insurance Co. Ltd. and Medsave Health Care have been directed to jointly pay Rs 47,623 with interest and Rs 20,000 to a complainant on account of deduction of an insurance claim. The two companies have also been directed to pay Rs 10,000 as cost of litigation to the complainant.
The complainant, Ghanshyam Lal Goyal, was insured with the opposite parties, being dependent on his son, who was working with UEN India Private Ltd. On account of a heart problem, the complainant underwent a heart surgery at Ludhiana. "We have minutely gone through the details of the assessment, under which the complainant was entitled to Rs.21,513 and Rs.26,110 which were assessed to be payable, but were not paid in the absence of bills. We therefore, conclude that the complainant is certainly entitled to get Rs.47,623," the forum ruled.— TNS

Servant, 2 others booked
Tribune News Service
Panchkula, August 4
The Panchkula Police have booked a servant and his two accomplices for attempting theft in house of his owner here this evening. In his complaint, Deepak alleged that he was going out of the town so he called his servant for packing the luggage. "The servant came along with two other persons. When the couple went to railway station, the trio entered the house again.
Meanwhile, the couple, who forgot their mobile phone at the house, returned and found them stealing the cash and jewellery", said the police.
Deepak raised the alarm but the miscreants managed to flee from the spot.

CLTA-AITA Championship Series Tennis Tournament

Top seed Vikrant secures final berth
Tribune News Service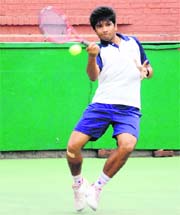 Top seed Vikrant Dahiya returns a shot during a semifinal match of the CLTA-AITA Championship Series Tennis Tournament at the CLTA, Chandigarh, on Monday. Tribune Photo: Pradeep Tewari
Chandigarh, August 4
In a neck-to-neck battle, top seed Vikrant Dahiya got better off his ace opponent Sagar Bains to book his place in the finals of boys (singles) category to be held tomorrow in the ongoing CLTA-AITA Championship Series Tennis Tournament at CLTA, Sector 10, here today.
In a well settled semifinal, top seed Vikrant Dahiya defeated Sagar Bains at 7-6(4), 6-3. In the opening set, Vikrant maintained a 4-1 lead however, soon after he lost back to back games against Sagar. After putting the score to 5-4, Vikrant made some unforced errors to lose the game. Later, the game was covered up well and finished tied at 6-6 by both ends. In the tie-breaker, Vikrant maintained an early lead of 3-1. However, Sagar managed some hard stuff to level the score at 4-4. Maintaining his calm, Vikrant started to rally out well and won the next three points to close out the set. In the 2nd set, Vikrant lost his service game and was trailing 0-2 but bounced back strongly to level at 2-2 and thereafter closed out set at 6-3.
In the finals, he will face CHART trainee Digvijay Pratap Singh who defeated Aditya Vashisht in straight sets 6-3 and 6-3. Digvijay while sticking to the basics played an attacking game and put his command to win the match by conceding three games in each set.
In the girls final, top seed Jahnavi Shivran of CLTA defeated Ashpreet Kaur Bajwa in straight sets 7-6(4), 6-3. In the first set, Jahnavi faced some resistance. However, she managed to win the set in a tie-breaker. Starting with a fumble, Jahnavi played well in the second set and finished the set by conceding only three games. In the second semifinal, Khushbeen Kaur played a marathon match against Riya Uboveja. Khushbeen lost the first set at 3-6. However, in the next set she posted a 6-3 lead to level the game. In the final set, both the players played well and tied the score at 5-5 however Khushbeen maintained her calm and won the next two games to bag the set and match at 7-5.
Results
Boys (Singles) semifinals: Vikrant Dahiya bt Sagar Bains 7-6(4), 6-3, Digvijay Pratap bt Aditya Vashisht 6-3, 6-3; Girls (Singles) semifinals: Jahnavi Shivran bt Ashpreet Kaur Bajwa 7-6(4), 6-3, Khushbeen Kaur bt Riya Uboveja 3-6, 6-3, 7-5; Boys (Doubles) semifinals: Digvijay Pratap and Vikrant Dahiya bt Calvin Golmei and Rishabh Sharda 6-4, 6-3; Boys (Singles) quarterfinals: Vikrant Dahiya bt Kabir Manrai 4-1, 4-1, Sagar Bains bt Ramanjot 4-1, 4-1, Aditya Vashisht bt Calvin Golmei 4-2, 5-4(2), Divgijay Pratap bt Sabrang Sandal 4-1, 4-2; Girls (Singles) quarterfinals: Jahnavi Shivran bt Nandini Singh 4-1, 4-1, Ashpreet Kaur Bajwa bt Hansika 4-2, 4-2, Khushbeen Kaur bt Rahat Mangat 4-2, 4-1, Riya Uboveja bt Smera Mehta 4-0, 4-2; Girls (Doubles) quarterfinals: Tanya Batra and Rubani Ahluwalia bt Srishti Dheer and Sohani Makkar 6-3, 6-3, Hansika and Ashpreet Kaur Bajwa bt Bindu Kulhriyaa and Nikita Kharangra 7-6(8), 4-6, 10-6, Jahnavi Shivran and Nandini Singh awarded walk over against Riya Uboveja and Shamita Yadav; Boys (Doubles) quarterfinals: Digvijay Pratap and Vikrant Dahiya bt Shivam Vij and Saurabh Prashar 6-2 (Retd), Calvin Golmei and Rishabh Sharda bt Aditya Pratap and Kabir Manrai 6-4, 7-5(9), Jagdeep Bajwa and Sabrang Sandal bt Vatsal Chauhan and Naresh Badgujar 7-5, 6-2, Aditya Vashisht and Sagar Bains bt Krishan Hooda and Rohit Malik 6-1, 6-0.