R'sthan cops in tizzy over bodies found in canals
Faridkot, August 4
As many as 704 unidentified bodies were recovered in Ganganagar and Hanumangarh districts of Rajasthan in the last seven years. Most of these were found floating in Indira Gandhi Canal and Gung Canal which carry water from Punjab.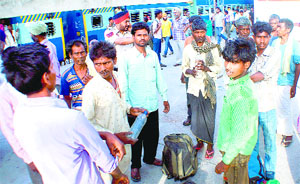 Flood fear drives Bihar migrants to Punjab
Rajpura/Patiala, August 4
Anguished residents of Bihar are these days rushing to Punjab in hordes following fear of floods in their state.
Bihar residents arrive at the Rajpura railway station on Monday. Photo: JS Virdi

AAP kicks off campaign with roadshow in Patiala
Patiala, August 4
The Aam Aadmi Party today kicked off its poll campaign by taking out a roadshow in the city. The roadshow led by party candidate Harjeet Singh Adaltiwala was largely attended by party volunteers and city residents. They covered all important parts of the Patiala Urban constituency.
Badals neglecting Patiala: Captain
Patiala, August 4
Amritsar MP Capt Amarinder Singh today alleged Chief Minister Parkash Singh Badal had turned a blind eye towards the problems of Patiala and concentrated only on his Lambi constituency.
Withdraw draconian law: Left parties
Jalandhar, August 4
Four Left parties-CPI, CPI (M), CPM (Punjab), and CPI (ML) Liberation- today held a joint convention at Desh Bhagat Yadgar Hall against the Punjab Prevention of Damage to Public and Private Property Act, 2014, under the chairmanship of Ranbir Singh Virk, Kulwant Singh Sandhu, Jagroop Singh and Sukhdev Singh Bhago Kawan.
Congress, BJP workers spar over foundation stone
Ferozepur, August 4
Things took an ugly turn at the inauguration ceremony of an eye hospital here today when supporters of local MLA Parminder Singh Pinki and some BJP leaders argued in the presence of Health Minister Surjit Kumar Jyani. The district administration officials were also present.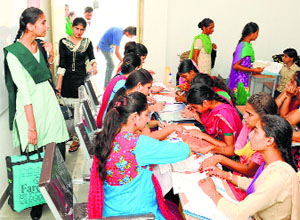 Admissions in schools for meritorious students begin
Chandigarh, August 4
Admissions for meritorious students under the government's much-publicised Residential School Scheme started today. Though the state government had announced that all students attaining more than 80 per cent marks in the Class X exam would be given admission, many with 85 per cent marks were left out.

The Residential School in Mohali. Tribune photo: Vicky Gharu

Namdhari sect feud turns ugly
Ludhiana, August 4
Members of the Namdhari Panthak Ekta Action Committee, in a statement today, accused Satguru Uday Singh of ill-treating his mother Dalip Kaur.
Water level increases in Bhakra dam
Ropar, August 4
Coming as a relief for the Bhakra Beas Management Board amid weak monsoon, the water level at the Bhakra dam has risen to 1,653.84 feet against 1,650.93 on the concurrent day last year.
Quash FIR against 11 students: Union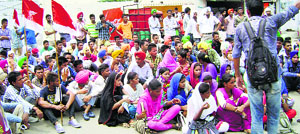 Sangrur, August 4
Under the banner of the Punjab Students Union (PSU), a number of students of Akal Degree College, Mastuana Sahib, today staged a dharna in front of the district administrative complex here.

Students protest outside the district administrative complex in Sangrur on Monday. Tribune photograph

Teachers protest Amritsar cane-charge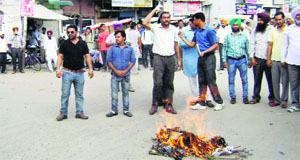 Sangrur, August 4
Members of the ETT Teachers Union working in schools under zila parishads and municipal councils here today burnt an effigy of the state government. They were protesting the police cane-charge and the arrest of 14 of their colleagues during a protest in Amritsar yesterday.

ETT teachers hold a protest in Sangrur on Monday. Tribune photo

Murder accused in juvenile home dies
Fatehgarh Sahib, August 4
A minor boy of Sirhind, who was lodged in juvenile home in Ludhiana in a murder case, today died under mysterious circumstances.
NAPA to approach PM for re-probing riots
Jalandhar, August 4
With Prime Minister Narendra Modi scheduled to visit the US next month, the North American Punjabi Association (NAPA) has shot off a missive to him seeking his intervention into the issues concerning the estimated 1 million Punjabi population settled there.
Claim on reduction in blood charges a farce: NGO to Jyani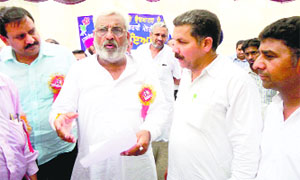 Abohar, August 4
Members of some NGOs today apprised state Health Minister Surjit Kumar Jyani that even as the authorities had "announced to reduce the charges of blood per unit" after initially increasing them, they were "still paying the hiked amount".


Health Minister Surjit Jyani (second from left) addresses a gathering in Abohar on Monday. Tribune Photo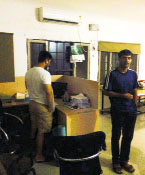 After much dithering, Mohali police to seek production remand of 'conman'
Chandigarh, August 4
Even as the Punjab Police is tightlipped about the connections of alleged conman Devinder Gill, who was arrested by Panchkula police two days ago on charges of rape, the Mohali police will seek his production remand from the Panchkula police.



The accused, Devinder Gill, (in white T-shirt) in an air-conditioned room

This Rakhi, ask brothers to respect women: WC chief
Abohar, August 4
Rajasthan Women Commission (WC) chairperson Laad Kumari Jain today asked girls to politely refuse gifts offered by their brothers on Raksha Bandhan and instead, take a word from them that they would help protect modesty of each girl/woman.
Fazilka gets de-addiction centre
Fazilka, August 4
State Health Minister Surjit Kumar Jyani inaugurated a de-addiction centre at the Civil Hospital in Fazilka today. The centre, which is equipped with modern facilities, was constructed at a cost of Rs 55 lakh.
141 employees found absent during raid
Chandigarh, August 4
As many as 141 officials of the Health Department were found absent during a surprise raid conducted at the office of the Director, Health and Family Welfare, here this morning.
Ropar institute fined Rs 4 lakh for power theft
Ropar, August 4
Punjab State Power Corporation (PSPCL) has slapped a fine of Rs 4 lakh on the Ropar Institute of Management and Technology (Ropar IMT) for power theft. SGPC member Paramjit Singh Lakhewal is chairman of the management committee of the institute.
Rs 429 cr for border, kandi areas
Chandigarh, August 4
Chief Minister Parkash Singh Badal today approved a plan worth Rs 429.95 crore for the implementation of various welfare schemes in the eleven border districts and kandi areas of the society.
Man kills wife, mother-in-law
Ferozepur, August 4
Jasbir Singh of Lalle village near Talwandi, today killed his wife Harjinder and mother-in-law Jaswinder and then surrendered before the police. Harjinder was staying with her mother at Gajjan Singh Colony here for the past few days.



HC: Place on record policy on premature release of prisoners
Chandigarh, August 4
The Punjab and Haryana High Court has warned the state of Punjab to place on record amended policy on verification reports for premature release of prisoners before October, or have its Principal Secretary appear before the Bench.
HC stays state govt's letter to MCI
Chandigarh, August 4
Less than a month after the State of Punjab wrote to the Medical Council of India for permission to relax the eligibility criteria for MBBS admissions to 90 seats in the NRI category, the Punjab and Haryana High Court today stayed the operation of the communication.
Faridkot Maharaja case
Court dismisses Delhi man's plea
Chandigarh, August 4
The Court of Additional District and Sessions Judge Atul Kasana today dismissed the application of Delhi resident Gurpreet Singh claiming a share in the property of the Maharaja of Faridkot worth Rs 20,000 crore.
Pathankot ex-SMO convicted for fraud
Pathankot, August 4
The court of District and Session Judge BS Sandhu awarded a three-year jail term to a former Senior Medical Officer (SMO) of the Pathankot Civil Hospital, Dr Achla Bhatia, for fraudulent purchase of medicines. A local chemist, Sanjeev Kumar, who was also named in the case, was convicted for two years.




4 held for killing teen outside college
Muktsar, August 4
The Muktsar police have arrested four youths in connection with the murder of a teenager outside Government College here.
IIT prof killed in road mishap
Ludhiana, August 4
Rajyashree Khushu Lahiri, associate professor and Head of the Department of Humanities and Social Sciences at the Indian Institute of Technology (IIT), Ropar, and her car driver Baljinder Singh were killed in a road mishap near Samrala.
Three booked for cheating
Abohar, August 4
Once known as "blue-eyed boy" of some senior police officers and ruling politicians, Amandeep Kamboj of Jalalabad, along with two others, has been booked for fraud under the directions of the Ferozepur Deputy General of Police (DIG). He had been earlier arrested for running a fake police recruitment scam. Two more cases pertaining tp cheating were also registered against him. The others booked are Vikram Delu and Vikram Poonia.