Haryana gurdwara Act challenged
Chandigarh, July 25
Political battle between the Centre and the Haryana Government today shifted to legal turf with an advocate moving the Punjab and Haryana High Court against the Haryana Sikh Gurdwara (Management) Act, 2014.
Ask Badal not to disturb peace, Ashwani urges PM
New Delhi, July 25
Former Law Minister and Rajya Sabha MP from Punjab Ashwani Kumar today urged Prime Minister Narendra Modi to persuade his ally, Punjab Chief Minister Parkash Singh Badal, not to create a situation that could disturb peace and harmony in the country.
AAP will form govt in Punjab: Kejriwal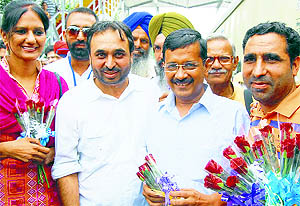 Sunam (Sangrur), July 25
Aam Aadmi Party (AAP) supremo Arvind Kejriwal today claimed that the party would form government in the state after forming government in Delhi. Kejriwal, Manish Sisodia, Yogendra Yadav, Ashutosh, Sanjay Singh and Bhagwant Mann paid floral tributes to Shaheed Udham Singh at the Shaheed Samarak.

AAP chief Arvind Kejriwal, Sangrur MP Bhagwant Mann along with supporters in Sangrur; (and right) party leaders pay floral tributes to Shaheed Udham Singh in Sunam on Friday. Tribune photos: Rajesh Sachar
HC questions timing of Punjab initiative on de-addiction centres
Chandigarh, July 25
About five years after the Punjab and Haryana High Court asserted that Punjab was "awash" with narcotics, Justice Rajive Bhalla today virtually questioned the timing of the recent initiatives taken by the state government to improve the condition of de-addiction centres.
BJP no more willing to play a 'minor partner' in government
Chandigarh, July 25
Buoyed by the success of the BJP across the country and no longer willing to be the "minor" partners in the alliance, the BJP in Punjab is now getting more assertive. The recent utterances and a public stand against the government policies by BJP organisational leaders as well as ministers are more a sign of the party's aggression than its dismay with the governance.
Child battles for life as hospital staff slip up
Ropar, July 25
A three-year-old child has been struggling for life for the past two months due to alleged negligence on part of the staff at Mata Nanki Charitable Hospital, Anandpur Sahib. The doctor concerned and the operation theatre attendant are now blaming each other for the lapse while the doctors at Fortis hospital at Mohali have been trying to save the life of victim, Yash Gambhir.

the pious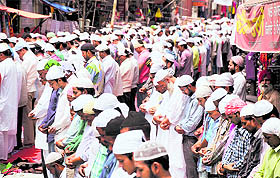 Muslims offer prayers in Ludhiana on the last Friday of the holy month of Ramadan. Tribune photo: Himanshu Mahajan
Amarinder backs Chahal for Talwandi Sabo
Chandigarh, July 25
In the Congress circles, a new name, Sukhdev Singh Chahal, has cropped up as a contender for the party ticket for the Talwandi Sabo constituency, where by-elections are scheduled for August 21. Sources said former Chief Minister Capt Amarinder Singh had recommended his name to the high command for the constituency. Besides Amarinder, former Chief Minister Rajinder Kaur Bhattal too has endorsed Chahal's name for Talwandi Sabo, it is learnt.
Traders get more time to file returns
Chandigarh, July 25
The state government has extended the last date for filing of returns for traders from July 31 to August 20.
Relax criteria for NRI quota seats, state asks MCI
Faridkot, July 25
With over 70 MBBS seats lying vacant in the NRI quota in the medical colleges of the state, the Department of Medical Education and Research has asked the Medical Council of India (MCI) for a relaxation in the eligibility criteria. They have asked them to lower the minimum marks from 50 per cent to 45 per cent.
Bittu raises delay in NH-1 completion in House
Ludhiana, July 25
Ludhiana MP Ravneet Singh Bittu raised the issue of completion of the National Highway-1 in the Lok Sabha. In a statement issued here, Bittu said he had requested the government to intervene and direct the National Highway Authority of India (NHAI) to expedite the completion of the Panipat-Jalandhar National Highway-1 in public interest.
Jalandhar DC inspects Dhussi Bundh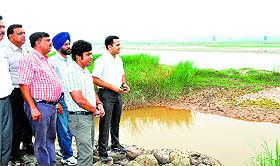 Phagwara, July 25
Kamal Kishore Yadav, Deputy Commissioner, Jalandhar, inspected the Dhussi Bundh on the Sutlej near Lassarra, Bhelowal, Miowal, Sanghowal, Gadra Bhonda, Loh Garh, Biopurand Bhanewal and Danewal today. He was accompanied by Phillaur SDM Jasbir Singh, Nakodar SDM Pritpal Singh and Shahkot SDM Sanjeev Sharma.


Jalandhar DC Kamal Kishore Yadav, along with Phillaur SDM Jasbir Singh Rai and others, inspects the Dhussi Bundh near Phillaur on Friday. photo: Ashok Kaura
encroachments on common land
42 villagers get eviction notices
Moga, July 25
The Rural Development and Panchayat Department has issued notices to 42 residents, mostly Dalits, of Sada Singh Wala village in the district for illegally constructing their houses on the common land.
Soon, jails to offer Punjabi cuisine
Patiala, July 25
The state Jails Department is all set to open authentic Punjabi cuisine restaurants in almost all central jails following a proposal presented by Chief Minister Parkash Singh Badal. Patiala will soon have a restaurant on the premises of the Central Jail.

Elixir of Life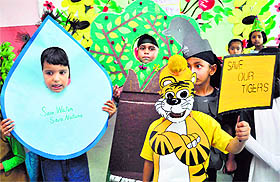 School students during an awareness programme on water conservation in Patiala on Friday. Tribune photo: Rajesh Sachar

Sangrur DC raids DTO's office
Sangrur, July 25
Sangrur Deputy Commissioner Arshdeep Singh Thind conducted a surprise check at the office of the District Transport Officer (DTO) here today. The Deputy Commissioner found two contractual employees absent from duty.

Police Complaints Authority an eyewash: Jakhar
Abohar, July 25
Leader of the Opposition in Punjab Vidhan Sabha Sunil Jakhar said the state government had tweaked not only the recommendations of the National Police Commission but also the Supreme Court's directions in creating the Police Complaints Authority at the state as well as the district level.

5 juveniles escape, 1 nabbed
Abohar, July 25
One of the five juveniles, who escaped yesterday by creating a hole in the boundary wall of Bal Sudhar Greh run by the Department of Social Welfare in Sriganganagar, 40 km from Rajasthan, was nabbed at the bus stand in Raisinghnagar. His accomplices however escaped as the police threw a cordon on a tip-off.

DC pulls up DTO staff over delay in services
Fazilka, July 25
Deputy Commissioner (DC), Fazilka, Manjeet Singh Brar reportedly pulled up employees of the local District Transport Office for the slow issuance of driving licenses and registration certificates for vehicles in the office.

Applications invited to operate 11 Adarsh Schools
Bathinda, July 25
The Punjab Education Development Board (PEDB) has called for applications from charitable trusts, societies, educational institutions and other groups for operating 11 Adarsh Schools, which have been functioning under the public-private partnership (PPP) mode.




Vigilance panels formed to abolish bonded labour
Hoshiarpur, July 25
The state government has constituted Vigilance committees for Hoshiarpur district and its sub-divisions. The sub-divis-ions are Hoshiarpur, Dasuya, Garhshankar and Mukerian.

land row
Court extends judicial remand of 41 Dalits
Sangrur, July 25
A local court today extended the judicial remand of 41 Dalits till August 8. They are lodged in the district jail since June 28.




Eight held for running fake visa racket
Patiala, July 25
The police have arrested eight persons for allegedly running a fake visa racket.

Travel agent arrested for duping youths of

Rs 9 lakh
Fatehgarh Sahib, July 25
The Amloh police have arrested travel agent Balwant Singh, a resident of Kot Fatah in Sangrur district, for allegedly duping two youths of Rs 9 lakh on the pretext of sending them abroad.
Fatehgarh Sahib, July 25
The police have registered a case against a fake travel agent for allegedly duping Bahadur Singh, a resident of Rattan Palon village, of Rs 14 lakh on the pretext of sending his daughter abroad.

Cop among 2 held with fake currency, heroin
Fazilka, July 25
The Fazilka police have nabbed a head constable and his woman accomplice and seized fake currency with a face value of Rs 9,000, four live cartridges and 1 gm heroin worth Rs 50,000 in international market from their possession. The duo was planning to plant these at the house of their rival.