Assembly passes 15 Bills amid Oppn protest
Chandigarh, July 22
The Punjab Assembly today passed 15 Bills, including the Punjab Municipal Corporation (Amendment) Bill 2014 and the Punjab Municipal (Amendment) Bill 2014, to give legal sanction to certain concessions announced by it about the property tax in urban areas.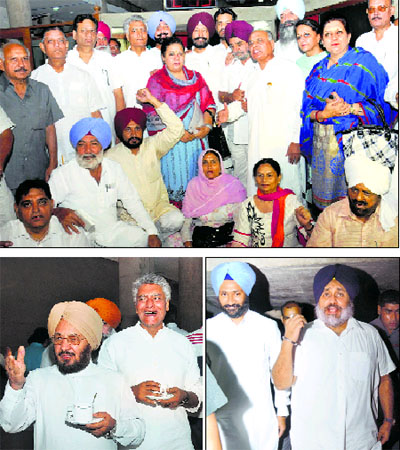 (Clockwise from top) Congress MLAs, led by CLP leader Sunil Jakhar, stage a dharna against imposition of house tax; Deputy CM Sukhbir Badal and Finance Minister Parminder Singh Dhindsa come out of the Vidhan Sabha; former Finance Minister Lal Singh and CLP leader Sunil Jakhar share a lighter moment during lunch on Tuesday. Tribune photos: Manoj Mahajan
AAP likely to contest bypoll; fissures already in Patiala unit
New Delhi/Patiala, July 22


The Aam Aadmi Party (AAP) is gearing up to contest the Patiala and Talwandi Sabo Assembly bypoll. The elections are slated for August 21. The names of its candidates are likely to be announced by the party during its three-day national executive committee meeting in Sunam beginning July 25. The consensus to contest was reached at during a meeting of AAP national convener Arvind Kejriwal, political affairs committee members Gopal Rai and Ashutosh and members of the Punjab state executive committee (ad hoc) in Delhi.

AAP leader Kundan Gogia who has decided to contest bypoll as Independent

Ludhiana jail paid for wheat it never got
Bathinda, July 22
Serious irregularities running into lakhs have been detected during special audit of Punjab jails in ration and labour-oriented jobs for the inmates.
PTU set to lose control over 238 colleges
Jalandhar, July 22
The Punjab Technical University, which has been managing all engineering, pharmacy, management, architecture and hotel management colleges in the state for over 17 years, is set to lose control over half of its 238 affiliated colleges in 10 districts.
Warm send-off to CJ; cases now with fifth Division Bench
Chandigarh, July 22
Soon after Chief Justice Sanjay Kishan Kaul was given a warm send-off this afternoon, the Punjab and Haryana High Court made it clear that cases heard by the first Division Bench headed by him until now would be heard by the fifth Division Bench.
SGPC men reach Haryana shrines
Patiala, July 22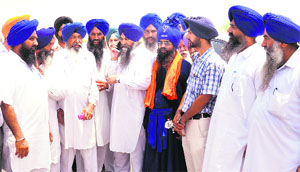 Despite an assurance by the Haryana Government that it would not use force to implement the Haryana Sikh Gurdwaras (Management) Act, 2014, the SGPC continues to send its members and supporters to guard gurdwaras in Haryana, raising fears of violent clashes.
SGPC member Surjit Singh Garhi and his supporters leave for Haryana from Rajpura. Tribune photo: JS Virdi

SAD ignoring death row convicts, allege radicals
Amritsar, July 22
Even as the ruling SAD is engaged in an intense political battle with Haryana over the separate gurdwara panel for the state, radical Sikh outfits have come out against it for being "non-serious" towards the plight of death row convicts Devinder Pal Singh Bhullar and Balwant Singh Rajoana.
Cong protests in Warring's favour
Muktsar, July 22
Congress activists today lodged a protest demonstration against the state government for "falsely" implicating Gidderbaha MLA Amarinder Singh 'Raja Warring' in a drug smuggling case. They also burnt an effigy of the government and raised slogans against the Mansa SSP.
Asstt Registrar, Coop Societies, held for graft
Fazilka, July 22
The Assistant Registrar, Cooperative Societies, Jalalabad, was arrested while accepting a bribe of Rs 10,000 today. Sources said Assistant Registrar Surjit Kumar was conducting an inquiry against Sawan Singh and Ramesh Kumar, secretaries of the Lahuwala Hithar and Sukhera Bodla cooperative societies, respectively.
PSPCL nets Rs 61 cr as power theft penalty
Jalandhar, July 22
Punjab State Power Corporation Limited (PSPCL) has detected 62,196 cases of power theft in the state in the financial year 2013-14.
Normalcy back in Phagwara after 3 days of tension
Phagwara, July 22
Normalcy returned to the town today, three days after an atmosphere of tension following communal violence at the Baltal base camp en route Amarnath pilgrimage in Jammu and Kashmir.
Medical university to hold special test to fill 550 seats
Faridkot, July 22
As there was no eligible candidate to fill 34 MBBS and 516 BDS seats in medical and dental colleges of Punjab, the Baba Farid University of Health Sciences (BFUHS) has started a process to conduct "Special Entrance Test".
Balad Kalan PANCHAYAT land row
Scrap murder bid charge on 41 Dalits: SC panel to police
Sangrur, July 22
National Commission for Scheduled Castes (NCSC) vice-chairman Raj Kumar Verka, during a hearing related to panchayat land of Balad Kalan village (reserved for SCs), today directed the police to delete Section 307 (attempt to murder) of the IPC from the FIR registered on June 27 against 41 Dalits, who are in Sangrur jail since June 28.
Villagers lock school gate in protest
Sangrur, July 22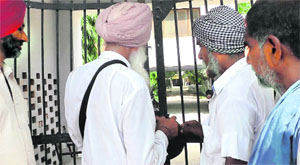 Residents of Saron village, near Sangrur, today locked the main gate of the local Government Senior Secondary School to protest the discontinuation of science stream. The gate remained locked for about an hour. It was opened after District Science Supervisor Rakesh Kumar pacified the villagers saying they would send a proposal to the education authorities to restart the stream.

Residents lock the gate of Government Senior Secondary School at Saron village near Sangrur on Tuesday. Tribune photo

Boy abducted from Jalandhar traced in R'sthan
Abohar, July 22
The tip-off given by a vigilant TV channel reporter in Bhadra segment of Hanumangarh, Rajasthan, has led to recovery of an abducted two-year-old child of a differently-abled couple. He was kidnapped in Shahkot, a small town in Jalandhar area, on July 17.
2 boys escape from kidnappers' custody
Abohar, July 22 Two boys who were reportedly kidnapped by car-borne miscreants in Malout, 30 km from Abohar, today escaped after reaching Abohar. Vasu Gaadi (12) and Kunal Goyal (10) said they were intercepted by a silver Innova car when they were returning home from SD Senior Secondary School in Malout. Two persons, with their faces covered came out and used sedative-sprayed handkerchiefs and took them in their vehicle.

Border farmers protest poor facilities
Hundreds of border farmers staged a dharna outside the DC office in Amritsar on Tuesday

They demanded the gates at the fence be opened from sunrise to sunset


Border belt be restricted to 8-km and 212 villagers be classified as 'A' class villagers


Non-productivity relief of Rs 15,000 per acre be paid to farmers, whose land was located beyond the border fence. tribune photo
HC notice to Sampla on poll petition
Chandigarh, July 22
Just over a month after the declaration of parliamentary poll results, the Punjab and Haryana High Court today issued notice to MP Vijay Sampla on an election petition. The elections of all six SAD-BJP MPs, including Union Cabinet Minister Harsimrat Kaur Badal, have been challenged in the High Court.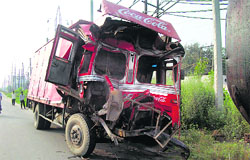 Truck rams into another, 4 killed
Ludhiana, July 22
Four persons were killed after a truck rammed into another stationary truck near Dhandari on the NH-1 here today. The incident took place at 5 am when three labourers were attaching ropes to tow away the truck that had broke down in the middle of the road.
The mangled truck after the accident near Ludhiana on Tuesday. A Tribune photograph