Sukhbir says Congress stand on debt misleading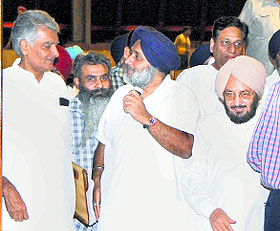 Chandigarh, July 21
Deputy Chief Minister Sukhbir Badal today dismissed the Opposition's charge of Punjab's huge debt burden becoming unsustainable, saying that the Opposition was wrong to quote the state's debt at Rs 67,806 crore. Accusing the Congress of trying to project a deceptive image of the state's fiscal health and asking all parties to be partners in Punjab's growth, he said the debt on the state was productive debt.

Deputy Chief Minister Sukhbir Badal, CLP leader Sunil Jakhar and Congress MLA Lal Singh coming out of the the Vidhan Sabha on Monday. Tribune Photo: Pradeep Tewari
Fund crunch: PSIDC plans to mortgage premises
Chandigarh, July 21
Facing a severe resource crunch, state's premier public sector undertaking Punjab State Industrial Development Corporation (PSIDC) has sought permission to mortgage its office building located in Sector 17 here.
Drugs: Court seeks details on extradition of offenders
Chandigarh, July 21
The Punjab and Haryana High Court wants to know from the State of Punjab whether it has initiated steps for the extradition of offenders from abroad in the drug trafficking case.
PSPCL staff protest attack on colleagues in Abohar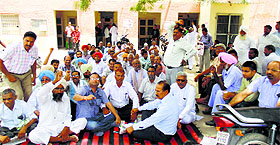 Abohar, July 21
Employees of the Punjab State Power Corporation Ltd (PSPCL) today held a protest at all the sub-divisional and divisional offices in Abohar today. The staff was anguished over the attack by some consumers on Sub-Divisional Engineer (SDE) Vijay Aneja and Junior Engineer (JE) Hardeep Singh on Saturday night.

PSPCL staff protest the delay in arrest of the accused in Abohar on Monday. Tribune photo
SAD a secular party: Valtoha
Mohali, July 21
Replying to PPP chief Manpreet Badal's statement wherein he questioned the SAD's secular credentials, Akali leader Virsa Singh Valtoha, Chief Parliamentary secretary, said the party's stand on the Haryana Shiromani Gurdwara Parbandhak Committee (HSGPC) could not be termed communal.
Punjab frontier to get hi-tech sensors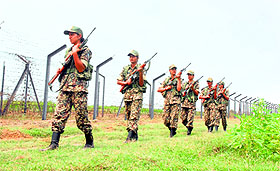 Jalandhar, July 21
The Border Security Force (BSF) has decided to install "unattended ground sensors" (UGS) along the international border in Punjab. The step aims at checking insurgency, infiltration and drug trafficking across the India-Pakistan border.


Women BSF constables near Attari. Tribune Photo: Malkiat Singh
highlights of the day
Balramji Das Tandon felicitated
Punjab Vidhan Sabha Speaker Charanjit Singh Atwal today felicitated Balramji Das Tandon (right in pic) on his appointment as Chhattisgarh Governor. At a function organised in the Vidhan Sabha, Atwal said Tandon had been a member of the Punjab Assembly for a long time and the services rendered by him would always be remembered. Recalling various initiatives taken by Tandon as Punjab Minister, the Speaker said he always kept interests of the state in mind while framing policies.
Cops: Warring's car wasn't used in drug trade
Mansa, July 21
The Mansa police, who are investigating into the alleged links of Congress MLA Amarinder Singh Raja Warring with drug peddler Gurlal Singh, have said that the accused had claimed to have used the former's vehicles during the 2012 state Assembly elections but never for smuggling drugs.
Anti-protester Bill may get nod today
Chandigarh, July 21
Will the passing of the Punjab (Prevention of Damage to Public and Private Property) Bill 2014 tomorrow, the last day of the Budget session, mark the end of an era of road and rail blockades and other modes of agitations in the state? The draft of the proposed Bill is a diluted version of a similar Bill tabled by the government in 2010, which was withdrawn later under public pressure.
Two abducted Gujarati girls found, teacher held
Mansa, July 21
The police have recovered two teenaged girls belonging to Gujarat who were allegedly kidnapped by their teacher around two years ago.
assembly bypoll
Talwandi Sabo has 15 'sensitive' entry points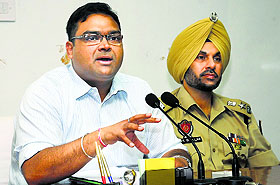 Bathinda, July 21
Announcing the security arrangements for the forthcoming byelection to the Talwandi Sabo Vidhan Sabha constituency on August 21, Bathinda SSP Gurpreet Bhullar today said the district police had earmarked 15 "very sensitive" points on the constituency boundary that it shared with Haryana.


Bathinda DC Basant Garg and SSP Gurpreet Singh Bhullar interact with mediapersons on Monday. Tribune photo: Pawan sharma
Scramble for Cong ticket to intensify
Bathinda, July 21
The scramble for the Congress ticket for the bypoll to the Talwandi Sabo Assembly segment is set to intensify with the visit of Punjab Pradesh Congress Committee leader Rajinder Kaur Bhattal to Bathinda on Wednesday.
Patiala MC functioning may cost SAD-BJP dear
Patiala, July 21
The failure of the Patiala Municipal Corporation to complete even a single big project in the city despite repeated claims can cost dear to the SAD-BJP candidate in the Patiala (Urban) bypoll to be held on August 21.
An uncomplete road; (and right) a garbage dump near a flyover opposite the factory area in Patiala. Tribune photos: Rajesh Sachar
Working hard to rescue Sikhs in Iraq: Govt
New Delhi, July 21
The Centre is "working day and night" to ensure the release of the 39 Sikhs, who have been held hostage in Iraq, External Affairs Minister Sushma Swaraj told the Rajya Sabha today.

DGSE, DPI found absent during check
Chandigarh, July 21
During a check in government offices, a team of senior officials found 160 employees, including Director General of School Education (DGSE) Gopal Krishan Singh and DPI (Schools) Kamal Sharma, absent.

Balad Kalan land row
Dalits protest outside Sangrur DC's office
Sangrur, July 21
In response to a call given by the Zamin Prapati Sangharsh Committee, members of the Dalit community held a dharna in front of the Deputy Commissioner's office here today. They were demanding cancellation of auction of panchayat land (reserved for SCs) at Balad Kalan and other villages where alleged dummy SC farmers got rights to cultivate land. A large number of policemen were deployed at the district administrative complex. A number of nakas were put up in various parts of the city.

No relief for agro corporation staff chargesheeted post-retirement
Chandigarh, July 21
The Punjab and Haryana High Court has refused to grant relief to the retired employees of the Punjab Agro Industries Corporation, issued chargesheets after retirement on the allegations of causing financial losses running into several corers.

State rapped for making welfare schemes on paper
Chandigarh, July 21
The Punjab and Haryana High Court has admonished the State of Punjab for making schemes for welfare of students on paper, and then not providing funds to the beneficiaries.

Amritsar bandh passes off peacefully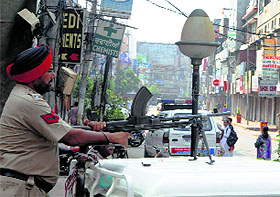 Amritsar, July 21
The bandh call given by various Hindu bodies against the violence in Baltal during the Amarnath Yatra evoked a favourable response and passed off peacefully amid tight security arrangements in the city. Almost all the commercial establishments as well as the educational institutions were shut while heavy police force was deployed outside mosques and market places.


Tight security outside a mosque in Amritsar. Tribune photo
Central team explores reopening Hussainiwala
Ferozepur, July 21
Ahead of the July 24 meeting of the commerce ministers of India and Pakistan, a team from the Bureau of Research on Industry and Economic Fundamentals (BRIEF) two days ago carried out a survey to explore the possibility of reopening the Hussainiwala-Lahore border for trade and transit. The two ministers will meet in Thimpu in Bhutan on the sidelines of the SAARC Trade Minister's meet. Sources said the ministers were likely to discuss the issue at the meeting.
Shopkeepers hold bandh in Lehragaga
Sangrur, July 21
Shopkeepers of the main bazaar in Lehragaga town, about 40 km from Sangrur, today observed a bandh for about two hours, demanding arrest of Preet Mohinder Singh, a resident of Bhai Ke Pishor village, in a case pertaining to suicide by a local businessman.
Bathinda running Muktsar, literally
Muktsar, July 21
Muktsar, the home district of Chief Minister Parkash Singh Badal, is being virtually being run via Bathinda — "Mini capital of the state" — as most of the officers sitting on top positions either belong to the neighbouring district or prefer residing there in government accommodation.
Faridkot man held in ammo recovery case
Faridkot, July 21
The police claimed to have solved the case pertaining to the recovery of explosive material and an identity card in the cantonment area of Faridkot on July 16. The investigation revealed that enmity between two persons had led to the planting of the explosives. One of these persons allegedly wanted to put the other in trouble by "showcasing" him as an ISI agent.
Search for missing R'sthan youth intensified, was to leave for US
Abohar, July 21
Sriganganagar district police chief Hari Prasad Sharma on Sunday directed officials to intensify search for Gursimran Singh (30), who went missing a day before he was to fly to the US for his marriage.
Ex-sarpanch among 8 held for forgery
Abohar, July 21
The Sriganganagar police have arrested Dev Karan, a former sarpanch of Sadhuwali village, on the Abohar-Sriganganagar stretch of the National Highway-15 for fraudulently allotting government land in 2003 on a lease-hold basis. In similar cases, Daulat Ram, his brother Kripa Ram and Naresh Kumar have also been arrested for getting plots allotted illegally.
HC orders retrial in Nabha murder case
Patiala, July 21
Two years after a local court acquitted Nabha resident Amritbir Singh of allegedly murdering his father, mother, grandfather and a cousin, the Punjab and Haryana High Court has set aside Amritbir's acquittal, terming the police probe faulty.
Akali leader held for bid to grab Brig's plot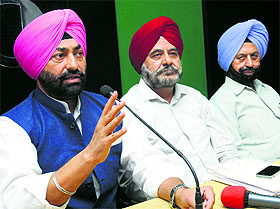 Mohali, July 21
Akali Dal leader Harjinder Singh, a resident of Balongi, was today arrested for allegedly making an attempt to grab a plot belonging to Brigadier Nawab Singh Heer (retd), now a Canada-based NRI. Harjinder Singh has been arrested on charges of cheating and criminal conspiracy. At least five accused had tried to grab Brigadier Heer's one-kanal plot (number 75) in Sector 71 by preparing fake documents, including a driving licence, a voter card and a PAN card.

Congress leader Sukhpal Singh Khaira (left), Brig Nawab Singh Heer (retd) (centre) and Brig KS Kahlon (retd), president, state unit of All India Defence Brotherhood, during a press conference in Chandigarh on Monday. Tribune Photo: Manoj Mahajan