Two brothers get 7 years in jail
Chandigarh, July 22
The court of Additional District and Sessions Judge Shalini Nagpal today sentenced two brothers to seven-year imprisonment in a culpable homicide case.
Yet another fire reported from Sec 17
Chandigarh, July 22
A day after the fire incident in the office of the Directorate of Industrial Training, Haryana, 30 Bays building, Sector 17, a fire broke out in the office of the Food and Supplies and Consumer Affairs Department, Sector 17, here today.
Anti-rabies clinic to come up in Sector 38
Chandigarh, July 22
The Finance and Contract Committee (F&CC) of the Municipal Corporation (MC) today accorded its approval for setting up an anti-rabies clinic at the Civil Dispensary in Sector 38, Chandigarh. This will be the second such clinic in the city.
25 schools to get multi-purpose sports complex
Chandigarh, July 22
Multi-purpose sports complexes will come up at as many as 25 government schools in the city. The complexes will be open to school students as well as residents in the school's neighbourhood.


Tragedy waiting to happen
Chandigarh, July 22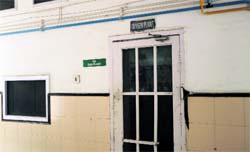 Putting lives of several patients as well as staff at risk, Government Multi Specialty Hospital (GMSH), Sector 16, has continued to run a huge gas plant from the main building. The gas plant, that houses hundreds of combustible cylinders, is located adjacent to a labour room (Gynaecology Department) and exactly below the nursery where newborn babies are kept.
The room that houses the gas plant at GMSH, Sector-16. Tribune photo
Role of PUDA officials under scanner
Mohali, July 22
In the Brigadier Nawab Singh Heer (retd) plot grab case, the Mohali police are now zeroing in on certain GMADA officials, who are suspected to have facilitated the accused in the case by providing documents, related to the plot in question.
Fire Dept to write to Haryana Govt over violations
Chandigarh, July 22
Following the fire incident on the first floor office of the Directorate of Industrial Training, Haryana, 30 Bays building, Sector 17, the Fire Department has decided to write to the department concerned and the Haryana Government about lack of fire safety and violations in the building.
Rising crime: Jewellers meet DCP
Panchkula, July 22
Jewellers along with BJP workers today met DCP Rahul Sharma. They told him that crime incidents in broad daylight have shaken the public's faith in the police. It was pointed out that even holding a public gathering during daytime has become difficult for them.
Year on, little headway in the case
Chandigarh, July 22


A year on and there seems no end to struggle and sorrow for the family members of deceased Sahil Juneja, who lost his life in a fatal car accident that occurred on July 22, 2013.
Family members of the Audi-Tavera road accident victims hold a candlelight march at the road dividing Sectors 17 and 18 in Chandigarh on Tuesday. Tribune photo: Vicky Gharu

Suspect's sketch released
Mohali, July 22
In the case of a robbery at a liquor shop in Sector 70 here, the Mohali police today released a sketch of a suspect in the incident. Giving information, Mohali Superintendent of Police (City 1) Swarndeep Singh said the expert were able to prepare the sketch of one of the three accused on description provided by some eyewitnesses of the crime.

The sketch of a suspect released by the Mohali police.
Mohali MC put on notice
Mohali, July 22
Following an application moved by the Mohali Industry and Commerce Association, the National Green Tribunal, Delhi, has issued a notice to the local Municipal Corporation and also restrained the respondents concerned in the matter and any person from dumping any kind of waste in Patiala ki Rao in Sector 74, Mohali.
Panel to decide fate of Dharamraj.com
Chandigarh, July 22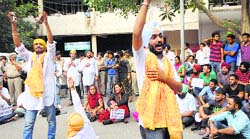 After two days of protest carried out by theatre artistes, finally the UT Administration has constituted a three-member committee that would watch 'Dharamraj.com', a play, and decide whether it can staged in the city or not.

Theatre artistes stage a play during a protest in front of the DC office in Chandigarh on Tuesday. Tribune Photo: Pradeep Tewari
Realtors allege harassment by officials
Panchkula, July 22
The Property Dealers' Association during a press conference today alleged harassment at the hands of officials of the Haryana Urban Development Authority.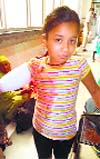 Pack of dogs attacks 9-yr-old in Mani Majra
Chandigarh, July 22
On a day when the MC approves setting up of a second anti-rabies clinic in Sector 38, stray dogs attack a nine-year-old girl in Mani Majra. Nine-year-old Pari Garg, a resident of NAC, Mani Majra, received injury marks on her right hand, when stray dogs attacked her this morning.



Nine-year-old Pari Garg, who was attacked by stray dogs at Mani Majra, at the PGI, Chandigarh, on Tuesday. A tribune photograph
Play 'Chukayenge Nahi' has audience in splits
Chandigarh, July 22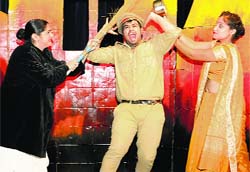 The Satvik Art Society staged a play, "Chukayenge Nahi", at Punjab Kala Bhawan, Sector 16, here today. The play directed by Amit Sanouria and Sarver Ali was an adaptation of Dario Fo's classic riotous comedy "Can't Pay? Won't Pay".



Artistes enact a scene from a play, "Chukayenge Nahi", at the Punjab Kala Bhawan, Sector 16, in Chandigarh on Tuesday. Tribune photo: Vicky Gharu



Parties race to submit memos
Chandigarh, July 22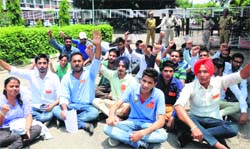 Ahead of the student council elections, there is a race among all major student parties to submit memorandums regarding students' issues to the Panjab University authorities.




SOPU members hold a protest outside the Vice-Chancellor's office at Panjab University on Tuesday. Tribune Photo: Manoj Mahajan
Teachers get tips at training programme
Mohali, July 22
For improvement in pedagogy, attitude, technology, skill development and make education relevant in the 21st century, the AKSIPS Group of Institution organised an In-Service Teachers' Training Programme for teachers at its premises in Sector 125, here.
Government teachers meet DPI, submit charter of demands
Chandigarh, July 22
An 11-member delegation of the Government Teachers Union (GTU), Chandigarh, headed by union president Dr Vinod Sharma, today met DPI(S) Kamlesh Kumar Bhadoo and submitted a charter of demands to him.
Indefinite fast by chief of ETT Teachers Union enters Day 3
Mohali, July 22
The fast unto death of Jaswinder Singh Sidhu, president of the ETT Teachers' Union, Punjab, has entered third day today.
Candidates write to PGI Director over anomalies in examination
Chandigarh, July 22
Nearly a month after the PGIMER conducted an examination for recruitment to about 500 posts of lower division clerk (LDC) and stenographer, a number of candidates have given representations to the PGI Director citing anomalies and irregularities pertaining to the exam.
Counselling for students held at Mohali school
Mohali, July 22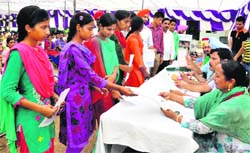 Counselling for students seeking admission to Class XI in six new residential schools set up in the state was held at Government Senior Secondary School, Phase IIIB1, here today.





Students attend the counselling at a school in Mohali on Tuesday. Tribune photo: Parvesh Chauhan