No rain: Maize, vegetable crops dying in kandi & bet areas
Hoshiarpur, July 13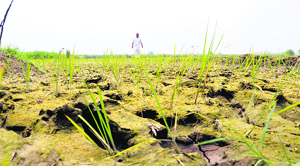 The kandi and bet areas are the worst sufferers of a weak monsoon this year as most of the area under cultivation here has no alternative source of irrigation. With rain eluding the region and power supply getting scarce, the farmers are helpless in saving their dying crops.
An almost dry paddy field along the Jalandhar-Nurmahal road. Tribune Photo: Malkiat Singh

Sukhbir to lead delegation to President
Chandigarh, July 13
Deputy Chief Minister and SAD president Sukhbir Singh Badal today said he would lead a Sikh delegation to meet President Pranab Mukherjee to "unmask the conspiracy" hatched by the Congress to divide the Sikhs by trying to create an SGPC for Haryana gurdwaras.
Shortcomings in party cost us LS seats: Jakhar
Ludhiana, July 13
Congress Legislature Party (CLP) Leader Sunil Jakhar today admitted that "shortcomings" at the organisational level in the party had cost the Congress dear in the Lok Sabha elections.
Langah, Kahlon aides on top ZP positions
Gurdaspur, July 13
Former Cabinet Minister SS Langah and former Speaker NS Kahlon today ensured that loyalists were appointed to the two top posts of the Gurdaspur Zila Parishad. Elections to the civic body were held a year ago. But owing to infighting in the district SAD, the posts of chairman and vice-chairman remained vacant.
Illegal colonies: 83,000 applicants await NOCs
Jalandhar, July 13
With 83,000 applications for a no-objection certificate (NOC) pending with municipal corporations and the Punjab Urban Development Authority (PUDA) over the past four months, those residing in such colonies are unable to get their building plans sanctioned, get a power connection or sell property.
Millions visit Virasat-e-Khalsa in 2 yrs
Anandpur Sahib, July 13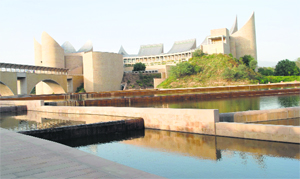 With around five million persons visiting it within two-and-a-half year of its opening, the Virasat-e-Khalsa has not only become one of the most popular museums in world, it has also boosted the economy of Anandpur Sahib town. The income of nearby Takht Sri Kesgarh Sahib has registered an annual increase of Rs 15 crore since the opening of the museum, while shopkeepers and banks in the town have seen a boom in their business.


The Virasat-e-Khalsa at Anandpur Sahib. A Tribune photograph


Officials return 'bribe' after MP's intervention


Sangrur, July 13
Officials posted at a sales tax barrier on the Punjab-Haryana border near Jakhal reportedly returned Rs 20,000 to three farmers that they had taken from them as "bribe".

Grievance portal of little help


Mohali, July 13
The setting up of Punjab Public Grievance Redress and Monitoring System or PB-PGRAMS seems to be an exercise in futility. Complainants allege they never get a response to their grievances.

Fatehgarh Sahib residents protest erratic power supply


Fatehgarh Sahib, July 13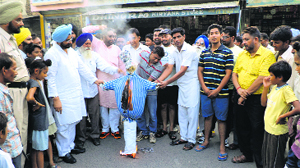 Sirhind residents held a protest against erratic power and water supply here today. Similar reports were also received from Bassi Pathana, Talania, Duffehra, Hamayunpur and Mandi Gobindgarh areas in the district. People raised slogans against the Punjab State Power Corporation Limited (PSPCL) and the state government.

Residents burn an effigy of the state government in Sirhind on Sunday. Photo: Surinder Bhardwaj


Accident victim's kin want docs booked for negligence


Faridkot, July 13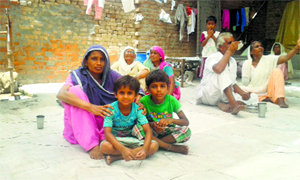 Guru Gobind Singh Medical College and Hospital here finds itself in the thick of a controversy. The family of Jaspal Singh (40), who died in an accident on July 10, has been demanding that a criminal case be registered against the doctors at Guru Gobind Singh Medical College and Hospital. They have refused to cremate the body until the police take necessary action.

Victim Jaspal Singh's wife and his children at their house in Faridkot on Sunday. Tribune photo

Abohar residents vow to preserve Bhatner Fort


Abohar, July 13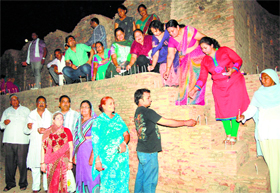 As part of Hanumangarh district's founder day celebrations, NGOs took a pledge to preserve the Bhatner Fort and lit candles at the fort last night. The ceremony was jointly organised by Lions Club, Teachers Association, Innerwheel Club, Social Welfare Society, Jago Nari, Yuva Sindhi Sangh and Youth Welfare Society.

Social activists light candles at Bhatner Fort in Hanumangarh on Saturday. A tribune photograph


Eight IAS officers transferred
Chandigarh, July 13
Eight IAS officers were among the 28 senior officers transferred by the Punjab Government today.Sirra Karuna Raju has been posted Special Principal Secretary to the Chief Minister while Gurkirat Kirpal Singh becomes Director, Social Security and Development of Women.

Probe ordered into 'corruption'


Chandigarh, July 13
The state dairy cooperative, Milkfed, has ordered an inquiry into the allegations of large-scale corruption levelled by independent MLA Simarjit Singh Bains last week.

Sangrur synthetic track nears completion
Sangrur, July 13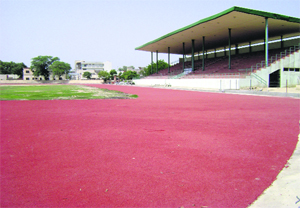 The work at the multi-crore international-level synthetic athletic track at War Heroes Stadium here is almost complete and only some finishing touches are to be given. Built at a cost of Rs 6.87 crore, the project is the brainchild of former Sangrur MP Vijay Inder Singla, who contributed Rs 1.37 crore from his MPLAD fund. The remaining amount of Rs 5.5 crore was provided by the Union Government under its Urban Sports Infrastructure Scheme.

The international-level synthetic track at War Heroes Stadium in Sangrur. Tribune photo

2 kg of opium seized in Abohar; 2 held
Abohar, July 13
A counter-intelligence wing team assisted by the police today seized 2 kg of opium from two motorcyclists, Om Parkash and Ramji Lal of village Dharangwala, at Gobindgarh terminal, 6 km from here.
Gang of vehicle thieves busted; two held
Batala, July 13
The Batala police claimed to have busted an inter-state gang of vehicle thieves with the arrest of its two members. The police have recovered four SUVs from their possession.
Two persons killed in road accidents
Fatehgarh Sahib, July 13
Two persons were killed in different incidents in the district during the past 24 hours. The victims were identified as Jagveer Singh and Liaqat Ali Ahmad, residents of Boparai Baaz Singh village in Amritsar and Ladwa (near Kurukshetra), respectively.
Youth held for blackmail
Hoshiarpur, July 13
The Chabbewal police have arrested a youth for allegedly blackmailing and molesting his ex-girlfriend, who attempted suicide. The accused has been arrested and a case registered.
Man shoots brother over water-sharing
Tarn Taran, July 13
A man shot his elder brother in Kallha village, 12 km from here, late last evening over a disagr\eement on sharing water from a tube well. The daughter-in-law of the deceased was seriously injured in the incident. Ranjit Singh, his wife Jasbir Kaur and son Sawinder Singh Sonu have been booked under the Arms Act. The accused are still at large. The deceased has been identified as Harbhajan Singh (60).
Doctor's car injures eight, case filed
Hoshiarpur, July 13
At least eight persons were injured when a car reportedly driven by a doctor hit Kulvir Kaur, wife of Tarsem Singh, at Binjon village and then six others at a roadside 'chhabeel' near Mahilpur.