23-year-old motorcyclist killed in mishap

Chandigarh, July 13
A 23-year-old motorcyclist was killed in a head-on collision between two bikes on a link road between Kaimbwala and Chandigarh late last night. The deceased, identified as Sandeep Kumar of Kaimbwala, was working as a hardware expert at a computer shop in Sector 34. The police have arrested the motorcyclist, Sunil Kumar, who was reportedly drunk and riding on the wrong side, resulting in the mishap.


Light showers bring relief
Chandigarh, July 13
Residents had a pleasant evening on Sunday as rain in isolated areas and also the periphery of the city brought respite from the scorching heat. Though the rain was not witnessed in all parts of the city, the light showers brought relief from the dry spell and heat that had hit the city for the past one week.
Ride full of joy: A cyclist braves light showers in Sector 27, Chandigarh, on Sunday. Tribune photo: Parvesh Chauhan
Architecture Dept blamed for delay in projects
Chandigarh, July 13
The UT's Architecture Department has been blamed for delaying the execution of a number of engineering projects due to an inordinate delay in finalising the drawings. Some of the drawings are pending with the department for the past over a year, resulting in a delay and "underutilisation" of funds.


MC gets its act together to check waterlogging
Chandigarh, July 13
Facing the ire of residents over city roads getting flooded during the monsoon, the Chandigarh MC will come up with more road gullies and storm water drainage (SWD) pipelines at several identified areas where the problem is severe. The tall claims made by the civic body regarding cleaning of road gullies are exposed whenever there is a downpour that leads to waterlogging across the city.
To cope with the problem of waterlogging, the Chandigarh MC is laying additional storm water pipelines. Faced with a similar problem, the Mohali civic authorities are changing some storm water pipelines in Phase IV. The picture shows how pipes get clogged with mud and debris. Tribune photo: Vicky Gharu

Better Chandigarh
Zirakpur-Chandigarh road nightmare for commuters
This road stretch of the NH 21 is becoming increasingly unsafe for commuters as traffic from Panchkula and other settlements converges on it. Chandigarh Tribune reporters give a first-hand account of their experiences as they travel to the city from two different areas in Zirakpur and take stock of traffic bottlenecks and suggest viable solutions to solve the problem.


CHOC-A-BLOCK: Long queues of vehicles bring traffic to a halt at the Hallo Majra light point on the Chandigarh-Ambala Highway. Tribune photo: Pradeep Tewari

nielit structure collapse
Adjoining building to be repaired
Chandigarh, July 13
The UT Estate officer has allowed the owners of the four-storey building in Sector 17, adjoining the building of the NIELIT that collapsed recently, to carry out the necessary repairs as advised by structural experts.
Officials of the Estate Office seal a building adjoining the NIELIT structure in Sector 17, Chandigarh, on Sunday. Tribune photo: S Chandan


Bollywood producer promotes his movie 'Monsoon' in city
Chandigarh, July 13
Film producer Mahendra Dhariwal, who was in the city today to promote his forthcoming movie, 'Monsoon', claimed that his production would offer the audiences with a different slice of romance entertainment.
Honorarium for representatives of civic bodies to be hiked: Hooda
Panchkula, July 13
Haryana Chief Minister Bhupinder Singh Hooda today announced to increase the monthly honorarium of representatives of municipal corporations, municipal councils and municipal committees by Rs 500.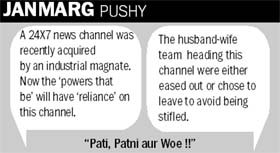 BJP youth wing gears up for poll
Panchkula, June 13
To strengthen the Bharatiya Janta Party (BJP) at grassroots level, the youth wing of the party, Bharatiya Janta Yuva Morcha (BJYM), held a convention of its activists from the Kalka assembly constituency at Amravati Enclave near Pinjore today.
FOSWAC dwells on civic issues
Chandigarh, July 13
The Federation of Sectors Welfare Association Chandigarh (FOSWAC) today held a meeting of its executive committee to discuss various civic issues that needed to be addressed.
After onions, now tomato prices spiral in city
Chandigarh, July 13
After the prices of onion soared in the city, it is now tamato prices that have reported an increase in Apni Mandi, bringing the cost to Rs 25 per kg from Rs 20 per kg, last week.


REPORTERS' DIARY
Cops failed to keep WhatsApp message under wraps
Soon after an SHO wrote a complaint of graft and harassment against a DSP on WhatsApp group of the police, senior police officials, in their bid to save themselves of embarrassment, ordered everyone in the group to delete the message immediately.
Residents enjoy an evening at Sukhna Lake after rain in Chandigarh on Sunday. Tribune photo: S Chandan





primary classes
SIE reviews teaching material
Chandigarh, July 13
To improve the performance of students of primary classes in government schools, the State Institute of Education (SIE) and Regional Institute of English (RIE) have decided to take a relook at the existing academic teaching material available.


Gala event marks opening of acting academy
Chandigarh, July 13
An acting institute, My Dream Academy, was launched with pomp and show at the Leisure Valley in Sector 10 here today. Before the launch, artistes, including Gippy Grewal, Gurpreet Ghuggi and others, entertained the audience with their scintillating renditions.
Punjabi singer-actor Gippy Grewal performs at the launch of My Dream Academy at Leisure Valley, Sector 10, Chandigarh, on Sunday. Tribune photo: Vicky Gharu
Young painters showcase works
Chandigarh, July 13
Young female painters from the city showcased their works during a two-day exhibition 'Art Beat' at the Art Gallery in Sector 10 here. Under the guidance of SC Bhattacharya, eight painters displayed paintings ranging from desiccated trees to themes on women empowerment, black and white sketches and portraits of gods.
inter-school debate
St Stephen's declared overall winner
Chandigarh, July 13
The English department of St Xavier's Senior Secondary School, Chandigarh, organised 'Frank Anthony Memorial - All India Inter-School Debate Championship' category II, stage I. Teams from various ICSE schools of Chandigarh and others places took part in the event.
Workshop organised
Chandigarh, July 13
Doon Public School, Sector 21, Panchkula, in association with the Society for Promotion of Science and Technology in India (SPSTI) organised a science and mathematics workshop for teachers today.